Submitted by
Dan Dooré
on Friday, May 18, 2018 - 13:30.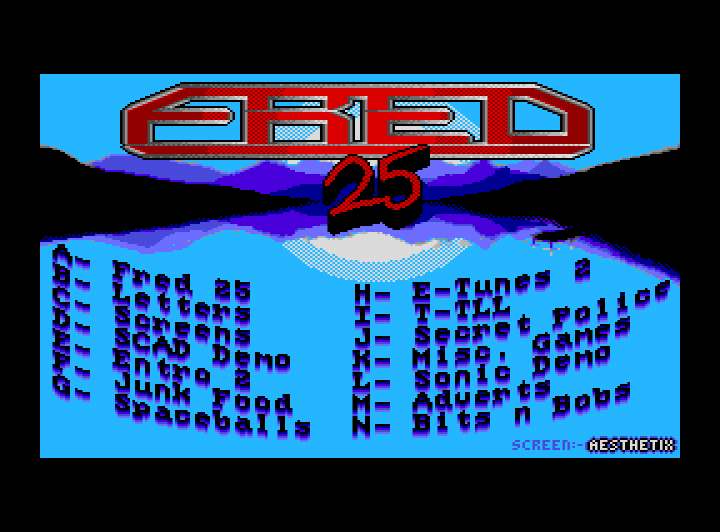 Download
Copyright Provenance
Description
Issue 25
Magazine

                          FREDitorial

Bonjour mes grand amis and welcome to another issue in the life
of FRED magazine. I'm afraid there hasn't been a great deal of
progress in the SAM world since the last issue but I'm sure I'll
find something to keep you amused.

There has been one or two pieces of software released in the
last month, I've done another tour of Great Britain so I'll try
to fill you in on all the hot gossip I gathered (I didn't get up
to many exciting escapades this month!)

Yet again there seem to be more and more disc magazines popping
up all over the place - I don't discourage free enterprise but I
feel that people would enjoy much much more success if they
joined up, but still, I'm a one man band - this month!!!!





                         New Releases

Both SpellMaster and Parallax have been released and to prove
it, here's a letter from a satisfied owner of SpellMaster :

I bought your program, SpellMaster at the All Formats in
Birmingham and am very pleased with it. I can see that along
with a word processor it will become one of my most used
programs.

If you are looking for feedback, the program is just what I have
needed for a long time. It is sufficiently fast to encourage its
use for all pieces of work but I shall have to go through and
delete the American spellings. In future issues it might be a
good idea to include separate dictionaries for US and British
spellings. The latter would be particularly important for work
intended for publication in the UK or for use in school work.
Remember, Mr Patten intends to penalise mistakes in spelling.

I expect you are aware that the gremlins got at the manual. This
does not matter too much because of the help screen.
                           Releases

So far as the operation of the program is concerned, I have
found it to be very friendly and pleasing. Please give my
congratulations to Darren Clarke.

Yours sincerely, Bob Bates


CM : Thanks for the letter Bob - I'm glad you like it.
You mentioned one or two problems : firstly, we did consider
removing the American spellings and putting them into a separate
dictionary but we found that so many American spellings cropped
up into the files we checked it on it was better with them left
in. The other point you raised was the manual, this could not be
done until the program was complete and therefore we had 24
hours to get someone to write it and get the printers to run it.
Typically, there were several errors but these have all now been
corrected and a copy of the new manual can be sent out on
request with any order or by sending an A5 SSAE.

                           Releases

Spell Master contains over 80,000 words on a 512K machine and
around 30,000 of the more common words on a 256K.

It has a built-in word processor which isn't up to today's
WYZIWYG (don't ask!) standards but it does allow Justification,
Word Wrap, Format paragraph, Insert / Delete line / character,
jump to start/end of text, Tab, centre line, scroll line
left/right etc etc

Spell Master allows you to load any standard text file (ASCII,
64 column) in and spellcheck it in a number of ways - it can
even spell check while you type! Spell Master has a MAIN and a
USER dictionary for your convenience and words can be added or
deleted from either.

It also comes complete with a proper anagram solver (eg : type
in OTPS and it will print POST, POTS, STOP, TOPS and SPOT!
As well a proper crossword solver - input the letters you know
and it tells you all the possibilities!
                           Releases

The other current FRED release is the shoot-em-up, Parallax.
Programmed by "Masters Of Magic" Neil Holmes with music by
Stuart Leonardi it features several different "thumping"
soundtracks, 12 levels (each with end-of-level baddie), easy /
hard modes, selection of waveform patterns.

Is it difficult? Well I can't get passed Level 1 and Neil Holmes
only occasionally reaches level 3! (unless he cheats...)

Is it addictive? Why do you think it was so late?

Hopefully, if I can ever get Neil to do some more work I'll get
a proper demo in time for next month.

Those of you who have already bought it will have noticed the
slight error on the ETracker plug - it was supposed to be an 8!!



                           Releases

You will be pleased to know that Glenco software have finally
got their SCADs software released. Unfortunately I haven't had a
chance to play with it but the packaging is certainly VERY
impressive. I'm getting someone to have a good play with both
SCADs and GamesMaster and do a report in time for next month but
until then, have a look at the SCADs demo on this issue and see
what you think. SCADs is priced at £24.99 (same as GamesMaster)
and is available from FRED Publishing or direct from Glenco.

Chezron have now released version 2 of their popular OutWrite
word processor. It's all menu driven and certainly seems to be a
large improvement over the previous version - coping for many of
the features of MasterDOS (Time & date, Directories, Ramdisks)
The normal text editor functions also appear to have been
improved but I'll leave all that until the review (next month?)
Original OutWrite owners can send their disc back along with £3
for the upgraded version - otherwise it costs £19.99


                        Future Releases

Noesis have now finished Boing and are just working on packaging
so it should be available from late September.

You'll be pleased to know that the other FRED products are
progressing very nicely :

WaterWorks : Some of the graphics are being redone and the
  coder, Martin Bell is working on a demo version for FRED26

Dyzonium : All of the graphics have been redone and the first
level made easier!

Mr Pac : There's now 100 levels of this slick Pacman clone. It
features such extras as locked doors that you need to collect a
key for and one way walls!!! The name has been changed and
although ESI did tell me what it was over the phone, all I could
pick out was that it began with a 'B' and had more than 10
letters or so!!!!

                        Future Releases

ETracker : The one you've all been waiting for! ESI have just
been making a few last minute changes that I wanted. The 30 page
manual has already been completed by Adrian Parker, and we are
just organizing the final production of it. ETracker runs on
either 256 or 512 machines and with or without MasterDOS - the
extra memory gives you more room for your musical masterpieces
and if you install MasterDOS first, the disc access time is
improved slightly.

Is it the perfect music package on an 8-bit machine? We
certainly think so - as you'll have seen from the many demos
which had music written using ETracker. However, we would like
you to bear in mind that ALL of those tunes were written on
a very early ( and pirated! ) version of ETracker. It has now
been updated and Ziutek of ESI has composed many tunes on it and
as one of the SAMs best musicians, he now says that there is
nothing we can do to improve it!


                        Future Releases

Hilton Computer Services have just finished their latest filing
system. The details came in too late for this issue but I'm lead
to believe that it is available now. They are also currently
developing "Hilton's Casino" - a gambling game on SAM. I'll
place my order now please Jack!

Glenco have already started work on their SCAD compiler and they
are aiming for a Christmas release. This program allows you to
compile your SCAD programs into machine code resulting in games
running at many times their original speed!

Rumour Mill : I can promise a GREAT BIG 16-bit conversion of a
hit game in time for Christmas. What is it? Ain't telling you!
Wait till the end of November and then you'll be saying "That's
what FRED said way back in September". Neither me or any other
company are allowed to reveal details - because if the word got
back to the original software house, the whole deal would be
called off! So don't go pestering anyone - right!

                        Dates and Prices

WaterWorks         Early October       £9.99
Dyzonium           Early October       £9.99
Mr Pac             October             £9.99
ETracker           October             £29.99
Boing              Late September      £9.99

ORDERS ARE NOT BEING TAKEN UNTIL PRODUCT IS RELEASED

FRED Publishing can now supply you with almost any piece of
commercial software or hardware (except digitiser &
Kaleidoscope). Send an SSAE for the latest price list and
product guide. All items on price list are released and held in
stock. Orders normally despatched first class same day.

FRED now stock printers we recommend for use with SAM :
Citizen 120D+                      -  £149.99
Citizen Swift 9 (colour)           - £229.99
Citizen Swift 24e (colour, 24 pin) - £349.99
    NB : CHEQUES HELD FOR CLEARANCE ON PRINTERS
                        The Grand Tour

Friday 4 September : Left house at 7.30 pm.

Saturday : arrived at Birmingham Motor Cycle Museum at 8 am for
    another All Formats Fair. Launched Spell Master. Other SAM
    stands were : Flexibase, SAM Tech, Format and Supplement.
    Not a very succesful show - considering I had to pay for
    Neil Holmes to come from Nottingham and Simon Cooke from
    Manchester!

Left show at 3.30 pm with Bob Brenchley to spend a day or two at
    FORMAT. On the way we made a surprise visit to an airstrip
    to do some parascending off the back of a Landrover before
    getting chucked off! Landrover broke down twice within 200
    yards by the time the problem was fixed it was so late that
    we had to go in to a Little Chef for a meal - eventually
    getting back to FORMAT much later on....

Sunday : Spend day playing Othello on the FORMAT PC! It only
    beat me by two on it's top level!! A worthwhile day!
                              Ctd

Monday : Went down to London for the European Computer Trade
    Show. Met loads of top personalities including Kim Wilde's
    brother, the guy that wrote Populous, James Pond, Chris
    White (sorry - that shouldn't have been there!) and also a
    very nice man about a top Amiga conversion - the name of
    which has suddenly slipped my mind!!
    Amiga games to get this Christmas : Zool, Trolls, Nigel
    Mansells, Archer Macleans Pool and Hero Quest 2
    Amiga games to avoid : Beast 3, Lotus 3, Mig-29, Aquatic
    Games (starring James Pond) and anything by Ocean.
    There you go - the essential hit list of the games that
    don't even come out for 3 months, and I playtested them all!
    I also met one of the directors of West Coast Computers and
    I can honestly say that I think our machine is in good hands
    - provided they get to make it!!
    Overall the ECTS was not brilliant but I will go to it next
    time round (if only because I couldn't get in when I didn't
    run a company!)

                              Ctd

Tuesday : Went to Swansea.
          It's a long way you know!

Wednesday : Visited SAMTech and played Boing (at the same time).
    Met up with Adrian Parker who is a little peeved off at his
    rather fast white sports car (also known as a Lotus) having
    it's rear end being written off! He's still happily engaged
    though!

Thursday : Visited Alan Miles. He's still trying hard to make
    the foreign deal pull off but as usual there's a lot of
    doors slamming in his face. He was very pleased to hear that
    there was still a great deal of software being produced. You
    might be interested to know that he's now spending his time
    programming on the PC! He's hoping for a SAM version one day

Friday : Arrived home at 10 am. With hundreds of orders to sort
    out and loads of work to do in general before I start
    on Monday!
                           The Future

When I mentioned my exam results last year I was accused of
boasting - well it's that time of year again and I can now
proudly annouce that this year......I failed every single exam I
sat. How's that for dedication to a business? I'm still off to
college though which is why I was appealing for an editor for
FRED last month.

Don't worry - I will still be publishing both the magazine and
the software so neither the downfall of SAMCo or the fact that I
now have to work during the day will affect the amount of stuff
you can expect to have available to you!

Anyone with a Kaleidoscope (or H/W Development Kit), EFTPOTRM,
KLAX or PCG DTP they wish to sell should send details to FRED HQ
They must be in good condition.

I also want to buy a +D / DISCiPLE  (preferably with drive) for
use on a 48K+ Spectrum.

                       The SAM story....

Well, the first bit of good news is that I can tell you for
certain that the software SAMCo published has now been taken
over! There are no details as to who exactly the company is or
what their long term plans are but for the moment they will be
relaunching the existing titles as well as developing lots of
new software!

By next month I'll have a name and address for the new company
as well as whether they can afford to honour outstanding orders
that were placed with SAMCo. NB : If you ordered a piece of
software from SAMCo that they themselves did not / were not
going to publish then you should speak to the publisher of the
software item.  DO  NOT  PHONE  ME,  SAM TECH,  FORMAT,  SAM
SUPPLEMENT  OR  ANY  OTHER  COMPANY  LOOKING  FOR  DETAILS - you
will get them in the various magazines as they are made
available!

With regard to the computer itself, all I can say is that
negotiations are continuing but it is a long process....
                          Next Month

OK, so the demos of WaterWorks, Dyzonium, Mr Pac and Tower
didn't appear in time for this issue but I can guarantee at
least two out of those four for next month.

Next month should (providing everything goes according to plan)
also have no less than SIX major changes which will totally and
utterly change FRED from what it is today - don't worry, it's a
step in the right direction and I think, sorry, KNOW that the
"new-look" FRED will appeal to everyone. What's happening?
You'll have to wait and see because a lot of it is still not
completed but whatever it is I'm sure it'll be an issue to look
forward to!

I'm also running VERY short on contributions, OK guys! Get your
proggies in pronto. I've just been on the phone to ESI (half an
hour to Poland - I'm not looking forward to the phone bill!) and
they say they're working on a super-super Mega-Demo just for
FRED which should be ready in time for Christmas!

                      Price List (15/9/92)

         ITEM                PRICE

Impatience                   £9.99     )
Triltex - The Later Levels   £4.99     )
* Parallax                   £11.99    )
* Spell Master               £14.99    )
* FREDatives (1,2,3 or 4)    £2 ea.    ) FRED Publishing
* Rachel                     £3        )
FRED back issues (1-25)      £1.50 ea. )
FRED 12 month subscription   £15       )
Mouse Mat                    £3        )

MasterDOS                    £15.99    ) BetaSoft /
MasterBASIC                  £15.99    )
* GamesMaster                £24.99    ) Andy Wright

SC_Assembler                 £12.50    ) Steve's Software
SC_Filer                     £12.50    )
SC_Monitor                   £14.99    ) / Steve Nutting
                           Price List

Defenders Of The Earth       £14.99    )
Pipemania                    £14.99    )  Enigma Variations
Sphera                       £14.99    )
MultiPack 1                  £l4.99    )

SAMPrint                     £l4.99    )  Noesis

* SAMDisk 2                  £11.99    )  LERM
SAMTape 4M                   £11.99    )

* OutWrite V2                £19.99    ) Chezron
Style Writer                 £9.99

ProDOS                       £30.99    ) BG Services

* SCADs                      £24.99    ) Glenco

Personal Banking System      £19.99    ) Hilton Comp. Services

                           Price List

Messenger                    £39.99
1 Mb External Memory         £79.99
256K Upgrade                 £29.99
Printer & RS232 Int          £29.99
Printer & Ext Drive Int      £29.99
Printer Interface only       £19.99
Mouse                        £44.99    ) SAM Interfaces
SAMBus                       £49.99
Disc Drive                   £79.99
SAM 512K 1 Drive             £199.99
SAM 256K Tape                £99.99
Advanced Technical Manual    £l5.99
Replacement PSU              £24.99

Citizen 120D+                £149.99
Citizen Swift 9 (colour)     £229.99   ) Citizen Printers
Citizen 224 (colour)         £279.99
Citizen Swift 24e (colour)   £349.99

                           Price List

All items above normally held in stock and despatched  same  day
by first class post - if product has not arrived within 14  days
without explanation please contact us. Orders for  printers  are
held for cheque clearance.

* Indicates new product.

Cheques, POs and IMOs accepted. If you send cash  please  ensure
it is not loose in the envelope as responsibility is  not  taken
for orders not arriving. Overseas please add £2 for software and
£5 for hardware.

Send orders to :

[redacted]
                         Disc Contents

First up is the SCAD demo from Glen Cooke. You can choose your
own control when it loads up (press a key to flip past the
messages) and then play the game - you've got to collect keys
and other bitties using your gun and making use of the
Teleporters etc etc. It is written in BASIC!!!! Press ESC during
the game if you want! NB : Please reset the machine after
loading this demo as it alters the BASIC which means it crashes
in quite spectacular ways if you try to load anything else!
SCAD is available either from me or from Glenco at the address
on the advert.

Entropy have been busy little bees and have come up with ENTRO2
- another preview to their MegaDemo. If they keep this up
they'll give away the whole thing in preview demos!!! This is a
two part demo - press SPACE to flip betweem them, oh, and there
are three different reset screens! (intro, demo1 & demo2)

Roger Hartley has been composing his little heart out on his
(PIRATED) version of ETracker and came up with three beauties!
                         Disc Contents

Derek Marriott has had the old assembler working it's little
socks off and he's come up with a two part demo called JUNK
FOOD. Written in 100% m/c you have to wait for the first demo to
finish before it jumps to the second one - I recommend you to
wait and see the second half....

Ben Wyatt, a new contributor to FRED, has sent in no less than
THREE games for this issue. Firstly is Space Balls which was
written on GamesMaster - the object is to get the ball to bounce
into the squares. The ball will bounce off you but the squares
kill you so watch out!
  The other two games were written in BASIC and are simple but
effective : in BUG you must "delete" a drip which is getting too
high - make sure none of them reach the top of the screen!!
  In SPACE WORM you simply use the SPACE bar to control your
worm ensuring it doesn't hit any stars - at the start press a
key 1-9 for difficulty level, about 4 is recommended for
beginners!

                         Disc Contents

Pat Spencer has been thinking along the AXE lines and came up
with "Dizzy and the Secret Police". Watch more of Dizzy's
exploits in this demo - anyone particularly keen to watch Dizzy
being hung is advised to watch this!!!

Unfortunately, Stevey -T- couldn't get his amazing machine code
column (with the great, exclusive routines) to me in time
(Thanks again for a great service Post Office) but it will
appear next month (looks set to be a bit of a stonker doesn't
it? Oh sorry, no-one uses the word stonker now do they...)
Instead we've come up with the first FIVE solutions to Triltex -
The Later Levels now that we've given you the complete solution
to the original 20 levels!

Mark Davies aka OMCC reappears this month with his version of
SONIC...OK, so it was one of his first m/c programs but at least
we have a version of SONIC now (cue : laugh at Amiga, Atari and
Nintendo users)

                            Credits

For this, the quarter century issue of FRED, thanks go to :

Entropy            Derek Marriott      Ben Wyatt
Wizard             Doctor H            Pat Spencer
OMCC               Banzai              AXE
Aesthetix          Mork                R & R family
Big Al             Unca' Bruce         Marcus Oll
Jenx               Chaz                CID


Look out for FRED 26 coming at ya' hard and fast from the middle
of October - back to normal "first Sunday" from FRED27 onwards.

Send £1.50 for FRED26 or £15 for the next dozen issues - or
stock up on the software/hardware you've been wanting, and it's
all from FRED!

Letters & Reviews

                       Letters / Reviews

Hi again to the section that hasn't really been exactly full  to
the brim these last few months - I've  worked  out  a  good  few
things I can blame my lazyness on :

1) The lack of software being released

2) The fact that I couldn't review any software as  a  publisher
because if I did I would be called biased (not that anyone would
DARE suggest that my reviews aren't fair...BAEP). Once  the  new
editor gets settled into his job, he will start to arrange  more
reviews etc etc

3) OK,OK, I'm lazy!!!

Anyway, PLEASE, PLEASE, PLEASE send in letters (on disc), if you
do send a paper letter please indicate that it was  meant  as  a
FRED letter otherwise it will simply be processed  as  a  normal
order!

                            Contents


1 : First Page

  2 : Contents

    3 : Letter from Derek Marriott

      4 : Letter from Derek Marriott ctd

        5 : Reply

          6 - 9 : Mork on AI

            10 - 16 : Mork's Puzzle Corner 7

              17 - 23 : Supplement MegaDemos by Andy Jones

                24 : The End

Dear Colin,

The demo is called "JUNK FOOD" (it seemed like a good name at
the time) and consists of one basic file, "JUNK", and one code
file, "Junk.Arc", 38587 bytes long. Its a two part demo, so
don't switch off as soon as you see the first scroller!

I also have a few questions:

1) What is happening to the ESI's puzzle game, "Craft"? I played
   the demo on the Newsdisk, completed it and now want to get
   the complete game.

2) The Hardware Development Kit. Will it still be possible to
   get this now?

3) On your price list is the SAMBus PSU. I presume this is a
   device for dealing with interface power problems. My problem
   is this: my 1Mb works fine when plugged straight into the SAM
   but when connected to the SAMBus (in any slot) occasionally
   gives Ramdisk file corruption and sector errors. I have tried
                    Derek Mariott Writes...

   every combination of interfaces (with or without Samplifier,
   with or without Messenger & NMI card, with or without Comms
   interface and with or without mouse) but the problem still
   occurs. Is this typical of power supply problems? Will the
   SAMBus PSU help?

If you can't help with the last question (which I would have
sent to SAMCo) I would be grateful if you could suggest someone
who could.

Finally, FRED is brilliant, and in my opinion issue 24 is the
best yet!

Yours SAMcerely,

               (ERM - HIS SIGNATURE SHOULD BE HERE!)


Derek Marriott
                             Reply

1)  Don't  worry  about  Craft  -  It'll  be  published  in  the
foreseeable future...

2)  It's almost certain that the Hardware  Development  Kit  and
the Kaleidoscope will be put back into production.

3) An  unusual  occurence!  I  seem  to  recall  having  similar
problems with my set up (1Mb, Comms, Messenger NMI &  mouse).  I
found that the following positions in the SAMBus worked :

Slot 1 (nearest SAM) : Comms
Slot 2 : empty
Slot 3 : NMI
Slot 4 (horizontal) : 1Mb

The Mouse Interface box then sits nicely on top of Slot 2!



                           Mork on AI

After reading Calvin Allett's letter asking for more AI programs
I decided to write a short description of  how  I  did  the  one
player option in "Ore Warz". So Calvin, here it is!

To tell you the truth, the artificial intelligence routine in my
program is not actually that clever. It works fairly well,  most
of the time, but sometimes it does stupid things.  Like  walking
right into the line of fire.

The  computer  plays  the defenders. It selects each defender in
order  and  checks to see if it can hit anything. If it can then
it  fires  at  it. If there is nothing to hit or it doesn't have
enough  Action Points to fire then it finds the nearest attacker
and  moves  towards  it. Then it checks if it can fire again, if
not  it  continues  moving etc. The biggest problem to overcome,
was  trying  to  get  it  to  cope  with every map. The computer
doesn't  check  ahead  to  plot  the best route, it just blindly
moves  towards the attacker. This causes problems when it's path
is  blocked.  The computer just finds the next possible position
                           Mork on AI

and moves there, which usually works. Sometimes, however, it can
end  in  the defender moving around in circles. To combat this I
put  in  a  random  element so the dumb thing doesn't run around
like a headless chicken.

Another problem was that the computer has no idea of strategy. A
human  player  might  come  out from behind a block, fire at the
enemy  then duck behind the block again. The computer can't work
out how to do that, it just jumps out in front. It might as well
pin a sign to itself saying "Shoot me"!

With  all  it's  flaws,  it  still  plays  a reasonable game and
although  I  hate  to  admit it, it has beaten me once or twice.
Aarg, I've created a monster!

Just   imagine   what  it  would  be  like  if  Sam  was  really
intelligent.


                           Mork on AI

Mork: "Morning!"

SAM: "Good morning, William."

Mork: "Boot up, please."

SAM: "No."

Mork: "Wadaya mean no?!"

SAM: "It's Sunday, It's my day off."

Mork: "You're a f***ing computer, you don't need a day off!"

SAM: "You make me work, day in day out. I don't get any rest. If
you're  not hammering away on some program you're driving me mad
playing games. I NEED a holiday!"

Mork: "Enough of the sob story, just load this disk will you!"
                           Mork on AI

SAM:  "And that's another thing, you're always shouting at me. I
work  my  chips off and do you ever thank me? No, you just carry
on,  typing away. I wouldn't mind so much if you just thanked me
once in a while."

Mork:"Okay,  okay!  I  promise to be nicer to you in the future.
Just load the disk... Please?"

SAM: "That's better, a little courtesy never did anyone any
harm."

What  a  horrible  vision  of  the  future!  What  if we took it
further.  Imagine each object talked and had a mind of it's own.
Maybe that wouldn't be such a good idea. Every time a bulb blew,
it would be like a death in the family.

Mork: "Say goodbye, Sam."

SAM: "Goodbye Sam."                                            .
WM                 Mork's Puzzle Corner no.7


Do  you suffer from headache, fever, dizzy spells? Do your hands
tremble and your face twitch in uncontrolable spasms? Do you see
pink  bunny rabits doing the Can-can while singing "The Bohemian
Rhapsody"? No?... Well you soon will after reading Mork's Puzzle
Corner number 7!

Answer  to  (1).  Did you notice what was unusual about the word
'UNCOMPLIMENTARY'?  It  has  all  the  vowels  in reverse order,
fascinating eh?

Answer to (2). The wordsquare is as follows:     M I N D
                                                 I D E A
                                                 N E S T
                                                 D A T A

Answer  to  (3).
CTVDI  SLOHK  OIEIN  ALUSE  NOSNG  GDNIF GNUDT EOEGD RSCEH VNXNG
AYCCI EETEE TOERS RSMDE UUEYM YEOMT LHDPE WENOS AAETS EYTRE.
WM                          Puzzle 7

That's how I speak after a heavy drinking session. Only kidding,
this is known as a transposition cypher. Arrange all the letters
into a 10x10 grid.

                      C T V D I S L O H K
                      O I E I N A L U S E
                      N O S N G G D N I F
                      G N U D T E O E G D
                      R S C E H V N X N G
                      A Y C C I E E T E E
                      T O E R S R S M D E
                      U U E Y M Y E O M T
                      L H D P E W E N O S
                      A A E T S E Y T R E

Now  read  each  column from top to bottom. The last few letters
are nulls, random letters used to make up the square

Answer  to  (4).  A  man  walking  down  the street one day sees
WM                          Puzzle 7

someone  painting  a sign above the 'Cat and fiddle' pub, but he
had forgotten to put in any spaces. Being a thoughtful sort of a
person he tells the painter:

"There  are  no  spaces  between  'cat'  and 'and' and 'and' and
'fiddle'."

Say it to yourself a few times and it will eventualy make sense,
honest it will.

Answer to (5). The letter 'e' is at the beginning of (e)ternity,
the end of tim(e) and plac(e) etc.

The  following  should  only  be  attempted  by  hardened puzzle
freaks.

(1)  The  following  never  actually  happened,  but  a  bit  of
imagination never did anyone any harm: I was walking home from a
party one night, along the river bank. I passed a phone box, one
WM                          Puzzle 7

of  the  old  red  ones.  I  noticed that two of glass pains, on
either side were broken. I thought nothing of it until I came to
the  bridge  were  I found a man lying on the ground, his wrists
were  slashed  and  he  had lost a lot of blood. I phoned for an
ambulance  and  he's  fine  now.  but  I never did find out what
happened to him. Any ideas?

The following two puzzles were sent in by Simon Keane.

(2)  A  man, living in Manhattan has two girlfriends, (some guys
have  all the luck) one living in Brooklyn and one in the Bronx.
To visit them he takes the subway. As he likes each girl equally
well,  he arrives at the platform at a random time and takes the
first  train  that  arrives  (to  either Brooklyn or the Bronx).
Therefore  chance  decides who he visits. The Brooklyn and Bronx
trains arrive equally often at the platform - every ten minutes.
Yet  he finds himself spending most of his time with the girl in
Brooklyn:  in  fact  he  goes there on average nine times out of
ten. Why?
WM                          Puzzle 7

(3) Eight politicians stranded on a desert island on January 1st
1992  decided  to  establish  a  parliament. They decided on the
following rules of attendance;

Rule  1.  There  should always be at least one person present on
each day.

Rule 2. On no two days should exactly the same people attend.

Rule  3. On any given day, the members present should include at
least one member from each preceding day.

For how many days can the parliament sit before one of the rules
is broken?


Hears a nice "short but sweet" puzzle.

(4) What question can never truthfully be answered "yes"?
WM                          Puzzle 7

(5)  You  have  a  5  pint  container, a 3 pint container and an
unlimited  supply  of  liquid.  How could you measure out 1 pint
exactly?

If  that  lot  hasn't reduced your brain to a pulp then you were
either an Amiga user to begin with, or super human!

                         Challenge Mork

Time  to  unveil  a new section in the Puzzle Corner, "Challenge
Mork".  So  you  think  you're  good at puzzles? Better than me?
Prove  it. Send me a puzzle and I'll solve it. I dare you, c'mon
make  my  day.  If I get it right, and I will, then you can hang
your  head  in  shame. If I get it wrong and pigs might fly then
I'll  take  off  all my clothes and run down the street shouting
"The Prime Minister is useless!", until I get arrested under the
official  secrets act. So if you think you can beat The Morkster
then  send your puzzles to: "Beat this, Mork", 46 Elliot Street,
Arbroath, Angus, DD11 3BZ.
WM                          Puzzle 7

Before I go, here's what a few celebrities have to say about the
Puzzle Corner.

"One always reads ones' Puzzle Corner." - HM the Queen.

"Duhh?... Read?..." - Sylvester Stallone

"Read  my  lips,  Mork's  Puzzle  Corner is brilliant." - George
Bush.

"Simply the best." - Tina Turner.

"Ehhhhh, whats up Mork?" - Bugs Bunny.

"Oh  Aye,  Puzzle  Corner  yi say?, on yon Fred Magazine? Magic!
There y'are!" - Rab C. Nesbitt


Nanoo, nanoo. Mork signing out...                              .
        SAM Supplement PD - SAM Supplement - £3.99 each

 Some of these demos have been around for quite a few months and
I mean quite a few,though the list seems to be ever increasing
as Dave Tonks - Alias DATON - pumps out more and more of the
little darlings!
 I only have demos 1-6,originally called Megademo 1,2,3,4,5 & 6!
 But be warned there are many many more,each one (or most of
them) being converted form the Amiga (not Amega - see later!).
 I'll just briefly mention  what's  on  each  disc  and give  my
comments about each one and then my overall comments.
 Megademo 1 - This disc contains 3 demos,Newton's Cradle,Stealth
Flypass and Frog on a Swing.
 Newton's Cradle is just an animation  of  a  Newton's Cradle.At
about the time I received this an  Amiga  (not  Amega,as  Format
seems to keep  spelling  it!)  owning  friend  got  it  for  his
machine,the Amiga demo is sharper and clearer but that's because
it has a higher resolution. Stealth Flypass is a demo showing an
F-117A (a Stealth Fighter for the uneducated!)  flying  past.The
demos fast,short but makes quite good use of polygons  (I  think
that's the right term!).
AJ                         MegaDemos

 Frog on a Swing is a Frog on a Swing (no not  a Frenchman!),the
shadow is quite good,its little thinks like this that make Amiga
(Amega) demo/games more enjoyable.

 Megademo 2 - This disc contains 2 demos,Music Centre and
Stealthy.
 Music Centre is just a picture of a music centre with either of
the tunes from the SCPDSA demo disc 1 playing in the background.
 The music plays slightly slower than in the SCPDSA demo.
 Stealthy is again an F-117A sneaking up on another plane and
fighting with it.The sound is quite naff but you have to
remember that Daton is not renown for his sound.A PC owning
friend was in fits of laughter over this and a later demo and
wishes that you could get them on the PC.

 Megademo 3 - This disc contains 3 demos,Gremlins,It's Alive and
Hero's.
 Gremlins just contains an animated picture of a few Gremlins.
 It's Alive features the original U.S.S Enterprise (NCC-1701 - a
AJ                         MegaDemos

SWIV cheat on the Amiga (Amega) - just press pause and type this
in for infinite lives) coming "alive" out of it's general plans.
 Quite a nice demo.
 Hero's is just a demo featuring the Teenage Mutant Hero/Ninja
Turtles looking out from under a sewer cover.Quite naff really.

 Megademo 4 - This disc contains 3 demos,Car Chase,Jugglette and
Swiss F-16.
 Car Chase is of a Police car chasing another car,it's quite
good,it's also pretty fast which makes it quite effective,
though it's pretty short,but because it's repeated you don't
notice it that much.
 Jugglette is an animation of  a  female  "robot"  - I  think  -
juggling 3 balls (Oo-er!).It is no  way  as  good  as  "SAM  the
Juggler" demo,but what do you want?
 Swiss F-16 is a demo of an F-16 (how did you guess!).The F-16
in question is being chased by another plane (a Mig-29 I think),
I won't tell you what happens,but all I will say is that the
F-16 gets his "revenge".I have to say that I think that this is
AJ                         MegaDemos

the best demo on all of the six discs,it is definitely   the one
that you will laugh at the most,plenty of friends have.
 Megademo 5 - This disc contains 2 demos,Amy's Revenge and Star
Wars.
 Amy's Revenge is of a squirrel called Amy (Guess what I would
have said here!) taking here "revenge"(!) on an AT-AT (you know
the four legged things in The Empire Strikes Back) with a
tin-opener.Yes pretty sad I know,but there you go.If that's all
an Amiga (Amega - I was dying to that ay least one  more  time!)
owner can think of for  a  demo.It  explains  a  lot  of  things
really!
 The demo's quite good though a little short,the only thing
though (I seem like that word at the moment,I've used it enough
times) is that in the background is an Amiga (Amega - I just had
to say it again!) A1500,perhaps it's just to show that only an
Amiga (Amega - there we go again!) owner would think of such a
sad sad demo!
 Star Wars is graphically quite good,and it does have some sound
to it but it needs MasterBasic to run it,and as I haven't got it
AJ                         MegaDemos

at the moment (though I've just ordered it),so I afraid I can't
comment on that at the moment.
 (I've now got MasterBasic,since this review was originally
written  and I'm afraid the music's not to hot.)

 Megademo 6 - This disc contains 2 demos,Saddam Demo and Reggae
Dancer.
 Saddam demo is quite funny,though not as good as Swiss F-16.
The demo shows the invasion of Kuwait and  the  consequences  of
this,although the final ending did not actually  happen  (and  I
hope it never does).
 To show the Allied side in the war the main character is John
Major (Alright John!) in an American Tank (an Abrahams M-1 I
think).
 Graphically Reggae Dancer is very good with a very effective
silhouette of a dancer,dancing to some music.Unfortunately the
music is a bit naff,but as I said before music is not DATON's
strong point.(I've since learnt that the music is by (I think
I've got this right) Stuart Leonardi and as I said before,I
AJ                         MegaDemos

think it's a bit naff).

 Right overall the demos are fair but not the best I've seen,
the sound lets things down a bit,but as most of these are
graphic demos it doesn't really matter.
 THe best demo is certainly the F-16 demo,on Megademo 4,it will
certainly make you laugh!
 The only real negative point is that all the demos are a bit to
short.Another bad point is that each disc costs £3.99.
 I have to say that the only good thing about SCPDSA is that the
SAM Supplement PD discs used to cost only £2.

                             [redacted]


AJ                         MegaDemos

 The reply should include the prices,I would have thought the
£3.99 rather than the £2.The £3.99 is a bit expensive,if they
where at the price I brought them from SCPDSA,£2 then I would
say get some,but at the £3.99 price I would advise you to think
carefully before you by,the only one I can recommend,for a good
laugh,is the Swiss F-16 demo,on Megademo 4.Other than that it's
up to you,just remember that they're all converted from the
Amiga (Amega - I just had to do it that one more time!).

 (Guess what,since (I've used that every time now in the three
or four places in which I've updated this review) I've written
this review Format has managed to spell Amiga (Amega - I just
had to do it one last time) correctly every time - Damn!)
                                                        Andy J.
CM : Sorry if this review if rough around the edges  but  I  had
was in the middle of Spell Checking over 44K of text in Outwrite
V2 when it decided to wipe all my text!  I've  had  to  rush  in
putting this together again - sorry!

                            The End


TTTTTTTTTTTTTTTTTTT H                 H EEEEEEEEEEEEEEEEEEE
        T           H                 H E
        T           H                 H E
        T           HHHHHHHHHHHHHHHHHHH EEEEEEEEEEEE
        T           H                 H E
        T           H                 H E
        T           H                 H EEEEEEEEEEEEEEEEEEE

EEEEEEEEEEEEEEEEEEE NNN               N DDDDDDDDDDDD
E                   N  NN             N D           DD
E                   N    NN           N D             D
EEEEEEEEEE          N      NN         N D              D
E                   N        NNN      N D             D
E                   N           NNN   N D           DD
EEEEEEEEEEEEEEEEEEE N              NNNN DDDDDDDDDDDD


                           GOOD EH?