Submitted by
Dan Dooré
on Wednesday, May 16, 2018 - 10:48.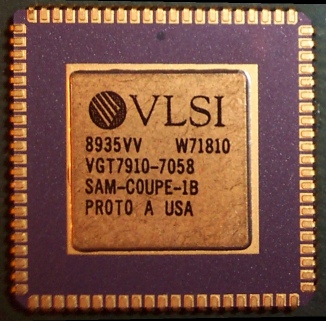 Description
The Gold ASIC's are the 40 prototype units from VLSI given to MGT, 20 of them have been mounted and signed by Bruce Gordon as memorabilia.
From Colin MacDonald on Fred 50:
 Inside your SAM, there is an ASIC chip (Application Specific  Integrated Circuit). This is more or less the heart of SAM and  does the bulk of the tasks. This chip, designed by Bruce Gordon,  cost MGT many, many hundreds of thousands to complete because of  it's very complex nature. It is still held in extremely high  esteem by VLSI (Very Large Scale Integration) , the makers,  because of the high percentage of the ASIC which is actually  used - the large majority of a normal chip is simply casing.
 In order to test the work Bruce had done was accurate, and to  supply developers with early machines, MGT commissioned 40 prototype ASICs to be manufactured at a cost of £50,000 - that's  over a thousand pounds a chip! These ASICs have become known as  gold-dust in SAM circles, not only because they are gold in  colour (the ASIC inside your machine is a mass produced one,  dark grey in colour) but because very few people had one - even  SAMCo only had one!

After a large amount of searching by me and Bruce Gordon  himself, we have recovered 20 of these gold ASICs. Considering  their 'collectors item' appeal, we thought it would be nice to  have them put in a display case.

Originally, we were just thinking along these lines so that we could have one each for our walls. But we've decided to buy up the rest of them and make them available to dedicated SAM users.

The result is the gold ASICs are mounted in a gold picture frame  with a small plaque (printed in gold) explaining what the ASIC  is. Each of these plaques has been individually signed by Bruce  Gordon, who you all know as the designer of the ASIC, the SAM as  well as many of it's interfaces.

As an interesting fact, these few chips (or prototype  engineering samples to give them their proper name) are actually of much higher quality than the mass produced ASICs, purely  because they were made individually!

Although the ASICs have been very elegantly mounted, the main cost was the chips themselves, and the complete package is being  sold for £80. We know this is a lot of money, but I'm sure  you'll agree that what you're getting is something very special.  Assuming we can sell the rest of them, Bruce and I will be able  to keep one each for ourselves at cost price - which was the  main objective in the first place!

We know that these chips are going to be in demand, particularly because of their few in number. They will undoubtedly become  worth more as time goes on, and so as not to 'sell out' everyone  that's supported the SAM over the last few years, we have to  stipulate a few conditions for the purchase of one of these :

You must be a DEDICATED SAM user - for this you will probably  have had a SAM for at least two years, and preferably know some  of the higher standing people in the SAM community. We are NOT  interested in selling to people that have not followed SAM through it's ups and downs.

We can also only allow one per SAM user.

We will have a few of these at the Gloucester Show for sale, so  please bring proof of identity.

If you wish to purchase one, phone the FRED line to confirm your  suitability, and their availability. DO NOT just send off a cheque for £80 in the post.

We hope that the dedicated SAM owners will take pride in  joining myself and Bruce in being one of only twenty to have a  gold ASIC hanging proudly on your wall.

Just to remind you, the cost is £80 exactly, and it is  approximately A5 size.

Another interesting fact is that, should you wish to, you could  take one of these gold ASICs out of the frame and use it in your  SAM - it would function as normal!
Originally on sale as above, they subsequently have been awarded, presented to luminaries of the Sam scene at the Gloucester Shows and even sold on eBay.
Known recipients at the time:
Known recipients subsequently :
From Colin Piggot on the Sam Users Mailing List:
[Golden ASICS] are the batch of 40 test pieces from VLSI. If I remember correctly the prices going around was £50,000 for the 40 prototype pieces. Typical procedure was to pay a very high price initially to pay for all the masks etc required for the manufacture of the silicon and get a few test pieces before commencing with a full batch of chips.

They get their 'gold' name for being in ceramic packaging with gold plated contacts and lid, with the mass produced batch in the more normal plastic packaging.
See the mounted edition from Simon Owen from ORSAM 2004.