Submitted by
Dan Dooré
on Thursday, May 17, 2018 - 14:48.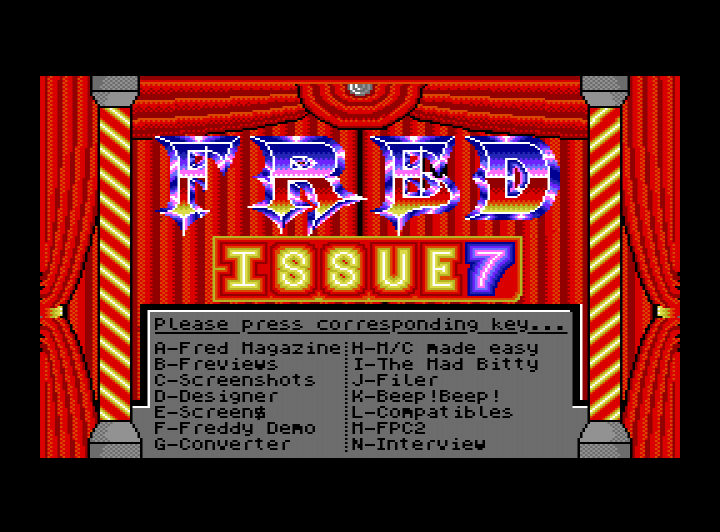 Download
Copyright Provenance
Description
Issue 7
Magazine

                        FRED ISSUE 7 MENU                      1

  1 : THE MENU               11 : HINTS 'N' TIPS CTD
  2 : THE FREDITORIAL        12 : AAAAAAARGH!
  3 : THE FORMATS FAIRS      13 : CRAP JOKE CORNER
  4 : TOO MUCH HASSLE...     14 : CLASSIFIEDS
  5 : THE NEXT FAIR          15 : A LETTER!
  6 : WHO'S ZAT THEN...      16 : PROGRESS REPORT!!
  7 : THE NEW IDEA...        17 : NEWS
  8 : OOOOOOOPPPPSSS!        18 : DISC CONTENTS
  9 : HI-FLYERS              19 : DISC CONTENTS CTD
  10: HINTS 'N' TIPS         20 : CREDITS


  USE O AND P FOR LEFT AND RIGHT A PAGE      )OR USE THE
  USE Q AND A FOR UP OR DOWN FIVE PAGES      )ARROW KEYS
  USE SPACE OR FULL STOP TO SELECT PAGE
  USE C IF YOU WANT TO ALTER THE COLOURS

   Please note:the adverts will now appear at a random page when
you load FRED up each time.Just don't ask why,OK?
                         THE FREDITORIAL                       2

  THE MORE OBSERVANT OF YOU WILL HAVE NOTICED  THAT  DESPITE  MY
'DISAPPEARANCE' LAST MONTH I STILL HAD TO DO OVER HALF THE  MAG!
NOW , BRIAN HAS DECIDED HIS EXAMS ARE IMPORTANT  AFTER  ALL  AND
REFUSES TO DO ANY WORK (EXCEPT FOR THE MAD BIT AND THE  ARTWORK)
AND IAN OPTED OUT WITH THE EXCUSE THAT HE'S GOT TOO MUCH ON!!
  AS I'VE BEEN ABANDONED (BOO HOO!) WHEN I'VE  NEEDED  HELP  THE
MOST , THE MAGAZINE MIGHT BE SLIGHTLY LACKING IN  THE  NEXT  FEW
ISSUES BUT IF IT IS..BLAME YOURSELF!YES,IF EVERY READER DID  ONE
PAGE I'D HAVE THE NEXT SIX ISSUES PACKED FULL! SO COME  ON,WRITE
TO ME ABOUT ANYTHING THAT TICKLES YOUR FANCY!
  A LOT HAS BEEN HAPPENING ON THE COUPE SCENE LATELY  WHAT  WITH
THE MEG UPGRADE,CARD CAGE (OR SAMBUS  AS  IT'S  NOW  CALLED),THE
FANTASTIC  MASTERDOS  AND  ALL  THE   GREAT    GAMES    RELEASED
RECENTLY.QUITE AN EVENTFUL MONTH , AND FOR SAMCO'S SAKE AS  WELL
AS EVERY OTHER COUPE OWNER'S I HOPE THAT THE COUPE SOLD WELL  AT
CHRISTMAS.ONCE AGAIN , I'LL LOOK FORWARD TO HEARING FROM YOU ALL
SOON AND NOW I'LL LEAVE YOU TO ENJOY THE MAG ( OR WHATEVER  ELSE
YOU MAY CARE TO DO WITH IT!).                                 CM

                        ALL FORMATS FAIR                       3

  YES,I SHOULD HAVE A STAND AT THE SHOW ON FEBRUARY THE  2ND  SO
MAKE SURE I GET A CHANCE TO MEET YOU.IF I  DON'T  HAVE  A  STAND
THEN I'LL STILL BE THERE SO JUST ASK ANY OF TEAM SAM TO POINT ME
OUT!
  A FEW OF YOU MAY HAVE SEEN A PHOTO OF THE LAST FAIR  IN  ISSUE
110 OF NEW COMPUTER EXPRESS.ALLOW ME TO  GUIDE  YOU  THROUGH  IT
(!)...THE GUY ON THE LEFT IS NONE OTHER THAN DR ANDY WRIGHT  AND
JUST BEHIND HIS FOREHEAD IN A MEGADETH T-SHIRT IS OUR  VERY  OWN
IAN!! BEHIND THE STALLS : BOTTOM RIGHT IS MARK GREENSHIELDS FROM
ENIGMA,NEXT SLIGHTLY UP IS  BRIAN  MUMFORD  (IN  THE  SAM  COUPE
JUMPER!) OF SDC'S SAM SUPPLEMENT,NEXT I THINK  IS  FORMAT'S  BOB
BRENCHLY AND AROUND THE CORNER (BEHIND  BRIAN  MUMFORD)  IS  THE
BACK OF THE GENIUS BRUCE GORDON!! IF  YOU  LOOK  CAREFULLY  JUST
ABOVE MARK GREENSHIELD'S HEAD,AT THE VERY RIGHT OF  THE  PICTURE
YOU CAN (OR AT LEAST I DID!)  JUST  MAKE  OUT  DAVE  LEDBURY  OF
THE SAM/SPECTRUM MAGAZINE , ZAT.
  SOMEHOW , NCE MANAGED TO MISS ME OUT OF THE PHOTO BUT I'M SURE
THEY'LL MAKE UP FOR IT WITH ONE NEXT TIME!!!

                       TOO MUCH HASSLE...                      4

  HMMM YES, I'M AFRAID I'M GOING TO HAVE  TO  STOP  MAKING  FRED
AVAILABLE BY SENDING A DISC AND SSAE.SORRY! BUT  I  DO  ALL  THE
COPYING OF FREDS ON A SUNDAY AND WHEN SOMEONE SENDS A  DISC  AND
SSAE ON MONDAY I'VE GOT TO COPY IT  USING  MY  ONE  DRIVE  WHICH
TAKES QUITE A WHILE UNFORTUNATLY.THE OTHER REASON  IS  THAT  I'M
STILL (YES,STILL!) MAKING A LOSS BY RUNNING THIS MAGAZINE AND SO
I WILL HAVE TO START RECUPERATING  SOME  OF  THOSE  LOSSES  SOON
OTHERWISE THAT WILL BECOME ANOTHER REASON FOR STOPPING.
  I'M SORRY FOR DOING THIS AND I GUESS SOME OF  YOU  WILL  THINK
THAT FRED WILL NO LONGER BE 'NON-PROFIT MAKING'  AS  IT  IS  NOT
FREE IN THE SAME SENSE AS BEFORE.BUT IT REALLY HAS TO BE DONE SO
YOU CAN NOW ONLY GET FRED BY SENDING £1 TO ME.
  THERE IS NOW A LITTLE BIT OF RESPONSE TO MY NUMEROUS PLEA'S IN
PAST ISSUES BUT FROM NOW ON I WON'T BE ABLE TO DO MUCH MORE THAN
JUST COMPILE ALL THAT  I'M  SENT  SO  IT'S  NOW  IN  YOUR  HANDS
ENTIRELY.DON'T LET YOURSELF DOWN......



                          THE NEXT FAIR                        5

  THAT'S ANOTHER FAIR GONE PAST AND I COULDN'T ATTEND BUT I WILL
BE AT THE NEXT ONE! YES,I SHOULD  HAVE  A  SMALL  STAND  SET  UP
BORROWED FROM SOME KIND SOUL SO PLEASE COME FOR A  CHAT  IF  YOU
ARE IN THE AREA.I WILL BE SELLING ALL COPIES OF FRED AND I  WILL
BE TAKING MY COUPE DOWN TO SHOW FRED OFF TO ANY PASSER-BY'S.
  WHO ELSE WILL BE THERE? WELL,SAMCO AND  ENIGMA  ARE  DEFINETLY
ATTENDING  AS  ARE  THE  SCPDSA.STEVE  NUTTING  MIGHT  BE  THERE
,POSSIBLY SHARING A STAND WITH BLUE ALPHA ELECTRONICS.
  FRED ISSUE 7 WILL BE OUT THE DAY AFTER THE SHOW BUT I WILL  BE
SELLING PREVIEW COPIES AT THE SHOW.THE ONLY DIFFERENCE  WILL  BE
THAT THE PREVIEW COPIES WILL NOT HAVE A SHOW REPORT.BUT  IF  YOU
BUY IT AT THE SHOW YOU WON'T BE WANTING A REPORT ANYWAY!!!
I'VE DECIDED TO PUT ISSUES ONE AND TWO ONTO ONE DISC NOW AS THEY
ARE A 'BIT LACKING' BUT STILL WORTH A LOOK IF ONLY TO  SEE  WHAT
IT'S POSSIBLE TO START FROM.THESE ISSUES ARE NATURALLY ONLY A £1
FOR THE DISC.



                        WHAT'S ZAT THEN?                       6

 I MET A NICE MAN (A VERY NICE MAN:A VERY,VERY  NICE  MAN......)
AT THE NOVEMBER SHOW WHO TURNED OUT  TO  NONE  OTHER  THAN  DAVE
LEDBURY,EDITOR OF 'ZAT' FANZINE!(PREVIOUSLY CALLED 'ADVANCED ZAT
PROGRAMMING' AND BEFORE THAT (OR SHOULD  I  SAY  BEFORE  ZAT?!?)
'ZAT PROGRAMMING'!)
  DAVE RECENTLY SENT ME A COPY OF THEIR FIFTH ISSUE WHICH  IS  A
VERY PROFESSIONAL (ALTHOUGH ON PAPER!) 32 PAGE  MAGAZINE.BETWEEN
AT LEAST SIX OF THEM (FIVE MORE THAN  ME!)  THEY  HAVE  INCLUDED
NEAT DRAWINGS ALL  OVER  THE  PLACE  AND  A  DOUBLE  PAGE  COMIC
STRIP.UNFORTUNATLY ,ZAT CATERS FOR THE SPECTRUM AS WELL  AS  THE
COUPE BUT THERE IS STILL A LOT OF COUPE COVERAGE TO BE FOUND.
  THE  PRICE  FOR  SUBSCRIPTION  TO  ZAT  IS  £5.50  FOR   SEVEN
BI-MONTHLY ISSUES OR JUST SEND 80P AND  A  STAMP  FOR  A  SINGLE
ISSUE.
  APART FROM THE WHOLE  THING  SEEMINGLY  REVOLVING  AROUND  THE
TURTLES,ZAT IS PRETTY GOOD (AND IS ALSO A MEMBER OF TEAM  SAM!!)
SO IF YOU WANT TO GET A COPY SEND YOUR CASH TO :ZAT , PO BOX 488
, TWEEDALE , MADELEY , TELFORD , SHROPSHIRE , TF7 4SU

                       THE NEW IDEA!!!!!!!                     7

  UNFORTUNATLY THE IDEA THAT I HAD IN MIND FROM LAST MONTH WOULD
TAKE UP FAR TOO MUCH TIME SO I WILL HAVE TO  DELAY  IT  FOR  SIX
MONTHS OR SO.BUT I AM WILLING TO START UP A FRED PD LIBRARY! THE
THING ABOUT THE FRED PD THAT IS SO  MUCH  BETTER  THAN  ALL  THE
OTHERS IS THAT NOT ONLY WILL IT BE NON-PROFIT MAKING  (SOMETHING
ONLY ME AND SDC ARE,IN THE ENTIRE COUPE WORLD!!) BUT I WILL FILL
THE DISCS RIGHT UP TO THE BRIM WITH STUFF ; NOT JUST PUT ON HALF
A DOZEN PROGRAMS AND PUT THE REST ON ANOTHER DISC! SO  YOU  WILL
SEE PD DISCS FROM ME WITH AS NEAR TO 780K FULL AS POSSIBLE!!
  ONLY ONE DISC IS AVAILBALE SO FAR AND I'LL WARN YOU  THAT  THE
STUFF MAY BE FOUND IN OTHER PD'S BUT I'VE JUST TAKEN THE BEST OF
THE LOT SO I'M SURE YOU WON'T  BE  DISSAPOINTED.DISC  TWO  WHICH
SHOULD BE OUT SOON WILL HAVE THE SPHERA DEMO ON  IT  (YES,ENIGMA
HAVE MADE IT 100% PUBLIC DOMAIN!!)
 EACH DISC WILL JUST THE USUAL,PATHETICALLY LOW  ,PRICE  OF  ONE
POUND OR IF YOU HAVE A SUBSCRIPTION TO FRED THEN  YOU  CAN  JUST
PHONE INSTEAD AND I'LL JUST DEDUCT ONE ISSUE FROM YOUR  SUB  AND
SEND IT/THEM IMMEDIATELY TO YOU!(UNLESS THERE'S A PROBLEM!!!)

                      OOOOOOOOOOOPPPPPPSSSS                    8

  Yes , I made one or two cock-ups last month and so here I must
humbly apologize and hopefully rectify those errors.
  The escape key detection routine  which  I  said  was  in  the
ENIGMA newsletter originally came from Colin Jordan (yes ,  he's
the one who did FAMOUS FIVE!).I got a letter from him and he was
a little bit miffed so here is another claim to fame for you!
  I also said that two gentlemen were working on a game and some
music in the NEXT MONTH section , trust me to go and get one  of
their names wrong : It should have been Neil Holmes  and  Stuart
Leonardi instead of Steven.Sorry Steven....I mean Stuart!!!!
  The game they are working on is still going strong and as they
have too much to do it is delayed a little bit but with a bit of
luck we'll see it soon.
  I also made a couple of mistakes about the date of this issue
, I think I said it was out on the 2nd and later on the 5th  .If
you have not just joined FRED you will of course  have  realised
that it was the 6th - ie. The first Sunday in the month.
  Remember if you notice any little blunders (or even big ones!)
in the future , please tell me as soon as you can.
                            HI-FLYERS                          9

  GOT ANY AMAZING SCORES? SEND THEM IN AND SHOW YOUR SKILLS!
HERE ARE SOME TO START YOU OFF - BEAT 'EM IF YOU CAN!!

  ERM , ZENITH (COLIN) - 12780 WITH 7 LIVES LEFT!
  FAMOUS FIVE , ENIGMA (COLIN) - 46% (AND I QUIT!)
  DEFENDERS , ENIGMA (COLIN) - 112840 (FINISHED WITHOUT CHEAT!)
  TETRIS , FRED3 (COLIN) - 5291 WITH 154 LINES
   "  "      "   (BRIAN) - ???? WITH 163 LINES
   "  "      "   (IAN)   - ???? WITH  49 LINES (HA!-CM)

A CERTAIN FRED CONTRIBUTOR NAMED NEIL  HOLMES  COMPLETED  SPHERA
IN JUST  FOUR  DAYS  WITH  A  FANTASTIC  SCORE  OF  2,692,000!!!
APPARENTLY , THE FINISHING MESSAGE IS "WOW! MEGA DUDE  OR  WHAT.
YOU WELL AND TRUELY KICKED THEIR BUTTS!" WELL DONE NEIL AND  FOR
SOME HINTS ON SPHERA SEE THE RELEVANT PAGE!




                         HINTS 'N' TIPS                       10

  NOW SOME TIPS FOR THOSE OF YOU STUCK ON ENIGMA'S  FAMOUS  FIVE
ADVENTURE SENT IN BY PHIL GLOVER.IF ANY OF YOU ARE REALLY  STUCK
THEN YOU MAY SEND PHIL DETAILS OF YOUR PROBLEM WITH A SSAE AT  :
43 FERNDALE RD.,HALL GREEN,BIRMINGHAM,WEST MIDLANDS,B28 9AU

 MAKE FRIENDS WITH GEORGE AFTER VISITING THE  HOUSE.YOU'LL  NEED
TO GO TO THE GROCER'S SHOP,BECOME JULIAN,BUY ICES AND GIVE  ICES
TO GEORGE.YOU MAY NEED TO RE-DIRECT GEORGE TO THE  SHOP  IF  SHE
WANDERS OFF AGAIN!
  YOU'LL NEED THE SPADE FROM THE VEGETABLE GARDEN AND FOOD  FROM
THE PANTRY,WHICH MAY PROVE TRICKY AS JOANNA WON'T LET  YOU  INTO
THE KITCHEN.PLACE ONE PERSON  IN  DINING  ROOM  AND  ANOTHER  IN
LIVING ROOM BY THE RADIO.IF YOU TURN ON THE  RADIO,JOANNA  COMES
IN TO TURN IT OFF AGAIN.QUICKLY BECOME THE PERSON IN THE  DINING
ROOM AND NIP INTO THE EMPTY KITCHEN.YOU CAN  DO  THIS  THREE  OR
FOUR TIMES, IF NECESSARY.

   TIPS CONTINUED OVER THE PAGE...........

                         HINTS 'N' TIPS  CTD.                 11

  YOU'LL NEED TO GET THE OVEN GLOVES OFF JOANNA.'BECOME  GEORGE'
AND'TALK TO JOANNA GIVE ME GLOVES'WHEN SHE  SWITCHES  THE  RADIO
OFF.
  FOR THE ISLAND, YOU'LL NEED FOOD & DRINK,THE  SPADE,ROPE,TORCH
& BATTERY,MATCHES AND THE THE GLOVE.GEORGE  CAN  ASK  ALF  ABOUT
TIMMY, AND TIMMY SHOULD APPEAR. ONLY GEORGE CAN  SAFELY  ROW  TO
THE ISLAND.NO DIRECTIONS EXIST AT SEA, ALL YOU CAN  DO  IS  'ROW
BOAT' SEVEN TIMES TO OR FROM THE ISLAND.
  A BIG THANK YOU TO PHIL FOR THESE TIPS,IF YOU STILL CAN'T  GET
VERY FAR THEN HOPEFULLY NEXT MONTH THERE WILL BE MORE.
 MEANWHILE IF YOU HAVE ANY TIPS , SEND THEM IN..
 INCIDENTLY, IF YOU HAVE MULTI PACK ONE FROM ENIGMA .THEN IF YOU
WANT TO BE (ALMOST!) INVINCIBLE ON SAM STIKES OUT THEN GO AS FAR
LEFT FROM THE FIRST SCREEN AS POSSIBLE THEN JUMP AND PRESS  'F9'
AT THE SAME TIME.SAM SHOULD THEN TURN UPSIDE  DOWN  AND  HAVE  A
PERMANENT SHIELD!!



                   AAAAAARRRGH - THE HELP PAGE                12

Could any of your readers out there help me with a small problem
I am haing with my coupe. I am using the Format  S.P.I.  printer
interface and an Amstrad DMP 2000 printer. The problem is that I
do not know the  Dip  Switch  setting  for  the  printer.  After
expermenting with these switches I finally got  the  printer  to
work. Text ok,though when printing with Flash or using the  dump
command I get a line printed at the bottom  of  every  pass  the
Printer  made  (example  included).  But  after  switching   the
computer off when I switched it back on the  printer  would  not
work at all although it had the  same  Dip  Switch  settings  as
before! If any one could help me with this problem  I  would  be
most grateful...from Jason Highfield

Can anybody tell me how to use a modem on  the  coupe?.I've  got
the old VTX5000 and a PRISM 1000,does anybody know somebody  who
could help out? I really miss access to Prestel now  we've  sold
the Spectrum!
 UNFORTUNATLY WE COULDN'T ANSWER THESE BUT IF YOU CAN PLEASE GET
IN TOUCH , AS FOR THE MODEM TRY THE STOP PRESS PAGE!!!!
                 THE RATHER CRAP JOKE PAGE                    13

Why did the chicken cross the road ?
Why not !!!

What is Yellow and stupid ?
Thick custard !!!

Why did Colin throw his clock out of the window ?
Because he's thick !!!      GEE-THANKS!-CM

what did one leg say to the other?
Don't talk to him in the middle, He's.. CENSORED-CM!!!

What do you call a Fly with no wings ?
A Walk !!!

What do you call a spider with no legs ?
A Currant !!!

Bye for now, hope to see you all again quite soon.*S.Preston*
                     CLASSIFIEDS/LINEAGE ETC                  14

 @ Hi to all you cool dudes that read FRED (there must be some).
If you are looking for a Pen Pal (and you prbably are)  to  swap
programming ideas and dirty jokes with etc....  then  send  your
name and address to me : Scott Preston, [redacted]
 @ If you've got a double disc drive and would like to do your
bit to help in the production of FRED then PLEASE get  in  touch
with me,CM at the FRED HQ address or phone.PS : This is  a  very
desperate plea.....
 @ Got anything to say? Selling a game? Want a pen-pal? Starting
up a new 'zine? If you can answer Yes to any of these or if  you
just want your name in print then send your message on  disc  in
BASIC,CODE or STRING form and it'll go  in  the  next  available
issue - this service is completely free!
 @ FOR SALE:Spectrum software at very  competitive  prices.  For
list  of  these  bargains,   send   SSAE   to:   PAUL   SWEENEY,
MULLINAHINCH, ROSLEA, CO.FERMANAGH, BT92 7QH


                         ANOTHER LETTER!                      15

Dear sir,
         Enclosed is my entry to the second Fred Programming
Compo. These compo's are an excellant idea as they teach you,
or at least motivate you to learn Sam Basic. Keep up the good
work!!!
LETTER CONTINUED ON AAAAAAARGH PAGE.
Yours,
      Jason Highfield.
P.s.
    Sorry about the lack of explation on my FPC entry but due to
Christmas I have not had time to do this. The program is staight
forward and fairly self explantory.
          .Keep up the good work.

  THAT SOUNDS  LIKE  ANOTHER  SATISFIED  CUSTOMER.HAVE  YOU  GOT
ANYTHING TO SAY? WHAT ABOUT A 'NCE STYLE' DEBATE ON HACKING?  OR
ANYTHING ELSE THAT  TICKLES  YOUR  FANCY  AT  ALL.JUST  MAKE  IT
REASONABLY INTERESTING  AND  RELEVENT  .WELL,THE  FIRST  ONE  AT
LEAST! BUT PLEASE SEND THEM IN!!!!
                      PROGRESS REPORT!!!!!                    16

  WHETHER YOU LIKE OR NOT I'M GOING TO GIVE YOU ANOTHER PROGRESS
REPORT,MAINLY BECAUSE THINGS HAVE STARTED TO PICK  UP  RECENTLY.
UNFORTUNATLY I HAVE ONLY KEPT A DETAILED RECORD OF ALL ISSUES  5
AND 6 SOLD BY ME.THE NUMBERS HAVE NOW HIT.....112!!  YES  ,  THE
MEMBERSHIP NOW STANDS AT ONE HUNDRED AND TWELVE , AND  TO  THINK
JUST FOUR MONTHS AGO THEY WERE ABOUT  HALF  THAT  ;  ONCE  YOU'D
SUBTRACTED A HUNDRED! HOPEFULLY THESE NUMBERS ARE  LARGE  ENOUGH
SO PEOPLE WILL NOW NOTICE FRED AND START TO GIVE ME NEWS  RATHER
THAN  ME  CONTINUALLY  PLAYING  THE  PART   OF   THE   PESTERING
JOURNALIST.DOES  ANYBODY  KNOW  THE  SAM  MEMBERSHIP  OF   OTHER
MAGAZINES -I'D LOVE TO KNOW WHERE I STAND!
  APPARENTLY I'VE ALSO HAD A MENTION IN COMPUTER SHOPPER  AND  I
WAS MENTIONED  IN  ISSUE  FIVE  OF  ZAT  AND  MIGHT  BE  IN  SAM
SUPPLEMENT THREE FROM SDC! IF ANY OF YOU BOUGHT THE WINTER ISSUE
OF THE COMPLETE  COMPUTER  ENTERTAINMENT  GUIDE  YOU  WILL  HAVE
NOTICED THAT THEY ALSO NICKED SOME OF FRED'S PICCIES  -  WITHOUT
EVEN A MENTION.HUH! THE CHEEK OF IT!! MIND YOU AS CCEG IS RUN BY
NEWSFIELD WHO EMPLOY NICK 'FRED'S SAVIOUR'  ROBERTS  I  GUESS  I
COULD LET THEM OFF THE HOOK.MAYBE! NO ,REALLY I DON'T MIND,NICK.
                 WHAT'S THIS MONTH'S NEWS THEN?               17

  EM..TO BE HONEST THERE IS HARDLY ANY SO I CAN'T TELL YOU  MUCH
(UNLESS OF COURSE I MAKE IT UP , BUT SOMEONE LIKE ME WOULDN'T DO
SOMETHING LIKE THAT - OR WOULD I? "AMSTRAD HAVE BOUGHT THE COUPE
AND HAVE SINCE SOLD 3,000,000 MACHINES.OCEAN SAY "IT'S JUST  TOO
SMALL A MARKET FOR US OH-SO-PROUD  BIGGIES"."  NO,NO,NO  I  JUST
MADE THAT TERRIBLE NEWS UP - I MEAN WHAT  COULD  BE  WORSE  THAN
AMSTRAD BUYING THE COUPE? MIND YOU I'D BETTER SHUT MY BIG  MOUTH
IN CASE THEY DO!!!.  "YES , I'M SORRY MR SUGAR , YES  ,  IT  WAS
INTENDED AS A JOKE....."
  KICK OFF 2 SHOULD BE APPEARING SOON AND "THE SHADOW" HAS  JUST
CREPT UP TO ME AND SAID HE MIGHT REVIEW IT AND XYBOTS  IN  FRED8
IF THEY'RE OUT BY THEN.KLAX HAS BEEN DELAYED SLIGHTLY BUT IF YOU
ORDERED IT YOU SHOULD BE GETTING IT ANY DAY NOW (AND  IF  ANYONE
COULD REVIEW IT I'D BE  MOST  GRATEFUL...)  AND  IF  YOU  HAVN'T
ORDERED IT THEN (YOU PROBALLY WON'T BE GETTING IT ANY  DAY  NOW)
ORDER IT!!!
  IF ANYONE GETS THE MEGABYTE UPGRADE OR THE SAMBUS  (ALIAS  THE
CARD CAGE) THEN LET ME KNOW WHAT THEY'RE LIKE ETC ETC.
   I'LL LEAVE YOU TO LOOK FORWARD TO NEXT MONTH'S NEWS!
                     WOTZ ON THE DISC THEN?                   18

  Firstly I can proudly present  a  sprite  designer  from  Adam
Perry.This is very well documented and gives  full  instructions
available from the main menu.I'm sure you'll find  this  a  very
useful utility to have.
  The screens this month come from a variety of sources and  are
all digitised from the TV.
  As mentioned last month here is a  Freddy  demo  from  Malcolm
Phillips.All you have to do is just load and watch  Freddy  roll
his  eyes  at  you.This  was  originally  programmed  completely
different but I had to alter it to suit FRED and 256K machines.
  He mentioned it last  month  and  here  it  is  ,  the  screen
converter.This program changes your  FLASH  files  into  SCREEN$
files so you don't have to worry about Palettes  etc.  This  was
donated by the regular contributor Paul Kelly.
  I didn't actually get any response from it last month but here
is the second in the series of machine code made  easy  articles
from the wizard himself -  Steve  Taylor.  (who,incidently  just
lives 30 minutes up the road from me and I havn't even  met  him
yet! But we've exchanged some 'fairly lengthy' phone calls!)
                     WOTZ ON THE DISC THEN?  CTD.             19

  Brian somehow managed to get his contribution  to  this  issue
together in the form of another 'MAD  BITTY'  .This  is  another
item I would like to know if it's popular or not.
  In case you didn't like the AGENDA last month  here's  another
name & address program.This time it's from Scott Preston and  is
called FILER (V 1.4!).Simply enter a record and save it  if  you
want then do it all over  again!  Simple,but  unfortunatly  each
person takes up a separate file but it's very good  for  just  a
dozen or so people (I should have used it for  reader  lists  in
the early days!!)
  Now for some  musical  refreshment.Choose  from  classical  by
Allan Norton or an 'Eagle Tune' from Marc Broster or for a  huge
assortment from Neil Holmes and Stuart  Leonardi.Thanks  to  all
you guys - you've all done a great job.
  Again I've got a compatibles section brought to  you  by  Paul
Sweeney and myself.
  Have you won the second FPC?? Find out here!!!
  Finally I  managed  to  interview  GM_SOFTWARE  (producers  of
GM_BASE).Enjoy yourselves!!!!
                           THE CREDITS                        20

I PERSONALLY WOULD LIKE TO THANK :
  NEIL HOLMES AND STUART LEONARDI FOR THE MUSIC.
  BRIAN MCCONNELL FOR THE "MAD BITTY PART 2".
  ALLAN NORTON FOR THE CHOPIN MUSIC.
  ADAM PERRY FOR THE SPRITE DESIGNER.
  PAUL KELLY FOR THE CONVERTOR PROGRAM.
  MALCOLM PHILLIPS FOR THE PICCIES AND FREDDY DEMO.
  MARC BROSTER FOR THE EAGLE MUSIC.
  STEVEN TAYLOR FOR M/C MADE EASY PT2.
  PAUL SWEENEY FOR COMPATIBLES.
  SCOTT PRESTON FOR THE FILER.
  SCOTT NEIL FOR THE SPHERA REVIEW.
  GM_SOFTWARE FOR THE INTERVIEW

   COLIN MACDONALD,          FRED8 OUT 3RD FEBRUARY
    [redacted]                FOR THE USUAL QUID.

        [redacted]   :8.30 - 10.30 OR WEEKENDS


Programming Competition

                FRED PROGRAMMING COMPETITION TWO               1

  THAT'S ANOTHER GOOD IDEA DOWN THE PLUG! I  THOUGHT  THE  PRIZE
MONEY WOULD MOTIVATE PEOPLE TO ENTER THIS COMPO BUT SADLY I  WAS
WRONG : I ONLY HAD 2 ENTRIES TO FPC1 AND ONLY 1 TO FPC2!!!
  SO , AS YOU'VE PROVED YOU'RE NOT ALL GREEDY I'LL TRY IT  AGAIN
BUT THIS TIME I'LL MAKE IT FREE TO ENTER. OBVIOUSLY  THIS  MEANS
NO PRIZE FOR FIRST PLACE EXCEPT FOR  YOUR  NAME  SPLATTERED  ALL
OVER THIS COLUMN!
  WHAT YOU DO IS CREATE A PROGRAM WHICH MEETS (OR THE  BEST  YOU
CAN DO) THE SPECIFICATION ASKED FOR AND SEND IT IN TO  ME  ON  A
DISC (REMEMBER A POUND FOR THE ISSUE AS WELL) AND I'LL PICK  THE
BEST AND WRITE A DESCRIPTION OF WHAT WAS WRONG WITH YOUR PROGRAM
AND HOW IT CAN BE IMPROVED.(I'M SURE JASON AND PAUL WILL AGREE I
CAN FIND A FAIR NUMBER OF FAULTS!) I THEN  SEND  THIS,YOUR  DISC
AND THE ISSUE (WHICH YOU PAID FOR) TO YOU FOR YOU TO DO WHATEVER
YOU DO WITH THINGS LIKE THESE.
  SO COME ON YOU GUYS , HOW ABOUT MAKING AN EFFORT - THERE'S  NO
FORTUNE AT THE END OF IT BUT THE FAME IS CERTAINLY  WITHIN  YOUR
GRASP!!
  MARK THE ENVELOPE FPC AND SEND IT TO THE FRED ADDRESS.

                     THE PROGGY DESCRIPTION                    2

  THIS MONTH YOU'VE GOT  TO  MAKE  A  PROGRAM  WHICH  TAKES  100
NUMBERS (1 TO 100) AND RANDOMIZES THEM IN THE BEST WAY POSSIBLE.
THEN ONCE THESE NUMBERS HAVE BEEN DISPLAYED IN A SUITABLE MANNER
TO PROVE IT WORKED IT MUST RE-ORDER THEM AGAIN IE PUT THEM  BACK
INTO NUMERICAL ORDER! NO CHEATING  ,  REMEMBER  ,  THE  FREDITOR
KNOWS ALL SO DO IT BY THE BOOK OR ELSE!
  THERE ARE NUMEROUS WAYS THIS ONE CAN BE DONE (THREE SPRING  TO
MIND BUT I'M SURE THERE ARE MORE) SO YOU SHOULDN'T FIND THE IDEA
TOO HARD , JUST THE PROGRAMMING BIT! IF YOU'RE COMPLETELY  STUCK
AND YOU HAD A SPECTRUM THEN THINK BACK TO THE "HORIZONS" TAPE  -
THERE WAS A NEAT PROGRAM ON THAT WHICH DID THE TOUGHEST HALF  OF
THE JOB!
  I'LL LEAVE YOU NOW TO EXPERIMENT WITH JASON HIGHFIELD'S  ENTRY
- IT'S PRETTY DAMN GOOD IF YOU ASK ME!

   PRESS ANY KEY TO SEE THE WINNERS ( JASON HIGHFIELD ) ENTRY.


Machine Code Tutorial #2

Hello again eveyone! 'Tis I, the Wizard, here to enlighten all
you beginners as to the joys of machine code. This is part 2 in
the series, and I will be referring back to part 1, so if you
don't have FRED6 (why not?) go and order a copy immediately!

Right, let us proceed....

                  A - THE MATHS LESSON
                 ----------------------

   If you hope to get anywhere in m/c a basic knowledge of
binary and, to a lesser extent, hexadecimal, is neccesary.
   BINARY is base 2 - a series of 1's and 0's which can
represent any number you care to think of. This is how numbers
are stored inside your coupé, so this is important.
   Each binary digit (or BIT) stands for a power of 2:1,2,4,8...
and so 8 bits can hold a number between 0 and 255.

This is how they are arranged:
         7   6   5   4   3   2   1   0  -> BIT number
        -------------------------------
        128  64  32  16  8   4   2   1  -> POWERS OF 2
        -------------------------------
         1   0   0   0   1   0   1   1  -> BITS

This is equal to 139 in decimal.

   HEXIDECIMAL is less important, but is a very useful way of
keeping binary numbers small and neat.
   Because it is base 16, its values run like this:
 1,2,3,4,5,6,7,8,9,A,B,C,D,E,F,10,11,12,13,14,15,16,17,18,19,1A
and so on...
The digits 0-9 are easy enough to understand, but because there
is no digit for 10, hex uses the letter A. B=11, C=12 and so on.

OK?

               B - BIT MANIPULATIONS (OOER!)
              -------------------------------

The whole point of learning binary, is that many m/c comands use
it. These can be split into 3 groups - arithmetic, shifting and
single bit control. (I just made these names up. Good, eh?)

Right, what's first. I know, SINGLE BIT CONTROL:

This is easy. Remember that each of the 8 bits in a number is
located by a number from 0 (the units) to 7 (the 128's).
These comands follow simple patterns:
    SET b,r : This sets bit b (0-7) of register r ( A,B,C etc )
              ie. makes it equal 1.
    RES b,r : As above, except that it resets the bit. ie, makes
              it 0.
    BIT b,r : This takes whatever the value of the bit is and
              copies it into the zero flag.

That was simple enough, wasn't it?

                     SHIFTING COMMANDS
                    -------------------

Oh, dear. There are so many commands I could cover here that I
could fill FRED by myself, so I'll just stick to the simple ones

   RL  r:   This rotates the bits in register r, so the bit 7
            becomes equal to bit 6, bit 6 becomes equal to bit 5
            and so on. The only complication is that the carry
            flag becomes equal to bit 7 and bit 0 becomes
            whatever was in carry.
   RR  r:   As above except that all the bits move right instead
            of left, and as a result, bit 0 goes to carry and
            carry goes to bit 7
   RLC r:   This is like RL except that bit 7 goes to bit 0 as
            well as carry.
   RRC r:   Like RR except that bit 0 goes to both bit 7 and
            carry

Phew! Hope you got all that.


                ARITHMETICAL BINARY COMMANDS
               ------------------------------
Now these are REALLY complicated, but nevertheless, extremely
valueable. They are all based on the logic functions OR,AND,XOR
that we discover in physics, and all follow rules we can lay
down in TRUTH TABLES. They all work on the principle of taking
a bit of one number (or register) and comparing it will the
corresponding bit of another, and producing a resulting bit
which is stored. This is then repeated for all the other bits in
the numbers to finally produce another 8-bit number.

OR. Here, the two numbers are merged together, so that if either
one bit is 1 OR the other bit is 1, then the resulting bit is 1

AND. Here the resulting bit is only 1 if both one bit AND the
other bit are 1.
XOR. Here, the result is 1 if the two bits were different,
otherwise the result is zero.

These functions can all be shown in TRUTH TABLES:

OR     : BIT A : BIT B : RESULT :    The format of this command
--     :-------:-------:--------:    is
       :   0   :   0   :   0    :        OR xx
       :   0   :   1   :   1    :    where A is ORed with xx
       :   1   :   0   :   1    :    which can be a number or
       :   1   :   1   :   1    :    a register. The result is
       --------------------------    stored in A.




AND         : BIT A : BIT B : RESULT :   The format of AND & XOR
---         :-------:-------:--------:   is exactly like OR.
            :   0   :   0   :   0    :   ie.
            :   0   :   1   :   0    :      AND xx
            :   1   :   0   :   0    :      XOR xx
            :   1   :   1   :   1    :   Again, A is ANDed/XORed
            --------------------------   with xx, with the
                                         result stored in A.
XOR         : BIT A : BIT B : RESULT :
---         :-------:-------:--------:
            :   0   :   0   :   0    :
            :   0   :   1   :   1    :
            :   1   :   0   :   1    :
            :   1   :   1   :   0    :
            --------------------------

                      C - HINTS & TIPS
                     ------------------

To double the Accumulator, do: RL A
To half it do                : RR A

To clear A howsabout         : XOR A

Last time we saw how to do a loop using DJNZ.
IF you want to loop round more than 256 times, here's a 16-bit
loop routine:
                   DEC BC      ; Number of times to loop in BC
                   LD  A,B     ; OR together B & C
                   OR  C       ; If they are both 0, the result
                   JR  NZ,LOOP ; is 0, and the zero flag is set.
                               ; If not, loop back.
That's about it for this issue.

If you have a query about machine code, a useful routine or
even just a problem, feel free to write to me ( not Colin )
at:
            Steve Taylor
            [redacted]

And I'll try to answer you on screen.

Byeeeeeeeeeeeeeeeeeeeeeeeeeeeeeeeeeeeeeeeeeeeeeeeeeeeeee!!!!!!!!

Stop Press

                           STOP PRESS

  I wasn't sure about this one but I'm going to run it anyway- a
little birdy told me that there MAY be a modem on  the  way  for
the coupe.Unfortunatly I can't remember who told me so  I  can't
promise anything at all!
  Blue Alpha should be starting  work  on  the  video  digitiser
pretty soon (if they havn't already started).This one is a  mono
one but sometime in the future they hope to produce a colour one
that simply mixes reds,greens and blues in an  attempt  to  copy
colour.Obviously we can't expect  TV  quality  screens  but  I'm
certainly looking forward to it - we could have  a  colour  FRED
soap - featuring me!!!!! No? OK , maybe not.
  I've just seen a demo of Neil  Holmes  and  Stuart  Leonardi's
game.It is very professional looking  and  plays  very  well.The
only other thing I can say is that it's called  NWB  -  "No  Way
Back"!   It's mean,it's lean.....and it's going to be in FRED!
  Like the new labels? If you want these labels  for  your  back
issues just include 5p for each one you want  and  I'll  include
them in your next order.Thanks to Steven for doing  the  labels.
Don't they make FRED look really professional?? Well,I think so.


Next Month

                       NEXT MONTH - FRED8

  Unfortunatly there has not been as much "stuff" coming in  for
future issues so I don't really know what will be in  it  but  I
can make an educated guess if you want...
  Up for reviews should  be  SAMDISC  from  LERM,MASTERDOS  from
SAMCO/Dr Andy Wright,GM_BASE  from  GM_SOFTWARE  and  perhaps  a
couple of the newer releases from ENIGMA (like KLAX?)
  Neil Holmes and Stuart (sorry for getting your name wrong last
month!) Leonardo are still beavering away on that superb game so
you should see it next month (but  don't  cry  if  you  don't  -
they're vert busy men you know!)
  I might be able to persuade Brian to do another  MAD  BITTY  -
What do YOU think of it ? tell me please!!!!
  The piccies next month will all be from readers so if you have
drawn anything half decent then just post it to me  and  I  will
put it in for you.
  During January I will be doing my exams so if you don't  write
anything for FRED then you will get nothing!!!I'm afraid it's as
simple as that.
  FRED 8 - out 3rd February at only £1.Order it now!!!!!!!!

                       NEXT MONTH - FRED8                      2

  Just the other day I received a disc full of  stuff  from  Ian
Slavin who had one of his programs printed in CRASH ish  79.This
disc is packed full of great demos and  programs  so  it  should
last for a couple of issues of  FRED  anyway.For  FRED8  I  have
decided to put on some MIDI programs  (woooooo!-The  first  ever
MIDI program if I'm not mistaken!) one of which is a tutor  type
of program.If you did type in the short  listing  which  was  in
CRASH you will have found it to be brilliant especially for  the
size of it.Ian has done another ten of these great twirly  demos
(or as he calls them "trip-a-trons" which I am delighted  to  be
able to put on the next issue of FRED.
  Dan Brice (some of you may already know him!) has just sent  a
notepad program.It's a simple word processor but is  ingeniously
programmed!
  Steve Taylor has already done part three of m/c  made  easy  -
and that's before I've seen part two!!!
  I have got together all the stuff I have for FRED8 in the last
three days!!But , I am short on articles so as I've said many  a
time before "get yer typing fingers on and do duty to FRED"!