Submitted by
Dan Dooré
on Tuesday, May 22, 2018 - 14:24.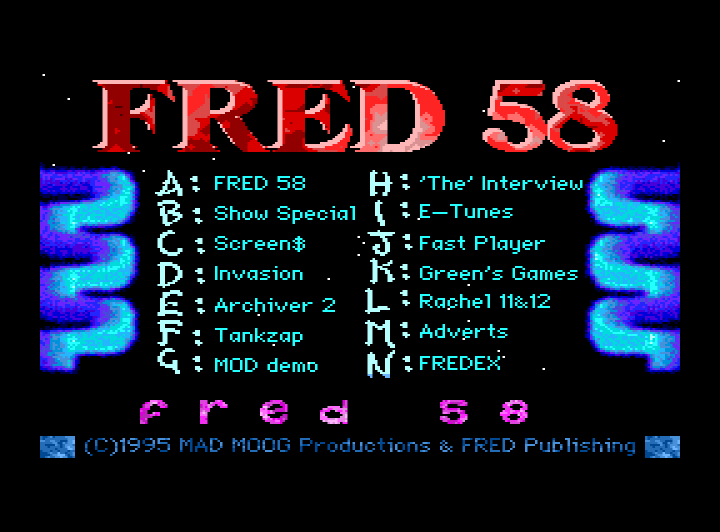 Download
Copyright Provenance
Trivia
From Warren Lee
Just thought I would add a few screenshots for 'Invasion', which I was lucky enough to get published on this issue of FRED.

For those who haven't played, I wrote it in Games Master as my effort at creating an 'R-Type' style game for the SAM (Yes, I know it's not quite there!). But I also wanted a space shoot-em-up with achievable progress and a proper ending, rather than the usual seemingly endless waves where the only goal is a higher score.

So if you play through all three levels, you get three distinct end-of-level bad guys, progressively more difficult waves of ships (but not too difficult), and an end sequence of the alien command ship blowing up. There are three levels of difficulty, which can be chosen on the title screen with buttons 1,2 & 3. Difficulty levels 2 & 3 each add an extra image to the ending, to reward the effort.

This was my first published SAM game, and great fun to make. Keys are q,a,o,p & space or joystick.

(The sequel, inventively called 'Invasion II', is a platform game that can be found on the cover disk of SAM Revival, issue 10 from www.samcoupe.com)
From Matt Green
Total blast from the past, my first published games complete with spelling mistakes, bugs, and dodgy programmer art :p

Following Warrens post, I've uploaded some screens.  As far I remember it was programmed in Basic, maybe with a few bits of assembly? 21 years I can't even remember breakfast.

Really chuffed to find this stuff, thought it was lost for ever.