Submitted by
Stefan Drissen
on Tuesday, May 15, 2018 - 21:58.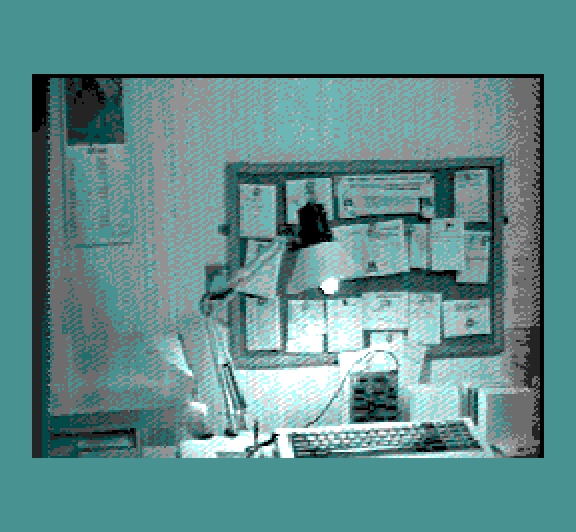 Description
The MiDGET started out as a hardware digitiser - as demoed on the SAM Newsdisk 4.
However, the original version of the hardware would take in the region of 6-8 seconds to grab one frame, which limited it rather for real time processing.
From the start it was planned by Adrian Parker (who at the time in charge of hardware development at SAMCo) to add additional features such as a Genlock.
After SAMCos demise, Martin Rookyard worked with Simon Cooke (and the occasional input/irration from David Ledbury) on a revamped product called MiDGET: Mixing Digitizing Grabbing Editing Technology (or something similar…)
MiDGET would have its own processor (probably Z80 based), and effectively be its own computer which would talk to the host system.
The idea being, that MiDGET could talk to ANY computer, not just SAM… by using a different 'bridge'.
What was more impressive is that the hardware would be able to be controlled as an external graphics display by the host system… with a resolution in the region of 800 x 600, and around 16 million colours to chose from incding plans for hardware scrolling.
Combined with it's genlock facilities - this would allow the host machine to control sprites over a MiDGET based background - imagine Sphera on the ZX81 :)
An early demo was given at the April 1994 Gloucester Show to many noted SAM People, including a very shocked Bob Brenchley.
Trivia
From the Sam PD Catalogue disc, written 03/10/1996:
So you are asking, what happened to the Digitiser?.

The Digitiser disigned by ROOKSOFT worked fine as a prototype.

But as some of the parts where no longer available, chip changes where made.

The new chips that where used where not the same as the old ones and a redesign was done. In it's new form the digitiser didn't work. The new digitiser has been built by three different people and none of these worked.

It looks like the fault is in the design. Martin Rookyard (the designer) has not had the time to spend on tracking out the fault on the digitiser design, but we live in hope that some time he will…
Michael Andrews also built a digitiser using a modified ZX Spectrum Romantic Robot VideoFace.