Submitted by
Dan Dooré
on Wednesday, May 16, 2018 - 16:35.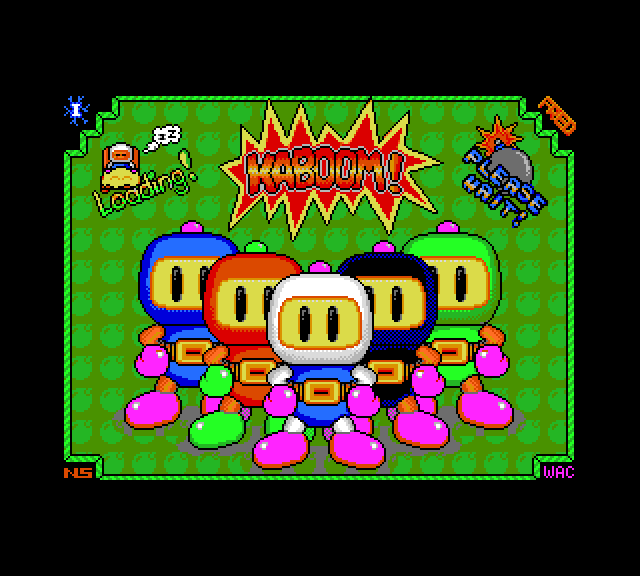 Description
Kaboom was a Bomberman clone that never saw the light of day, one of the infamous Games that weren't.
It got to a fairly developed Alpha stage before Wayne was tempted off to join the Reflections team of Psygnosis. Disk images of the alpha are preserved here.
A comprehensive history of Kaboom and its perpetual near-release status, including information from people involved in the sound and graphics for the game, can be found in SAM Revival issue 17.
Instructions
KABOOM! - Battle Valley
(c)1996 Fred Publishing
The lights hurt his eyes, the cheering hurt his ears, but as he walked into the zone he could feel the maddening rush of adrenaline coursing through his veins. He looked up at the crowd, behind the protective glass shielding, and raised his hands. The roar that greeted him was deafening. The cheering gave way to a chant as the games start drew nearer. A single chant that everybody in the stadium was calling...
KABOOM! KABOOM! KABOOM! KABOOM!
Then the game was on ....
KABOOM! The deadly game
In being a brief history of the world's most violent sport
There is a difficulty in establishing the origins of this rather neanderthal sport. However, I can follow it back as far as the early 1990's when young children would throw water filled balloons at each other. It wasn't until 2103 when someone thought of substituting the balloons for firecrackers, the simple idea being that no-one wants to get burnt, giving a new enthusiasm to getting away. It wasn't long before this got out of hand.
The television program BATTLE VALLEY was introduced in 2115, it placed up to five opponents in a single 'ZONE' and challenged them to kill each other. No firecrackers were used, instead the challengers were given mini nuclear bombs! With one bomb at a time the players found it hard and viewers interest began to wane after only two years. Then somebody had the idea of special 'power-ups' that could appear for use by the competitors.
Once introduced the show's ratings increase was astounding. Over 15 billion people (over 3 planets), regularly watched the program. In in 2124 it became an Olympic sport. Since then, new and more varied zones have been invented. Teleports and power blocks have been added, and its success is still increasing. Finally, although the television show is called Battle Valley, it's been known since 2104 to its watchers and players as ....
KABOOM!
LOADING
KABOOM! comes on two discs. To load KABOOM! insert disc 1 in drive 1 and press F9. Kaboom! will automatically load and ask you when it wants disk 2. When prompted wait until the disk in the drive has finished (the light on the drive will go out), then eject it and insert the requested disk. Finally press a key to tell the game you have done it. If you have two disc drives, insert disc 1 into drive 1 and disc 2 into drive 2. Kaboom! will automatically detect and use a second drive.
1 MEG USERS
If you have a 1 megabyte memory expansion Kaboom! will automatically detect and use it. Kaboom! will use it as a RAM drive storing files into it, meaning less disc swaps and faster loading times!
THE TITLE SCREEN
Before starting a game the various options can be selected either using a joystick or the keys Q,A,O,P and SPACE. The options screen allows you to define your game to your favourite setting. The following options are available ....
TIME: This allows you to choose the amount of time given to win a zone. It can range from 1 minute to 9 minutes. You may also turn the timer off if you wish, which will give you a 'TO THE DEATH' game.
ENCLOSURE: The enclosure is an addition made by the BATTLE VALLEY Olympic Division. When the time remaining on a zone reaches 1:10 the zone is enclosed by a boundary, this means that the competitors are closer together and makes the game more dangerous. Beware, a competitor being caught in the boundary is killed. Using this option, the Enclosure may be turned ON or OFF.
SOUND: Using this option you may select the sound played during a game. You may have MUSIC, SOUND FX or turn all sound off.
MUSIC AND SOUND FX TEST, you may listen to any of numerous tunes and sound FX available in the game. Use left/right to select a number and press fire to listen to your chosen sound.
Once your game has been set up to your settings, select START GAME. This will take you to the player select screen. Here you can highlight each option with your controls and press fire to cycle/select each option. You may choose the number of matches you must win to become victorious (1 - 5) and the controls for each player. There are five sets of controls that can be selected, each player can be controlled by any of the sets of controls or by the computer. Players may also be turned off. Before selecting GAME START you must have AT LEAST 2 players turned on (either computer or human controlled). Here are the list of controls ....
 LEFT RIGHT UP DOWN FIRE
C1 6 7 9 8 0 Or joystick 1
C2 1 2 4 3 5 Or joystick 2
C3 X C W S Q
C4 N M O K P
C5 F1 F2 F5 F8 F9
No two players can have the same set of controls.
Once you have selected GAME START, the zone selector will appear. Use the title screen controls left/right to view each zone in turn. Pressing fire will select the zone and load the game.
PLAYING THE GAME
The simple idea of KABOOM! is to kill every other player. To this end you start with a single bomb. Pressing fire will drop a bomb. It's internal clock will start counting down and after a short while, it will explode. Make sure you are not within its explosion range when it goes off! Destroying walls will sometimes leave behind power-ups. Collecting these will give you various advantages against the other players. Beware, as the other players will be doing exactly the same thing. KABOOM! includes all of the current Olympic Federation Approved power blocks. A short description of each follows ....
BOMB: This will give you another bomb to drop, you may carry a maximum of 9 bombs.
FLAMER: This increases your bombs explosion range by one block in each direction.
GOLDEN FLAMER: Like the standard FLAMER this also increases your explosion size. However, by picking up the GOLDEN FLAMER your size is increased to maximum.
INVINCIBLE: This powerup makes you immune to the explosions of all bombs but only lasts for a short time!
SKATES: Picking this up gives your character a speed increase that lasts for the entire round.
REMOTE CONTROL: Once picked up the bombs you drop no longer have an internal counter, instead they wait until you tell them you want them to explode. To do this the controls are altered slightly. Pressing fire whilst you are moving will drop a bomb. If you stand still and press fire you will set one of your bombs off.
INVISIBILITY: Picking up this icon will render you invisible for a short time, allowing you to sneak up on other players. However, you should make sure YOU know where you are!
SKULL: Unlike other power ups the skull does not increase your players abilities. In fact, it does just the opposite! The skull block has no standard effect, it can do a variety of things. From giving you extra speed AND auto-fire, to removing all your power-ups! Also, for a short while, your character becomes 'PLAGUED' and if another player touches you, you pass on the effects!
While playing, if any explosion should hit another bomb (whether remote controlled or not), its explosion will automatically set it off. A useful trick is to set up 'CHAIN REACTIONS' of bombs. Be careful though, another player may set it off for you!
 Once a zone is finished you will be confronted by a scoreboard and the winner will be awarded a trophy. To complete a zone, you must be the first to reach your chosen number of 'WIN MATCHES'.
Besides power-ups, some zones offer other features...
TELEPORTS: Standing on a teleport block will transfer you to one of the other teleport blocks on the zone (as long as the block is free!).
CHARGES: A bomb will be 'CHARGED' up to full power if it is dropped onto a charge block.
FINALLY!
KABOOM! Battle Valley, has taken many months of hard work. It would be unfair (and illegal!) to make copies of the program discs. KABOOM! has been programmed for your enjoyment, please don't abuse it.
 We would like to acknowledge the following products for their use in the development of this game ....
COMET ASSEMBLER, TURBOMON, SAMPAINT, SAMSPRITE, I-COPY, MAPP-E & E-TRACKER
CREDITS
Programming: Wayne Coles
Graphics: Nicholas Bay
Sound: David Sanders
Manual and Storyline by Wayne Coles
Game Design: Wayne Coles & Nicholas Bay
Cover artwork by Nicholas Bay
KABOOM! Battle Valley by Illusion Software Developments
KABOOM! Battle Valley is (c)1996 Fred Publishing