Submitted by
Dan Dooré
on Wednesday, May 16, 2018 - 12:04.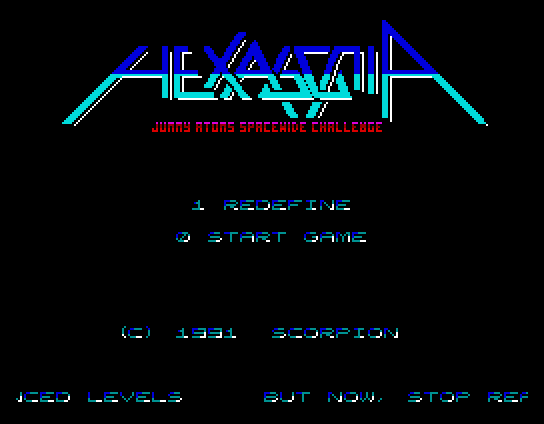 Author
Musician
Publisher
Description
If puzzle games are your cup of tea then Hexagonia will give your brain a good bashing! There are 70 levels of atomic mayhem to solve. Your task is to move the atoms into the correct position to create a molecule. It sounds easy - but I assure you it isn't!
Each level has cunningly placed walls dotted around it and you move the atoms using a pointer. When you move one it zooms across the screen until it hits a wall. Depending on the type of wall it will either stop dead in its tracks, bounce back again or cause the wall to slowly crumble away. Just to make things more difficult there are also invisible walls in later levels and time is never on your side!
Reviews
Crash Issue 94 review, courtesy of spectrumcomputing.co.uk
Review by Steven Pick from the Sam Coupé Scrapbook
YIPPEE! This is the game to buy if you want to see my lovely artwork on the front cover of the game! It should be out now, so go out and buy it-because it's fab! Now onto the review…
In this game, you have to join atoms together to make compounds, which you can see in full by pressing ENTER. You then have to place these pieces to form that structure. If any of you have actually done GCSE Chemistry, and have played around with those plastic models, it's just like that! You control a hand, which zooms around the screen. You then have to 'pull' pieces together. One problem is that they can only move in 4 directions, on that axis! Adding to the problems, there are bouncers which give you your pieces back, blocks which an only be hit a certain number of times before disintegrating, and even invisible dangers! There are also double bonds, so you chemists will love this, and won't have to revert back to the INFO screen!!
The graphics are pretty good, if a little Spectrumy (though the game is coming out on the Speccy soon!), but the actual music which accompanies the title and info screens is nothing short of fantastic! It's done by the guys at FUXOFT (František Fuka) (Yes, from the SCPDSA demo!!) and it really is a tune to toe tap to!
| Area | Score |
| --- | --- |
| Presentation | 93% |
| Addictiveness | 98% |
| Lastability | 96% |
| Coupé Power | 90% |
| Overall | 94% |
Your Sinclair review, (Recovered) courtesy of the YS Rock 'n' Roll Years YS73
Hexagonia (SAM)Revelation     £9.99     Jan 1992
Hexagonia is the first SAM game to come out of Eastern Europe, and it's a hideous revenge for all those hours spent snoozing in chemistry lessons. You've got to slot together atoms in order to form increasingly complex molecules. The snag is that once an atom is sent whizzing on its way, it won't stop until it hits a wall, or another atom. Just to complicate matters, some walls break on impact, while others are rubber and bounce the atom away. Oh, and on later levels the walls turn invisible. The whole thing is made a tad more difficult by the fact that you only get one life?
Actually, it's not as hard as might first appear. An info screen shows you how the completed molecule should look, and the basic idea is really simple. In fact, it's a bit like those plastic sliding number puzzles. Once you get the hang of flinging atoms around, you'll find it all jolly addictive. Best of all, if you make a mistake you can usually get back on the right track, rather than having to give up. The other good bit is that there's no time limit, instead your score is constantly counting down. With seventy atom-packed levels there's plenty to exercise your little grey cells, and a neat password system cushions the blow when you get stuck. To cap it all, the soundtrack is full of jaunty ditties and clangy effects; while the graphics are smooth and clear, if a mite unpolished. Overall this is a playable puzzler that you won't beat in a week. Molecule you'll be playing for months, so up and atom! (You're fired. Ed)
Verdict: 84%
Ratings given by other magazines
       CRASH  8/10            Sinclair User  7/10    
Tips
Hexagonia Passwords
Easy
NONE
ALTERNATE
BALLISTIC
CYCLONE
DOLBY B
ELFIE
FOREIGN
GOLDEN AGE
HIGH SCORE
INVISIBLE
JABBA
KNOCK OUT
LIMITED
MONSTROUS
NUCLEONICS
ORACULUM
PATIENCE
QANG QANG
REACTOR
SILICON
TIMEWARP
Hard
NONE
MAGICAL
ATOMICS
FANTASY
KHAZAD DUM
DISASTER
SYMPHONY
X RAYS
LEVEL 9
BLAH BLAH
DUNGEON
AUTOGUN
ILUVATAR
D SIGN
UTOPIA
AY MUSIC
DIABOLUS
OXYGENE
SCRAMBLING
UNIVERSE
DAMERON
CATHEDRAL
STEALTH
HELLOWEEN
DIGITAL
ABAQUAR
THRILLER
SMASHING
AGONIA
CHRYSALIDS
BUG BYTE
ERIDANUS
DETONATION
FIRE WORX
AAAAARGH
GHOSTBUST
COMPACT
BAD DREAM
OOPS UP
BREAKDOWN
WARRIOR
TERRORPOD
VALTARUS
THE AMIGA
DESTINY
SKELETOR
CRYSTALION
THUNDER
WIZARDS
DOOMSDAY
SCORPIONIA