Submitted by
Dan Dooré
on Thursday, May 17, 2018 - 13:13.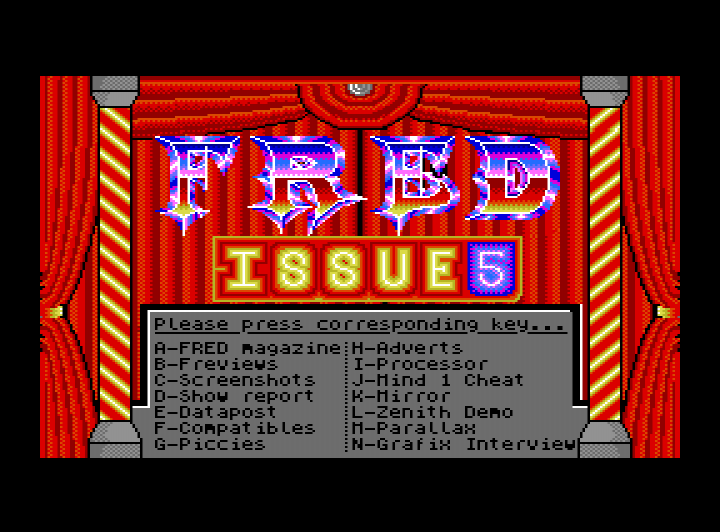 Download
Copyright Provenance
Description
Issue 5
Magazine

                   DA CONTENTS                                 1
                   -----------
    1 - DON'T BE THICK,THIS IS PAGE ONE!!
    2 - THE FREDITORIAL (GROAN!)
    3 - DYING TO HELP? (ANSWER 'YES',BY THE WAY!)
    4 - SAMCO , WHAT HAVE THEY GOT UP THEIR SLEEVES?
    5 - M/C MADE EASY (NOTE: THIS WAS DONE BY IAN!SHOCK!HORROR!)
    6 - M/C MADE EASY PART TWO
    7 - M/C MADE EASY PART THREE (FINISHED? AT LAST!)
    8 - ENIGMA , WHAT HAVE THEY GOT UP THEIR SLEEVES? (DEJA-VU!)
    9 - NEO GEO (AN ACTUAL ARTICLE BY SHADES,MY GOD!)
   10 - BACK ISSUES (IF YOU'RE REALLY DESPERATE)
   11 - CHEATS (ONLY IF YOU'RE RUBBISH AT DEFENDERS)
   12 - FRED PROGRAMMING COMPETITION
   13 - FRED PROGRAMMING COMPETITION (REVISITED)
   14 - THE STORY SO FAR (YET ANOTHER BORING ARTICLE!)
   15 - HINTS 'N' TIPS ,POSSIBLY THE ONLY USEFUL ARTICLE YET!
   16 - WOW...EVEN MORE? YUP,THAT'S RIGHT
   17 - WOW...YET EVEN MORE STUFF (EM,WOW!)
   18 - NEXT MONTH,FRED6 (THE 'LOOK-A-HEAD')
   19 - AU REVOIR (OH GOD,HE'S GOING FRENCH NOW!)

                    THE FREDITORIAL                            2

  HI AND WELCOME TO ANOTHER  ISSUE  OF  FRED.THIS  TIME  I  HAVE
FINALLY  GOTTEN  AROUND  TO  PUTTING  THE  MAGAZINE  INTO   CODE
FILES.ALTHOUGH THIS DOES MEAN THAT ALL YOU NOSEY FOLK  CAN'T  GO
PROBING AROUND IN THE LISTING AS MUCH ( COS   THERE  IS  ONLY  A
FRACTION OF THE NUMBER OF LINES ) BUT THE IDEA OF IT IS THAT  IT
MEANS THAT WHENEVER ANYONE SENDS IN A LETTER,ARTICLE ETC (USING
TASWORD 2,SDC'S WP OR CONTACT'S WP) I CAN PUT IT  STRAIGHT  INTO
THE MAGAZINE.
  SO HOW DOES IT WORK? SIMPLE,I TYPE THE ARTICLE IN ON TASWORD 2
(OR ANY OF THE OTHERS) AND SAVE  IT  AS  A  CODE  FILE.  THEN  ,
DEPENDING ON WHERE THE ARTICLE IS TO GO,I EITHER USE MEM$ IN THE
MAIN PROGRAM TO PRINT OUT ALL THE ASCII CODES OF THE CHARACTERS,
OR,AGAIN USING MEM$,CONVERT THE WHOLE TEXT  INTO  VARIABLES  AND
PRINT IT OUT USING SAY F$ IN THE PROGRAM.
  THERE WERE 'ONE OR TWO' PROBLEMS WITH  LAST  MONTHS  ISSUE.THE
MAIN ONE BEING THAT SEVERAL OF THE DISCS  HAD  DEVELOPED  SECTOR
ERRORS AND WOULDN'T LOAD WHILE THOSE OF YOU WITH THE  OLD  ROM,I
ALSO  DISCOVERED OTHER PROBLEMS,LIKE YOU HAD TO USE SHIFT ON THE
MENU ETC.ANYWAY I HOPE THIS ISSUE IS MORE SUCCESSFUL!  BYE!

                   DIEING TO HELP? READ ON...                  3

   NOW,I KNOW YOU'RE ALL DESPERATE TO  WRITE  AN  ARTICLE,REVIEW
ETC FOR THE NEXT ISSUE OF FRED SO NOW I'VE MADE IT  EVEN  EASIER
FOR YOU.SIMPLY USE ONE OF THE WORD PROCESSORS  LISTED  LATER  IN
THIS PAGE TO TYPE YOUR LETTER,REMEMBERING EACH PAGE ONLY HAS  19
LINES AND SEND IT TO US AT FRED AND WE'LL PUT  IT  SOMEWHERE  IN
THE NEXT AVAILABLE ISSUE.REMEMBER,FRED WAS SUPPOSED  TO  BE  FOR
THE READERS,BY THE READERS SO I RECKON IF  YOU  LIKE  FRED,YOU'D
BETTER GET THE OLD TYPING FINGERS ON....

  YOU CAN USE TASWORD 2 BY TASMAN SOFT IF YOU WANT...
  OR THE WP FROM SDC,'SAMSCRATCH' IS  AVAILABLE,FROM  SDC,57  ST
[redacted] , FOR £1.50 YOU'LL GET
THEIR SEPTEMBER  ISSUE  OF  SDC  WHICH  CONTAINS  AMONGST  OTHER
FABULOUS GOODIES,SAMSCRATCH.
  YOU COULD USE 'TEXT EDIT' FROM CONTACT [redacted]
WHICH  IS  ON  THEIR  'PD  DISC  4'
COSTING JUST £1.40. AND MENTION FRED (PLEASE ???)
  OR IF YOU'RE REALLY MEAN AND CAN MAKE DO  WITH  ANY  OLD  CRAP
THEN JUST USE THE 'PROCESSOR' PROGRAM ON THIS ISSUE!!!

                   SAM COMPUTERS LIMITED                       4

  SAMCO ARE CURRENTLY WORKING  HARD  AT  THEIR  CARD  CAGE  (BUT
NO-ONE HAS ACTUALLY EXPLAINED WHAT A 'CARD CAGE' IS YET!) ,  THE
ONE MEGABYTE UPGRADE (WHERE'S THE DIFFERENCE BETWEEN  THE  COUPE
AND THE AMIGA NOW?) , AND OF COURSE THE LONG AWAITED MOUSE.
  BOTH THE CARD CAGE AND THE MEG SHOULD BE AVAILABLE AT THE  END
OF NOVEMBER BUT DON'T BE TOO HOPEFUL AS SAMCO HAVE A LOT ELSE TO
DO.ANYWAY I DON'T HAVE ANY DETAILS  ON  THE  CARD  CAGE  AT  THE
MOMENT (MAINLY BECAUSE I DON'T HAVE A CLUE WHAT  IT  DOES!)  BUT
SAMCO THINK THAT THE MEG WILL BE PRICED AT UNDER  £80  WHICH  IS
VERY REASONABLE (I KNOW  WHAT  I'M  WANTING  FOR  MY  XMAS)  AND
ALREADY  STEVE  NUTTING  IS  PLANNING  ON  MAKING  HIS  SC_FILER
(AVAILABLE JANUARY) SO THAT 256,512 AND MEG USERS CAN HAVE THEIR
OWN VERSIONS ( EACH ONE STORING ALMOST TWICE THAT OF THE LAST!).
  THE MOUSE WAS NOT READY FOR THE SHOW BUT IS PLANNED FOR  MARCH
AT THE LATEST,HOPEFULLY EARLIER AND AT  PRESENT  THEY  THINK  IT
WILL BE AROUND £35 BUT AS THAT IS VERY CHEAP I'D  IMAGINE  IT'LL
GO UP IN PRICE BY THE RELEASE DATE.NO NEWS ON IT,EXCEPT THAT  IT
WILL STILL HAVE THE THREE BUTTONS AND  THE  NEW  MOUSE  WILL  BE
ALMOST NOTHING LIKE WHAT MGT HAD PLANNED IT TO BE LIKE.

                   ENIGMA'S SOFTWARE CLUB                      8

  AS I SAID LAST MONTH,THE SECOND  SAM  SOFTWARE  CLUB  MAILSHOT
CAME OUT A COUPLE OF  WEEKS  AGO.UNFORTUNATLY  THERE  ISN'T  ANY
GREAT NEWS BUT I'LL JUST MENTION WHAT IT DOES  CONTAIN  SO  THAT
THOSE OF YOU WHO HAVEN'T YET JOINED CAN KNOW WHAT THEY ARE
MISSING OUT ON ( ESPECIALLY THE  10%  OFF  ALL  SOFTWARE!!!).THE
FIRST PAGE WAS SPENT TRYING TO EXPLAIN ABOUT SAMCO AND  WHY  THE
PRICE HAS DROPPED AND WHY NOT BUYING A DRIVE FOR THE COUPE WOULD
BE DAFT.
  PERHAPS THE MOST USEFUL PART OF THE LETTER  WAS  THE  DETAILED
INFO ON ALL THE HARDWARE OUT/COMING OUT ON  THE  COUPE.  EG  THE
LONG AWAITED MOUSE(NO DATES YET),THE SAM MONITOR ('ONLY' £175!),
THE JOYSTICK SPLITTER SO YOU CAN PLUG TWO  JOYSTICKS  INTO  YOUR
COUPE AT ONCE (£7),AND A SMALL SECTION ABOUT THE SAM  VOICE  BOX
FROM BLUE ALPHA ELECTRONICS (£42) AVAILABLE BY NOW.
  BY NOW PIPEMANIA AND MIND GAMES 2 ARE ALSO  OUT(SEE  FREVIEWS)
AND TRIVIAL PURSUIT SHOULD BE OUT BY XMAS!!!KICK OFF  2  IS  NOW
OFFICIALLY UNDER WAY BUT NO DATES AS YET.
  ENIGMA ARE SELLING/GOING TO SELL 17 COUPE  SPECIFIC  GAMES  SO
INCLUDING THE OTHER FEW (CT2,CD2 ETC) THAT TOTALS ABOUT 20!!!

                             NEO GEO                           9

 THE NEO GEO IS A BRAND NEW CONSOLE RELEASED BY SNK.  WHAT'S  SO
ODD IS THAT IT IS JUST AS GOOD AS AN ACTUAL ARCADE MACHINE.
    WHILE HARDLY ANYBODY WILL  ACTUALLY  OWN  THE  HOME  CONSOLE
VERSION DUE TO EXORBETANT PRICING -  THE  CONSOLE  ITSELF  COSTS
£400 AND THE GAMES THEMSELVES AN AMAZING £120-£200! - THE ARCADE
MACHINE'S COSTS ARE FAR MORE  ORTHODOX  AT  30p  PER  GAME.  THE
CABINET ITSELF IS FAIRLY IMPRESSIVE AS CABINETS GO; IT IS  ABOUT
6/6.5' TALL AND HAS TWO SPEAKERS, SO PRESUMABLY THE SOFTWARE HAS
INCORPORATED STEREO SOUND.
    EACH CABINET HAS A CHOICE OF FOUR GAMES  -  BASEBALL,  GOLF,
'NAM 1975 AND MAGICIAN LORD.  THE FIRST TWO ARE  FAIRLY  OBVIOUS
BUT THE OTHERS WILL PROBABLY NEED SOME  EXPLANATION.  BASICALLY,
'NAM 1975 IS A 'CABAL' CLONE (BUT NOT AS GOOD) AND MAGICIAN LORD
IS  WELL-IMPLEMENTED  HACK'N'SLASH  TYPE   OF   THING,   VAGUELY
REMINISCENT OF 'SHINOBI'.   THIS  IS  PERHAPS  THE  MOST  WIDELY
APPEALING OF THE FOUR BUT THE GOLF GAME IS ALSO VERY GOOD, MAYBE
THE BEST OF ITS GENRE. GRAPHICS ARE AVERAGE FOR AN ARCADE  GAME,
BUT FOR A HOME MACHINE THEY'RE AMAZING. I CAN ADVISE SPENDING  A
QUID OR TWO ON THIS, IF YOU CAN FIND ONE...

                   BACK ISSUES                                10

  IF YOU HAVE JUST RECENTLY JOINED US THEN I'D ADVISE YOU TO GET
A COUPLE OF THE BACK ISSUES (ESPECIALLY FRED3 AND FRED4) AS THEY
HAVE A LOT OF GREAT STUFF AS  I'M  SURE  LONG-SUFFERING  READERS
WILL AGREE.IF YOU ARE REALLY INSANE,FRED1 AND  FRED2  ARE  STILL
AVAILABLE (AND ALWAYS WILL BE!) BUT AS I HAD  JUST  STARTED  OUT
AND I HAD A HELLUVA  JOB  GETTING  PEOPLE  TO  BELEIVE  IN  FRED
THEY'RE NOT ESPECIALLY GOOD.
  ALL BACK ISSUES ARE PRICED AT ONE  POUND  EACH.PLEASE  NOTE  :
FOR BACK ISSUES,PLEASE SEND £1 AND NOT A DISC  &  SSAE  AS  THIS
WOULD CONFUSE ME EVEN MORE , OK?
  FRED 1 : REVIEWED SAMTAPE,HEAVY METAL,PIPEMANIA,DIZZY3.'HAKIT'
GAME,PROTECTION LOADER,PALETTE AND A TEST FOR SPECCY OWNERS.
  FRED 2 : REVIEWED  SC_ASSEMBLER,DEFENDERS.'COUPE  CALCULATOR'
PROGRAM,MEM$,DEFENDERS SHOTS AND STEVE NUTTING INTERVIEW.
  FRED 3 :        FACTORY    DEMO,TETRIS,GREAT    PICCIES,ZENITH
INTERVIEW,FRACTAL SLIDESHOW AND SOME OF MY PICCIES!
  FRED 4 :REVIEWED CD2,MIND GAMES,MULTI  PACK,GAMES  EXTRA,TURBO
PD,FASTLINE PD.SILLY DEMO 1,'DOK' UTILITY,FRACTAL,MORE  PICCIES,
SILLY DEMO 1,HUNCHY GAME.ZENITH DEMO,SHOTS OF MIND GAMES....

                   CHEAT - STUCK-ON-A-GAME?                   11

  WELL , I REALLY  HAVE  TO  START  THIS  OFF  WITH  THE  ALMOST
WORLD-WIDE KNOWN CHEAT FOR DEFENDERS (OK,STOP  YAWNING  NOW).ALL
YOU DO FOR INFINITE ENERGY IS TYPE '....ORB' IN THE  HIGH  SCORE
TABLE SO NOW YOU CAN COMPLETE IT (BUT I MANAGED TO  COMPLETE  IT
OVER THREE MONTHS AGO!HA!)
  REVIEWED NEXT ISSUE WILL BE 'THE FAMOUS FIVE'  BUT  FOR  THOSE
WHO HAVE ALREADY BOUGHT IT AND CAN  GET  NOWHERE  HERE'S  A  FEW
STARTERS FOR YOU :
 GIVE THE ICES (FROM THE SHOP) TO GEORGE TO BECOME FRIENDS
 USE THE MATCHES (UNDER QUENTINS BED)  TO  LIGHT  THE  CANDLE,TO
FIND THE TORCH THAT'S IN THE  CUPBOARD.THEN  GET  THE  BATTERY'S
FROM THE CLOCK IN QUENTINS ROOM AND PUT THEM IN THE TORCH.
 THE ROPE IS IN THE TOOLSHED AT THE BACK OF THE GARDEN.
 TO GET DOWN THE HOLE AT THE TIP OF  KIRRIN  ISLAND,EXAMINE  THE
BUSHES,TIE THE ROPE TO THE STUMP,DROP THE ROPE AND GO DOWN.
 REMEMBER THAT THE SANDWICHES ARE WRAPPED IN PAPER  TO  LIGHT  A
FIRE AND THAT ONLY GEORGE CAN ROW THE BOAT TO THE ISLAND.
 WELL,THAT'S AS FAR AS I GOT (30% IS MY BEST)  SO  I'D  LOVE  TO
HEAR FROM YOU IF YOU CAN DO ANY BETTER.

                   PROGRAMMING COMPO                          12

  AS I HAVE ALREADY HAD  NUMEROUS  REQUESTS  FOR  SOME  FORM  OF
PROGRAMMING COLUMN I THOUGHT THE BEST WAY WOULD BE  BY  USING  A
PROGRAMMING COMPETITION.THE WAY IT WOULD WORK IS THIS:EACH MONTH
I WOULD SET ALL THE ENTRANTS A  REASONABLE  TASK  WHICH  CAN  BE
ACHIEVED IN BASIC EG A SMALL ROUTINE,DEMO  ETC.  ALONG  WITH  MY
COMMENTS ON HOW YOU DID IN THE LAST ONE AS WELL  AS  THE  WAY  I
THINK  IT  WOULD  BE  BEST  DONE(BY   'BEST'    I    CAN    MEAN
SHORTEST,SIMPLEST OR  MOST  USER-FRIENDLY  ETC)  ALONG  WITH  AN
EXPLANATION.THE ENTRANTS SHOULD SEND THEIR ENTRY  ON  DISC  (FOR
THE NEW ROM (V1.2)) WITH £1.THIS POUND WILL BE SPLIT BETWEEN THE
POSTAGE & PACKAGING (APPROX 25P) AND  THE  PRIZE  MONEY  (WOOO!)
(APPROX 75P).YES,IT'S ANOTHER 'FREE' OFFER ON MY BEHALF JUST FOR
YOU LOT SO I HOPE MOST OF YOU WILL PARTICIPATE.THE WINNING ENTRY
EACH MONTH (PERHAPS  WITH  RUNNERS-UP,DEPENDING  ON  THE  MEMORY
AVAILABLE) WILL BE PUT ON THE NEXT  ISSUE  OF  FRED.IF  YOU  ARE
TOTALLY A BEGINNER THEN PLEASE INFORM ME AND ALSO WORK  OUT  HOW
THE FRED PROGRAMS WORK.BUT BEFORE THIS,I MUST POINT OUT THAT YOU
WILL NOT GET ANYWHERE IF YOU HAVE NOT READ YOUR MANUALS  AS  YOU
WILL OBVIOUSLY NOT KNOW ABOUT THE COUPE'S BRILLIANT BASIC.

                   PROGRAMMING COMPO ,CONTINUED               13

  IT'S ALL BEEN FAIRLY STRAIGHTFORWARD SO FAR (BUT IF  YOU  HAVE
ANY QUERIES THEN PHONE/WRITE IMMEDIATELY) SO I'LL SET  OFF  WITH
THE FIRST EVER 'FPC' (THAT'S FRED PROGRAMMING COMPO BY THE WAY).
THE FIRST TASK IS A GRAPHICAL ONE,TAKING THE FRED LOGO FROM  ANY
OF THE MENU/LOADING SCREENS MOVE EACH LETTER INDIVIDUALLY AROUND
TO SWAP PLACES WITH ANOTHER (NOTE:DO NOT JUST FLICK  SWAP  THEM,
MOVE EACH LETTER ABOVE OR BELOW THE REST,ALONG THEN BACK INTO  A
DIFFERENT POSITION) SO  THAT  THEY  EVENTUALLY  SPELL  DERF.EACH
COLOUR SHOULD THEN FLASH DIFFERENT (RANDOM) COLOURS  AND  FINISH
OFF BY PRINTING THE LOGO ALL OVER THE  SCREEN  AS  IN  FRED3  OR
EDITION2.SPECIAL KEYWORDS NEEDED:GRAB,PUT,ROLL/SCROLL,PALETTE.IF
YOU NEED A MORE DETAILED EXPLANATION OF EACH THEN SEND DISC &SAE
FOR ONE PLUS DEMOS OF EACH! DEADLINE : 1ST DECEMBER (FRED6  GOES
OUT ON THE 2ND SO  SEND IT AS EARLY AS  POSSIBLE).I  HOPE YOU
ENJOY DOING THIS ONE AND AFTER I SEE THE RESULTS I'LL DECIDE
JUST HOW IT WOULD BE BEST TO CONTINUE.
   REMEMBER : SEND PROGRAM (FULLY TESTED TO  NEW  ROM)  ON  DISC
PLUS  £1(CASH/PO/CHEQUE)  TO  ME  ;   COLIN    MACDONALD(FPC),
[redacted] AND YOU COULD WIN!!!!!!

                   FRED-THE STORY SO FAR...                   14

  OVER THE LAST 6 MONTHS I HAVE BEEN  DOING  FRED  I  HAVE  BEEN
GIVEN 'ONE OR TWO' MENTIONS IN VARIOUS PLACES.I THOUGHT I'D GIVE
YOU A LIST OF THEM SO FAR ...
  SINCLAIR USER              NEW COMPUTER EXPRESS
  FASTLINE                   EDITION 2
  SDC-SAM SUPPLEMENT         CRASH
  YOUR SINCLAIR              LITERAL
  KOBRAHSOFT'S CATALOGUE     CONTACT
    PLUS THE ADVERT  IN  YOUR  SINCLAIR.ALL  THESE  SHOULD  GIVE
ANYONE A MASSIVE RESPONSE BUT DID THEY? INDEED  NOT.THE  MOST  I
EVER GOT WAS HALF A DOZEN REPLYS FROM EACH  AND  EVEN  THAT  WAS
SCARCE! FRED WAS ORIGINALLY INTENDED TO BE  FOR  THE  READERS,BY
THE READERS BUT ONLY A HANDFUL HAVE CHIPPED IN  AND  I  AM  LEFT
WITH THE LUMP OF WORK TO DO.COME ON,I'VE EVEN MADE IT EASIER FOR
YOU THIS MONTH SO IF YOU LIKE FRED,HELP IT!!! THAT'S ALL  I  CAN
SAY BECAUSE IF WE DON'T GET MORE FEEDBACK SOON,FRED  JUST  MIGHT
BECOME EXTINCT AFTER ISSUE SIX!!AND WE DON'T WANT THAT,DO WE?
  ABOUT THE CRASH MENTION...NICK ROBERTS SAID WE'D BE GETTING A
300 WORD MENTION PLUS SCREENSHOTS IN NEXT ISSUE (OUT ON 15TH)!!

                   HINTS 'N' TIPS                             15

  TO START WITH,I HAVE SOME TIPS VERY KINDLY SENT  IN  BY  STEVE
NUTTING OF STEVES SOFTWARE (SEE FREVIEWS).THANKS TO HIM AND HERE
GOES:
     YOU MIGHT BE INTERESTED TO KNOW THAT  THERE  IS  A  WAY  OF
SPEEDING UP COPYING DISCS ON SAMDOS2,FIRST YOU WILL NEED TO FIND
OUT ON THE DISC YOU NEED TO COPY THE  LAST  TRACK  THE  PROGRAMS
USE, THEN POKE 493764,TRACK+1,201:FORMAT "D1:" TO "D2:"
THE DISC WILL NOW FORMAT TRACK 0 TO THE LAST TRACK YOU POKED  IN
AND COPY THE TRACKS,FOR EXAMPLE TO COPY SC_ASSEMBLER 256 IT TOOK
33 SECS AND 48 SECS FOR 512.ALSO IF  YOU  POKE  FROM  498530  TO
498538 WITH 0 YOU CANCEL OUT THE "ARE YOU SURE Y/N?"
  I DETECT A BIT OF SNEAKY ADVERTISING IN THERE BUT ANYWAY IT IS
ONLY PRACTICAL TO USE THOSE POKES IF YOU HAVE TWO DRIVES.
  NOW FOR A BIT OF SPACE SAVING ADVICE (DIR1 THIS  DISC).SAMDOS2
HAS 2K AT  THE  END  OF  IT  THAT  ARE  BLANK  SO  IF  YOU  TYPE
ERASE "SAMDOS2":SAVE"SAMDOS2"CODE 229385,8078 IT WILL WORK  JUST
AS WELL BUT STILL SAVING YOU THE EMPTY TWO  KILOBYTES!!  I  MUST
ADMIT TO ORIGINALLY READING THIS IN SDC'S SAM SUPPLEMENT 2 (DAMN
GOOD BUT NOT QUITE AS GOOD AS FRED (OBVIOUSLY!!)).THANKS

                   WOW...MORE GREAT STUFF?                    16

   YES,ANOTHER  DISC  FULL  OF  GOODIES.THE  FIRST  UP  IS   THE
SCREENSHOTS BUT AS I WAS GOING TO COLLECT THEM AT THE  SHOW  AND
THIS IS BEING WRITTEN BEFOREHAND,YOU'LL HAVE TO  LOAD  THEM  AND
FIND OUT WHAT THEY ARE.I SAID LAST MONTH THAT I WOULD INCLUDE  A
USEFUL UTILITY OF MY OWN,SO I HAVE..DATAPOST.I CAN  ONLY  EMSURE
THIS WORKS WITH THE NEW ROM (IN FACT I KNOW IT DOESN'T WORK WITH
THE OLD ROM!) AND FULL (VERY FULL!) INSTRUCTIONS  ARE  AVAILABLE
ON LOADING.
  PICCIES-YES IT'S MORE PICCIES FROM SHADES WHO  IS  BUSY  DOING
STUFF FOR BOTH ZENITH AND INTEGRATED LOGIC!
  ADVERTS IS A SECTION I WAS A BIT DUBIOUS ABOUT PUTTING IN SO I
LEFT IT ENTIRELY TO SHADES AS HE SEEMED TO THINK IT WAS A  GREAT
IDEA.TELL ME WHAT YOU THINK?
  ANOTHER OF MY OWN CREATIONS - A COMPLETE CHEAT FOR MIND  GAMES
1 WHICH GIVES FULL INSTRUCTIONS ON LOADING SO HAVE  YOUR  MASTER
DISC AT THE READY TO COMPLETE ANY OF THE GAMES FROM ANYWHERE...
  PAUL KELLY IS BECOMING A BIT OF A REGULAR CONTRIBUTOR TO FRED,
HAVING DONE THE LOGO ON FRED3 AS WELL AS THE SPECTAC  DEMO  LAST
MONTH AND THIS TIME IT'S A FASCINATING MIRROR PROGRAM.THANKS.

                   WOW...EVEN MORE GREAT STUFF?               17

ALSO BECOMING A BIT OF A REGULAR IS THE STUFF  FROM  ZENITH  BUT
I'M CERTAIN NONE OF YOU MIND.THIS MONTH THERE  IS  A  GREAT  YET
SIMPLE GRAPHICAL DEMO NAMED 'WORLD IN HIS EYES'.AHHHH!
  AFTER BEING KINDLY SHOWN HOW TO  GET  THE  BARS  ON  THE  MENU
ROLLING,SHADES SUSSED OUT THE ROLL COMMAND AND DID  HIS  VERSION
OF PARALLAX SCROLLING.WHICH ACTUALLY IS QUITE  GOOD  CONSIDERING
ALL IT IS IS 6 ROLL STATEMENTS IN A LOOP!
  AT  LAST..THE  LONG  AWAITED  'GRAFIX  WIZARD'  INTERVIEW  HAS
SURFACED.THE ONLY EXCUSE HE COULD THINK OF WAS  'SORRY  FOR  THE
DELAY,I'VE BEEN ON HOLIDAY'.PATHETIC  REALLY,WHO  WOULD  BELIEVE
THAT ,EH? EM..I'VE JUST REMEMBERED SOMETHING SO FORGET THAT!!!!
  NATURALLY SHADES HAS CHIPPED IN WITH MORE AMAZING PICCIES.
  ALSO,BEING WRITTEN THE DAY BEFORE GOING OUT,IS THE SHOW REPORT
-YES,I'M GOING TO BORE YOU ALL WITH WHAT I DID AT THE RECENT ALL
FORMATS SHOW IN LONDON!!
  ALSO A LATE ADDITION,A 'WORD PROCESSOR' FOR  WRITING  ARTICLES
FOR FRED.SO START USING IT NOW!!!
  FROM 'THE SHADOW' IS 'SPECTRUM COMPATIBLES' WHICH I'M GRATEFUL
FOR SO I HOPE IT'LL GET SOME SUPPORT (BUT REMEMBER ME!!!!!)

                   NEXT MONTH - FRED6                         18

   I HAVE A SAD ANNOUNCEMENT TO MAKE - I CANNOT CONTINUE  TO  DO
THE MAGAZINE DUE TO THE POOR RESPONSE AND THE  SHEER  VOLUME  OF
WORK NEEDED FOR SEVERAL MONTHS DUE TO IMPORTANT EXAMS.HOWEVER, I
HOPE IAN AND BRIAN WILL CONTINUE IT WHILE  I  CAN'T  BUT  I  CAN
GUARANTEE AN ISSUE 6.I WILL BE PUTTING IN THE ODD THING  OR  TWO
OCCASIONALLY (SO REALLY I'M JUST SWOPPING  PLACES  WITH  IAN!!!-
SORRY IAN!).ANYWAY HERE'S WHAT I HAVE ALREADY LINED UP FOR ISSUE
6 : A REVIEW OF PIPEMANIA IF IT'S NOT IN THIS ISSUE,A REVIEW  OF
SPHERA PLUS  THE  512K  SC_ASSEMBLER.IT  WILL  INCLUDE  A  GREAT
'AGENDA' PROGRAM WHICH ALLOWS YOU TO STORE 100'S (WELL,100!)  OF
NAMES,ADDRESSES,PHONE NOS AND EVEN  ADDITIONAL  NOTES,FROM  JOAO
NUNO OF PORTUGAL.I WILL HOPEFULLY HAVE DONE A  TWO-DRIVE  SECTOR
COPIER  (WITHOUT  FORMAT!)  AND  A  DISC  HEADER  READER/   FILE
UN-ERASER!! SHADES HAS ALREADY DONE SEVERAL FANTASTIC DEMOS  FOR
IT AND,IF YOU WANT,I COULD PROBALLY DO THE SAME  SORT  OF  CHEAT
FOR MIND GAMES 2 AS I DID THIS MONTH WITH MIND GAMES 1.PLUS  I'M
SURE THAT IAN AND BRIAN ARE CAPABLE  (WELL,ALMOST  CAPABLE!)  OF
INCLUDING ALL THE NORMAL FEATURES AND MAYBE EVEN INTRODUCE A NEW
ONE LIKE -"WHY COLIN IS SOOO BRILLIANT" NO?OH WELL,MAYBE FRED7?

                   AU REVOIR                                  19

 YES,IT'S THE END AGAIN BUT THIS TIME IT'LL BE FOR A  COUPLE  OF
MONTHS SO IT'LL BE UP TO YOU TO KEEP FRED  GOING.ALTHOUGH  I  AM
GIVING FRED UP FOR A MONTH OR TWO,I'VE DECIDED THAT IT WOULD  BE
SIMPLER IF EVERYTHING STILL CAME TO ME AND I WILL PASS IT ON  TO
THE OTHER TWO PROBALLY THE  NEXT  DAY.ANYWAY  I  CERTAINLY  HOPE
FRED CAN KEEP ON GOING WITHOUT ME FOR A WHILE.
    THANKS TO :
                   SAMCO          ENIGMA         STEVE NUTTING
                   ZENITH         KOBRAHSOFT     CRASH
                   SDC            CONTACT        FASTLINE
                   'THE SHADOW'   GRAFIX WIZARDS PAUL KELLY
                   MAKY (IAN)     SHADES (BRIAN) YOU!!!!
  AND OF COURSE,ALL THOSE HUNDREDS OF PEOPLE I MET AT THE SHOW!

     COLIN MACDONALD,
      [redacted]


Machine Code

                   MACHINE CODE MADE EASY(!) -1                5
WRITTEN BY IAN
EDITED BY COLIN(!!)

  THIS ARTICLE IS ON THE MUCH MALIGNED SUBJECT OF MACHINE CODE.
CONTRARY TO  POPULAR  BELIEF  YOU  NEITHER  NEED  TO  BE  SUPRA
INTELLIGENT OR A "WHIZZ KID" TO USE IT.
TO START OFF WITH I'D BETTER GIVE YOU AN OUTLINE OF WHAT M/C
DOES AND WHY YOU MAY WANT TO USE IT.
MACHINE CODE INSTRUCTIONS ARE A LITTLE LIKE  THE INSTRUCTIONS IN
BASIC IN THAT THEY EACH  HAVE  A  SPECIFIC  FUNCTION.  THE  MAIN
DIFFERENCE IS THAT THESE INSTRUCTIONS ACT DIRECTLY ON  THE  Z80B
PROCESSOR CHIP AND ALL OF  ITS PERIPHERALS  , WHETHER  THEY  ARE
OTHER CHIPS (EG THE SA1099 SOUND CHIP) OR THE  EXTERNAL DEVICES.
THEY ALSO LOOK DIFFERENT.VERY DIFFERENT.THIS IS WHERE A  LOT  OF
POTENTIAL USERS ARE PUT OFF,AS WITHOUT PRACTICE THE COMMANDS ARE
HARD TO UNDERSTAND. A TYPICAL M/C LISTING LOOKS LIKE THIS:

ORG 30000        ASSEMBLER COMM. PUT ROUTINE AT 30000
LD A ,41         LOAD ACCUMULATOR WITH 41
LD B,40          LOAD B REGISTER WITH 40

                   MACHINE CODE MADE EASY(!) -2                6

JR PART2         JUMP TO ROUTINE "PART 2"
NOP
NOP
NOP              NO OPERATION
NOP
NOP
NOP
LD C,14          LOAD C REGISTER WITH  14
ADD C            ADD CONTENTS OF C REGISTER TO THE ACCUMULATOR
JR START
RET              RETURN (NORMALLY TO BASIC)

AS YOU CAN PROBABLY SEE THE INSTRUCTIONS ARE ABBREVIATED TO HELL
BUT AFTER A LITTLE PRACTICE THEY SHOULD COME  EASILY  .ITS  LIKE
WORKING WITH ABBREVIATIONS SUCH AS MBE OBE PTO PLO LTD AND CCCP.
THE ACTUAL MEANINGS ARE UNIMPORTANT AT THE  PRECISE  MOMENT  BUT
YOU MAY BE WONDERING HOW TO GET THEM IN TO  YOUR  OWN  COMPUTER.
THERE ARE TWO MAIN METHODS OF INPUT .THE FIRST IS TO  USE  BASIC
OR IN OTHER WORDS POKE,POKE,POKE,POKE,POKE AND  EMM POKE! OR YOU

                   MACHINE CODE MADE EASY(!) -3                7

COULD USE AN ASSEMBLER .(WE RECOMEND STEVE NUTTING'S"SO COOL  IT
WALKS ON WATER AND STILL HAS TIME TO  FEED  THE  MASSES  ON  TWO
LOAFS AND A PAIR O KIPPERS" SC_ASSEMBLER OR LERM'S"SO  WONDERFUL
IT PULLS BIGGER CROUDS THAN PINK FLOYD" SAM COUPE ASSEMBLER)BOTH
OF THESE PROGRAMMES ARE VERITABLE PAN GALAGTIC  GARGLE  BLASTERS
AMONGST UTILITYS AND SHOULD BE OWNED BY ALL COUPE OWNERS. ANYWAY
ENOUGH OF THE PLUGS .ASSEMBLERS WILL ALLOW YOU  TO  WRITE   YOUR
SELECT TIPPLES OF DIGITAL DELECTABILITY (MC) STRAIGHT TO MEMORY!

NEXT MONTH : (THAT'S FRED6 TO YOU!)

A TALE OF 21 REGISTERS
THE INARDS OF THE Z80B PARTIALLY EXPLAINED
USING M/C FROM BASIC
     AND
TWIDDLING YER BITS 1!

All Formats Show Report

                   THE ALL FORMATS SHOW REPORT                 1

  AFTER SPENDING 12 HOURS ON THE BUS JUST TO GET DOWN TO  LONDON
WE HAD TO WANDER ABOUT FOR AN HOUR OR TWO BEFORE WE WERE ALLOWED
INTO THE SHOW.AT FIRST SIGHT, THE HALL WAS PRATICALLY EMPTY WITH
JUST THE WOODEN STALLS ALL AROUND. AFTER TALKING TO BRUCE GORDON
AND ALAN MILES FOR THE FIRST HALF HOUR THE SHOW BEGAN TO PICK UP
AND SOON I WAS MINGLING WITH ALL THE TOP NAMES :
  DOCTOR ANDY WRIGHT , HE IS PRESENTLY DEVELOPING A NEW DOS  FOR
THE COUPE WHICH GAVE HIERARCHICAL  FILES  (SUB  FILES  ETC)  AND
OVERALL IMPROVED THE QUALITY  (  IT  WILL  ALSO  HAVE  THE  MOVE
COMMAND IMPLEMENTED!)
  DAVE TONKS , DAVE WAS SAYING HOW SUCCESFUL HIS SAM  SUPPLEMENT
WAS (JUST TO MAKE ME JEALOUS I  SUPPOSE!)  AND  THAT  THE  THIRD
ISSUE WAS ALMOST FINISHED!!!
  I CHATTED TO THE DIRECTORS OF ENIGMA FOR  A    WHILE  ,AND  AS
THEY HAD A SPHERA DEMO ON SHOW (VERY FAST BY THE WAY!) THEY SAID
THAT ALTHOUGH IT IS ALREADY RUNNING AT 25 FRAMES A SECOND , THEY
ARE HOPING TO MAKE IT RUN AT 50 FRAMES A SECOND!!!THEY ALSO  HAD
THE NEWLY RELEASED PIPEMANIA ON SHOW (PROGRAMMED BY THE +3  USER
GROUP , GARNER DESIGNS WHO ALSO HAD A STAND AT  THE  SHOW  (THEY
                   ALL FORMATS SHOW REPORT                     2
WILL  ALSO  BE  DOING  THE  TENGEN/DOMARK   CONVERSIONS!!!)).THE
GRAPHICS ON PIPEMANIA WERE DEFINETLY BETTER THAN  THE  ST  SHOTS
I'VE SEEN AND ALTHOUGH I ONLY MANAGED TO HAVE A FEW SHOTS AT IT,
IT IS VERY,VERY PLAYABLE  AND  EVEN  IF  YOU  HAD  THE  SPECTRUM
VERSION , THIS IS SO GOOD IT'S ALMOST LIKE A NEW GAME!!  TRIVIAL
PURSUITS IS STILL ONLINE FOR CHRISTMAS  BUT  I  DIDN'T  GET  ANY
EXTRA DETAILS FROM THEM.
  NEW COMPUTER EXPRESS ALSO HAD A STAND (AS THEY   ARE  RENOWNED
FOR ALL THEIR FICTIONAL STORIES AND PATHETIC REVIEWS  ABOUT  THE
COUPE THEY ENSURED THEIR STAND WAS  WELL  AWAY  FROM  THE  COUPE
VILLAGE!).THEY DIDN'T REALLY HAVE MUCH TO SAY TO ME EXCEPT  THAT
THEY WERE 'QUITE SORRY' ABOUT DROPPING THE COUPE COLUMN AND  'IF
THEY ENOUGH REQUESTS THEY WOULD BRING IT BACK' !!!
  SD SOFTWARE WERE ALSO THERE AND HAD TWO PIECES OF SOFTWARE FOR
SALE - SAMIBU AND SPECMAKER  (I  HOPE  TO  REVIEW  SAMIBU   NEXT
MONTH)
  FORMAT WERE ALSO THERE BUT AS I DON'T  REALLY  THINK  MUCH  OF
THEIR MAG (AND BECAUSE THEY'RE MORE SUCCESFUL THAN ME!) I DIDN'T
TALK TO THEM MUCH AT ALL.
                   ALL FORMATS SHOW REPORT                     3
  BLUE ALPHA ELECTRONICS WERE ALSO THERE (CONSTANTLY  TRYING  TO
PERSUADE ME TO BUY THEIR VOICE SYNTHESISER!)AND WERE TELLING  ME
ABOUT THEIR FUTURE PLANS - AN AUDIO DIGITISER AROUND JANUARY AND
PERHAPS IN THE MIDDLE  OF  NEXT  YEAR  THEY  MIGHT  DO  A  VIDEO
DIGITISER!!!!
  ESSENTIAL SOFTWARE WERE ALSO THERE BUT I NEVER SAID MORE  THAN
HELLO TO HIM SO I CAN'T COMMENT ON HIS PLANS.

  IAN MANAGED TO PICK UP A MONO MONITOR FOR £7.50 AND  A  SECOND
DISC DRIVE FOR £35!!!!(ALTHOUGH IT WAS FROM A BBC!)(IT WORKS!!)
HE ALSO MANAGED TO GET HIS NEW ROM CHIP (AT LAST!!) AND  ALSO  A
TECHNICAL MANUAL.
  BEFORE I WENT DOWN I GOT OVER 400 LEAFLETS PHOTOCOPIED TO  TRY
AND BOOST THE READERSHIP.SO I SPENT A  FAIR  WHILE  OF  THE  DAY
GOING UP TO EVERYONE LOOKING AT A COUPE AND  PUSHING  FRED  UPON
THEM ,TO ENSURE EVERYONE WAS SICK TO THE BACK TEETH OF IT!!SORRY
TO THOSE I PESTERED!!