Submitted by
Dan Dooré
on Tuesday, May 22, 2018 - 15:19.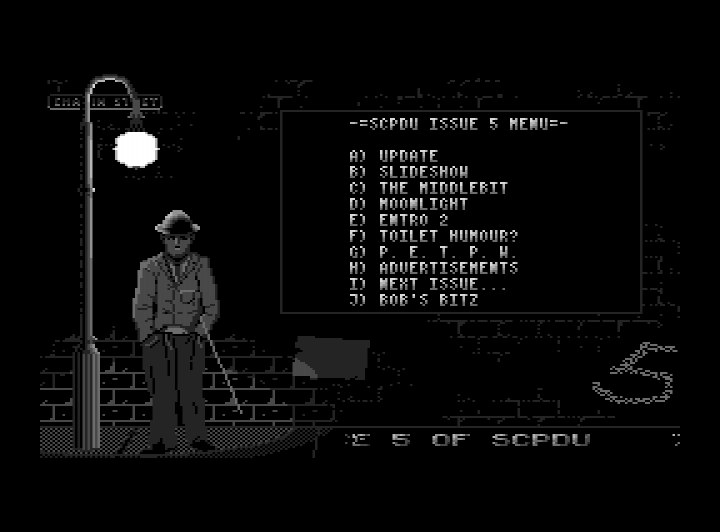 Download
Copyright Provenance
Description
Issue 5 of SCPDU
Programs & Demos
Magazine Contents
Update
Editorial
General News
Reviews
Letters
Warhammer
SAMCo's Demise
Your Say
Machine Code Tutorial
Tech Spot
Advertisements
Toilet Humor? section
Horoscopes 
Fred's Last Ride (fiction, Simon Cooke)
News (jokes presented by an animated presenter)
Viz Letters
Penstone
Instructions
How to load the magazine from this DSK file:
The attached disk has no DOS and no bootblock so will reset if you try and boot it.  You will have boot the DOS from another disk first.
(This magazine shipped using Search: "MaxiDOS" by Simon Cooke, which was a modified copy of SAMDOS2 which moved the DOS out of the normal disk area to the outermost tracks (80-83). The archive copy does not include the extra data). 
Trivia
Main Menu Scroller Text:
LET ME WELCOME YOU TO THE DELIGHTS OF ISSUE 5 OF SCPDU    IF THIS ISSUE WERE 2000 YEARS OLD IT WOULD EASILY BE ONE OF THE SEVEN WONDERS OF THE WORLD  BUT I SUPPOSE I'LL HAVE TO SETTLE WITH AN SCPDSA AWARD WINNER (DO THEY STILL EXIST?)         CREDITS FOR THIS MENU GO TO:    COOKIE         FOR THE CODING AND FONT GFX                MIKE AJ       ETRACKER MODULE (AIN'T IT GOOD?)                   AND OF COURSE       TIMOTHY CLAGUE      FOR PRODUCING ONCE AGAIN A SUPERB MENU SCREEN (HE APOLOGISES FOR THE DISAPPEARANCE DURING ISSUE 4 BUT HAVE YOU TRIED DOING ARTWORK ON A COUPE USING VEEGAN MIND CONTROL (IE HE WAS ON HOLIDAY IN AMERICA                                     CREDITS FOR THIS ISH GO TO                STEPHEN WILSON                                       THANKS FOR THE MASSIVE ARTICLE - I MANAGED TO MERGE IT!!!!           THANKS ALSO FOR THE FONT-SCREENS          COULD I HAVE SOME MORE?         ALSO I HAVE NOTHING TO DO WITH WHAT COOKIE WROTE ABOUT YOU IN ENTRO 2 (TRY PRESSING SPACE WHEN IN ENTRO 2 AND THEN RESETTING AFTER YOU HAVE HAD ENOUGH!!!)                               IAN SLAVIN      (AXE)        THANKS FOR P.E.T.P.W. (IT'S GREAT!!)            THE NEWS FLASH PROGGY             AND FOR THE REVIEWS AND BOB'S BITZ MENUS!!              MIKE AJ           THANKS FOR THE AMIGA IFF CONVERTOR             THE MODE 5 PROGGY            AND THE 256 COLOUR SCREEN                                                 TIME FOR SOME GREETZ.......A BIG SMACKING HELLO GOES TO COOKIE AND HIS FELLOW FRIEND NICAM PLUS THE REST OF THE ENTROPY GANG HELLO'S ALSO GO TO AXE (P.C.T.P.W - ISSUE 6?)        NIEL McLEAN    COOKIE SAYS TAKE NOTE OF THE RE-STRUCTURING AND USE IT WITH YOUR FORTHCOMING DEMOS (PEOPLE HAVE GOT 512 K SAM'S YOU KNOW!!)        TIM CLAGUE HOW DA HOLIDAY GO? COME BACK RARING TO GO I HOPE (I NEED GFX FOR ISSUE 6)           MARTIN WILSON      THANKS FOR THE ARTICLES (AGAIN!)  I'VE GOT YOUR PRINTER INTERFACE RING ME OR ETC!      SAM SMITH    THANKS FOR THE WRITE UP THINGY (MORE OF THE SAME BUT ON A DIFFERENT TOPIC BUT POSSIBLY LONGER?)                                                     PUBLIC WARNING >>>>>>>>>>                                            PLEASE NOTE THAT IF THE MENU RUNS FOR MORE THAN APPROXIMATELY TEN MINUTES IT WILL HANG UP.   THIS IS DUE TO A BUG IN OUR VERSION OF THE E-TRACKER COMPILER        WE APOLOGISE FOR THIS INCONVENIENCE                                                      WRAPPING THE WORD WRAP......................................................................................................................................