Submitted by
Simon Cooke
on Thursday, December 24, 2020 - 01:15.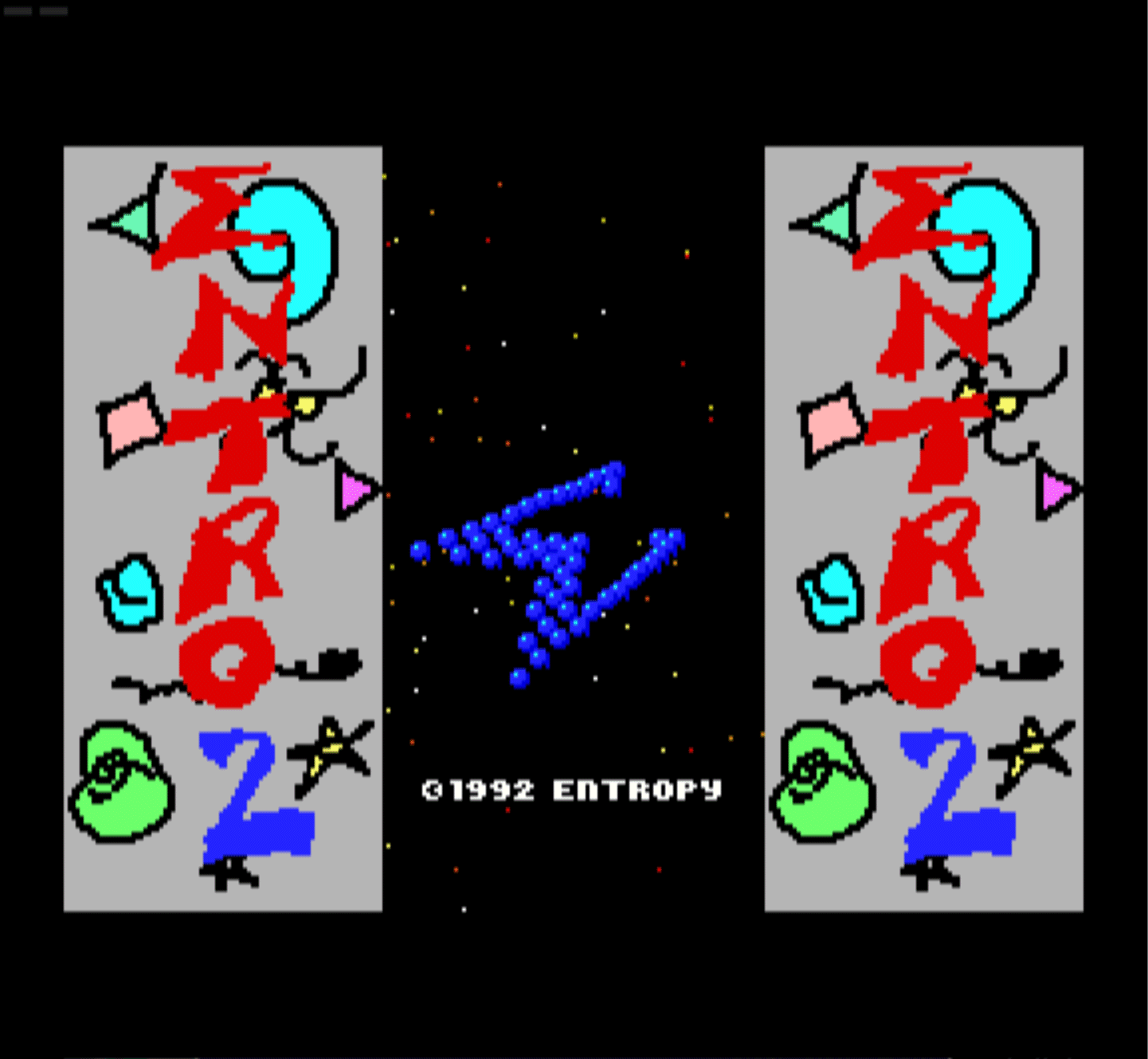 Download at another page
Copyright Provenance
Description
Entro 2 was the second "Entro" demo written by Simon Cooke of Entropy, partly to advertise Statues of Ice. It has three parts:
The Introduction
This features an Entro 2 logo that bounces into place line by line in the opening screen.
If the reset button is held down during this section, an "Entro 2" logo reset screen will appear with the text "Y'all come back now, y'hear!".
Part 1
This features a 3D spinning Entropy logo, with a vertical parallax starfield, and logos that transition up from off-screen below, and then back off again. 
While the side-panel artwork looks terrible in retrospect, it's supposed to pay homage to the Melon Dezign's Amiga Human Target demo.
The music was created by Mike AJ (Michael Andrews).
If the reset button is held down during this section, a large Entropy "E" logo will appear.
Part 2
This is a recreation (from scratch) of Illuminated Logic's IL6PD DEMO, using the same music (and music player) so that it will update in a single 50Hz frame.
If the reset button is held down during this section, a smack-talky diss screen showing the text "Terminally I.L. L?" will appear. 
Instructions
Press space to move between screens
ESC to exit
Pressing (and holding) RESET will show a different Reset screen depending on when you hold it (during the intro, part 1 and part 2).
Trivia
Part 2 Scroll Text:
Note from Cookie:
I had just turned 17 when I wrote Entro 2. Hopefully the scrolltext didn't offend anyone too much - these are somewhat embarassing to read today - I was way too cocky (although my intent was generally good; I'd never intentionally want to upset anyone, and after all, I was a teenager - so not the most aware of what I was doing. It was the traditional demo-scene smack talk/diss-ing, and not meant to be taken seriously).
Obviously none of the phone numbers or addresses are still valid. 
WELCOME TO THE SECOND PART OF THIS ENTRO...                 FIRST OF ALL, THE IMPORTANT PART... THESE ENTRO'S ARE LITTLE PREVIEWS FOR ---STATUES OF ICE--- THE FIRST EVER SAM MEGADEMO...       IT'S AVAILABLE FREE WITH ISSUE 6 OF SCPDU (1.50 ENGLISH POUNDS FROM SCPDU, GARAGE FLAT, RUDGE LANE, OARE, NR.MARLBOROUGH, SN8 4JQ     CHEQUES MADE PAYABLE TO SCPDU)        OR YOU CAN GET IT FROM US DIRECT BY SENDING US AN SAE AND A DISC... ADDRESS AT THE END OF THE SCROLLY (SO READ THE LOT, BUD!)                ANYWAY, BACK TO THE POINT OF THIS SECTION OF THE ENTRO...                               >>>             THIS IS A PUBLIC SERVICE ANNOUNCEMENT TO STEPHEN WILSON, FROM ENTROPY, SAYING: STICK TO UTILITIES! YOU'RE BETTER AT THEM THAN YOU ARE AT DEMOS...                AS YOU CAN SEE, THIS IS PD DEMO 6 VASTLY SPEEDED UP (MY VERSION RUNS IN 1 FRAME, STEPHEN'S "RAN" IN 3 FRAMES). THE REASON FOR THIS IS BECAUSE TO CODE DEMOS, YOU NEED TO BE ABLE TO SEE THE QUICK WAY AROUND ANY PROBLEM. YOU, STEPHEN, DON'T SEEM TO BE ABLE TO YET (I SAY YET, BECAUSE YOU DO HAVE TALENT - JUST KEEP WORKING ON IT MAN).                NOW YOU'VE HEARD MY COMPLAINTS ABOUT STEPHEN, HERE'S SOME INFO ABOUT THIS DEMO...                ALL GRAPHICS (EXCEPT SOME ADDITIONS TO THE FONT, AND SPECIAL 'SPEED-UP' CONVERSIONS OF DATA LAYOUTS) ©STEPHEN WILSON                ALL CODE © 1992 COOKIE OF ENTROPY...                WHEN I SAY -ALL- CODE, I MEAN EVERY LAST BYTE - I HAVEN'T COPIED A SINGLE ONE OF STEPHEN'S ROUTINES FOR THIS DEMO... (THEN AGAIN, IF I HAD, IT'D RUN IN 3 FRAMES INSTEAD OF 1!)                BUT IT'S NOT ALL BAD NEWS... QUESTION TIME FOR STEPHEN NOW: HOW DO YOU GET 960K PER DISC????? NICE ONE STE! SEE - YOU HAVE GOT IT, BUT NOT WHERE YOU NEED IT FOR DEMOS...                           GREETINGS TO: ALL MEMBERS OF I.L., STEPHEN WILSON - OF COURSE, BRIAN MCCONNELL (PLEASE WRITE TO ME!!!) ... GRAHAM BURTENSHAW ... HOW'S IT HANGIN? (OH - DON'T MAKE YOUR POLITICAL AFFILIATIONS PART OF YOUR MAGAZINE - THAT GOES TO YOU AS WELL, BRIAN!), ALL OF ENTROPY (NICAM, MIKEY BOY, JUSTIN ASH, DOCTOR H, RAINMAN, MIKE AJ), CHRIS WHITE (NOSING AROUND IN MY CODE AGAIN?), COLIN MACDONALD (I KNOW YOU SAID YOU HAD TO GO HOME BECAUSE SOMETHING URGENT CAME UP, BUT YOU COULD HAVE TOLD ME IT WAS SAMCO BITING THE DUST!!!!!), ALAN MILES (DON'T WORRY - THE COUPE IS SAFE!), BRUCE GORDON (SHOULD SEE MY DESIGNS FOR THE 'ENGRAM' NOW...), THORSTEN GUDMUNDSEN (HOW'S DA TOUR OF DUTY GOING MATE?), THE DVB (YO! DENNIS! TAKE CARE OF Y'SELF DUDE), LORD INSANITY (HELLO DAVID! WRITE TO YOU SOON...), E.S.I. (OR RATHER, MACIEJ - HELLO! WRITE TO -YOU- SOON AS WELL... LITTLE QUESTION... WHAT HAPPENS TO E-TRACKER NOW THAT SAMCO HAVE DIED?), PAT SPENCER, HOWARD PRICE, MATT COLLINGE, RICKIE 'M', SAM BUCHANAN, CLARE CAMPBELL, FLOP, GAZZA, RIC, GAZ JAYNE, STEVE ANDERSON (KRONUS, SURELY?), AND TO THOSE WHO HAVE NOT GOT A MENTION, LET ME KNOW, AND I'LL PUT YOU IN NEXT TIME. BUT DON'T WORRY - NOT ALL THINGS COME IN WHITE CASES AND LOOK AS DEADLY AS A SAWN-OFF BRIEZE BLOCK...               SPECIAL THANX TO MY SISTER (CLAIRE), CLARE CAMPBELL AND TO ANDY MOORE                    ALSO THANKS TO THE MASTERS OF MAGIC FOR -NOT- SENDING ME ANYTHING THROUGH THE POST YET...                                ADDRESS TIME: ENTROPY CAN BE REACHED AT: COOKIE, 18 BRAEMAR DRIVE, SALE, CHESHIRE, M33 4NJ...        NICAM, 28 MANOR AVE, SALE, CHESHIRE, M33 5JG        YOU CAN REACH NICAM ON THE PHONE BY RINGING (061) 969 2829 (IN THE UK) OR +44 61 969 2829 FROM OUTSIDE THE UK... 24 HOURS, BECAUSE THIS MAN DOES NOT SLEEP... OR IF HE DOES, YOU CAN CATCH HIS ANSWERPHONE!                                  ALL CORRESPONDANCE FOR ENTROPY IN GENERAL SHOULD BE SENT TO ENTROPY, 18 BRAEMAR DRIVE, SALE, CHESHIRE, M33 4NJ, ENGLAND                IF THAT WAS TOO FAST FOR YOU, HERE IT IS AGAIN...          ENTROPY, 18 BRAEMAR DRIVE, SALE, CHESHIRE, M33 4NJ, ENGLAND                                         THIS HAS BEEN AN ENTROPY PUBLIC SERVICE ANNOUNCEMENT ©1992                C YA L8R DUDES! ---COOKIE 1992---                             FINISHED ON 20/08/92                                 ENTROPY - PURE CHAOS!                             -< READ YS FROM ISH 83 FOR WORDS OF WISDOM FROM COOKIE UNDER THE NAME OF "SPEC-TEC" (NO JOKE!) >-        
Art Style
The side panels of part 1 of the demo are based on Melon Dezign's Amig Human Target demo.