Submitted by
Dan Dooré
on Wednesday, May 23, 2018 - 13:26.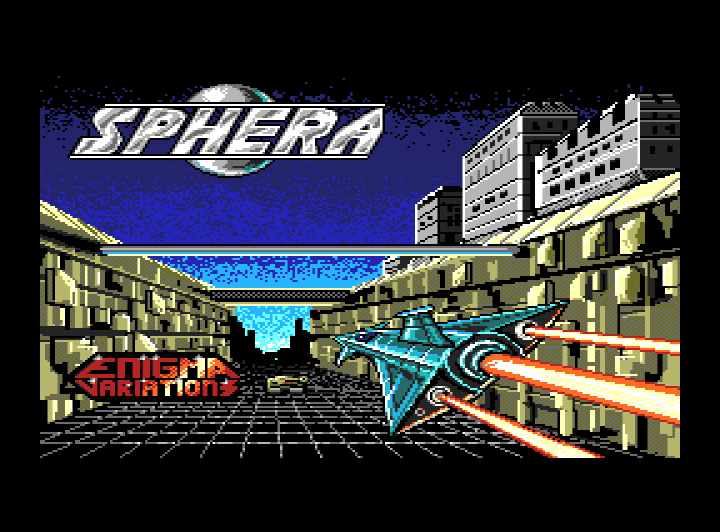 Description
One of the few (maybe only?) games to use Mode 2. A classic Space-Invaders inspired game which, at times, offered a significant challenge with the large colourful structures that your white, monochrome ship could get lost under while fighting the attacking foe.
In true arcade style, there was also a selection of giant guardians to fight at the end of the level.
Reviews
Crash Issue 86 review, courtesy of spectrumcomputing.co.uk
Review by Graham Goring from the Sam Coupé Scrapbook
Sphera was one of the first games to come out on the SAM. Long before it's release we were treated to beautiful mode 4 graphics depicting the Mega-Enemies and some technical stuff all about how it had lots of layers of parallax and lovely sound. So we all had bated breath (from reading YS instead of cleaning our teeth - tsk!) by the time the game arrived. And it turned out to be an utter turkey.
The game was a basic vertically scrolling shoot 'em up. With pretty good mode 2 graphics during the normal levels, and great mode 4 graphics upon meeting the Boss Creatures. Now, the problem with mode 2 is that you're only allowed 2 colours per 8 pixel long line (horizontally) so the enemies and your craft were all white and boring, making them stand out from the nice background like a sore thumb.
Another feature making it difficult was that virtually (if not completely) all the 'background' passed OVER you and the enemies, making it impossible to see them and their bullets (which were disproportionatley massive) as they streaked towards you intent on draining your shields, or killing you.
And since both you and the enemies go pretty fast you spend most of your time dying and re-starting the level, ack!
But if you are after a shoot 'em up with PLENTY of challenge, then you could do worse, seeing as it's ever so cheap now. But you could do better (not sure how, but at a guess it'd probably involve writing something in BASIC).
A LOT better.
| Area | Score | Comment |
| --- | --- | --- |
| Graphics | 78% | Some are great, the rest are damn awful. |
| Addictivity | 47% | Say goodbye to disk-drive, Mr Sphera, say hello to bin. |
| Instant Appeal | 65% | Looks nice, with a nice intro screen. Plays terribly. |
| Sound | 83% | Good spot FX, and a great, if short, intro tune by Sean Conran. |
| Overall | 55% | Avoid! Avoid more avidly than you would a highly suspicious looking rat emerging from a door with a yellow cross on it. |
Trivia
Enigma Variations released a demo disk containing a rolling demo of Sphera, attached here is an incomplete copy.
Tips
1) Shoot the sign saying "DO NOT SHOOT" to get to the mid level alien.
2) When you get to the alien, rush to the top of the screen and hold down fire, the alien will never appear and will be killed very quickly.
Also:
If you are having trouble getting to a level then do the folowing :-
1.. Clear the machine and put the Sphrea disc in drive 1.
2.. Type BOOT1 to get the DOS in.
3.. Now do a DIR1 of the disc and you will notice that tehere are several sets of files with the same name and the number 1, 2 and 3 after them.  These are "LEVEL", "MAP", "PAN" and "BIG.
4.. Just rename a set to the level 1. e.g. rename PAN2, BIG2, MAP2 and LEVEL2 to PAN1, BIG1, MAP1 and LEVEL1.
Now load the game as normal, and the first level will now be the one you renamed...