Submitted by
Dan Dooré
on Wednesday, May 16, 2018 - 23:59.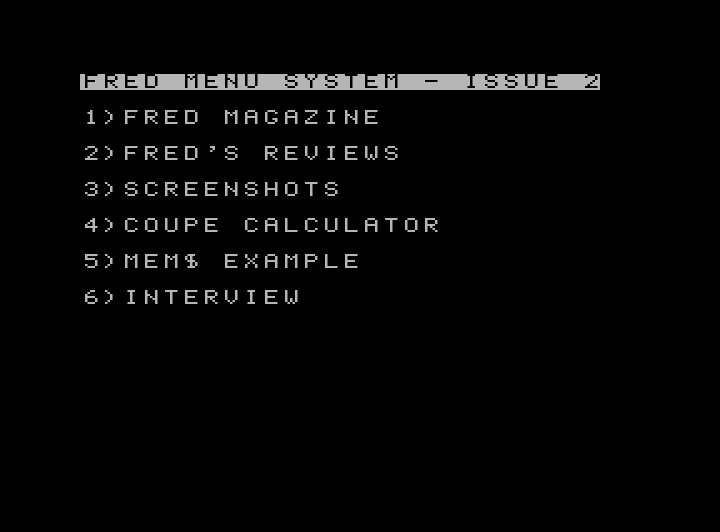 Description
Issue 2
July 1990
Magazine
FRED, SAM'S MATE
2)WHAT'S UP
3)LAST MONTH
4)MGT? 
5)SAM SOFTWARE
6)ENIGMA
7)LERM
8)BUGS,POKES & ALL
9)CHEATS,HINTS AND TIPS
10)THE HORIZON
11)COMPO TIME
12)DATON AND ENIGMA
13)ZENITH
14)HELP!!!
15)FLIP SIDE
16)FLIP SIDE CTD
17)MOI(AGAIN!)
18)THE END
1 WHAT'S UP?
WELL,HERE WE ARE - INTO THE SECOND GLORIOUS ISSUE OF FRED AND ALREADY I'VE HAD A FAIR BIT OF SUPPORT FROM SOME COMPANIES.I'D LIKE TO THANK MR STEVE NUTTING,LERM SOFTWARE AND THE SOFTWARE MANAGER AT ENIGMA VARIATIONS. WHAT A SAD MONTH IT'S BEEN - MGT, CREATORS OF THE BEST EVER 8 BIT MACHINE, MASTERS OF...WELL NEVER MIND ,READ ALL ABOUT IT IN THE ARTICLE. ANYWAY THIS ISSUE IS PACKED FULL OF STUFF - SO IT SHOULD KEEP YOU BUSY ON A RAINY DAY,I'D MAKE A FAIRLY SAFE GUESS THAT THERE IS GOING TO BE A LOT OF THOSE THIS SUMMER.THERE'S NEWS FROM LERMAND ENIGMA.WHY ARE SOFTWARE COMPANIES RELUCTANT TO PRODUCE SOFTWARE - I REVEAL THE CULPRITS AND ALSO HOW WELL THE SAM SOFTWARE IS SELLING.ALSO ARE A FEW SCREENSHOTS FROM DEFENDERS OFTHE EARTH(REVIEWED) WATCH OUT THEY'RE AWESOME! THERE ARE TWO ASSEMBLERS ACTUALLY RELEASED AND AS YOU WILL HAVE SEEN SC_ASSEMBLER IS REVIEWED.THERE WAS GOING TO BE A COMPARISON WITH SAMASSEMBLER AND A REVIEW ON IT BECAUSE LERM PROMISED ME A COPY BUT THEN LATER CHANGED THEIR MINDS. WELL, ENJOY FRED2 AND MOST OF ALL ENJOY YOUR COUPÉ
2 SAM COUPÉ CONTACTS :
IN REPLY TO MY SUGGESTION LAST MONTH THAT I SHOULD PRINT YOUR NAMES AND ADDRESSES SO THAT YOU CAN ALL WRITE TO EACH OTHER ETC ETC HERE IS ANDREW ROBBINS : I HAD A RUBBER KEYED SPECCY AND GOT MY SAM IN FEBRUARY.I HAVE A WIDE RANGE OF INTERESTS - I HAVE ALSO JUST SET UP MY OWN GROCERY STORE!! I DO A LITTLE PROGRAMMING. IF YOU WANT TO WRITE TO ME (YOU MUST BE MAD!-ED) WRITE TO ANDREW ROBBINS, 3 DURNAMUCK, DUNDONNELL , BY GARVE , ROSS-SHIRE , SCOTLAND , IV23 2Q2 IF YOU WANT A FREE NEWSLETTER AND THE CHANCE TO KNOW NUMEROUS SAM OWNERS CONTACT BRIAN MUMFORD AT THE SPECTRUM DISCOVERY CLUB (SDC),[redacted] IF YOU HAVN'T ALREADY DONE SO AND YOU WOULD LIKE YOUR NAME IN COUPÉ CONTACTS THEN SAY SO TO ME WITH A DETAIL OR TWO ABOUT YOURSELF
3 MILES GORDON TECHNOLOGY. THE END
AS WE ALL KNOW,MGT HAVE BEEN MAKING EXCELLANT HARDWARE FOR THESPECTRUM FOR MANY A YEAR NOW TO FUND THE SAM COUPÉ PROJECT WHICHHAD BEEN PLANNED FOR SEVERAL YEARS.THE COUPÉ HAD PASSED NUMEROUS RELEASE DATES WITHOUT ANY SHOW AND IT WASN'T UNTIL DECEMBER 1989 THAT IT WAS FINALLY PUT ON THE MARKET. UNFORTUNATLY MGT DIDN'T SELL THE NUMBER OF COUPÉS THEY HAD EXPECTED TO MAINLY DUE TO IT'S LATE RELEASE AND SO THEY DIDN'T GET THE MONEY BACK THEY HAD BORROWED AND THEY STILL HAD TO SEND OUT NEW ROMS AND SUPPOSEDLY MANUFACTURE HARDWARE SUCH AS LIGHTPENS AND MICE. HOWEVER, ONCE THEY REALISED THAT THEY WERE COMPLETELY WITHOUT HOPE THEIR ONLY CHOICE WAS TO CALL IN THE RECEIVERS AND HOPE SOMEONE BOUGHT THEIR EXCELLANT MACHINE. THE ONLY NEWS IS THAT MGT HAVE FOUND SOME SORT OF BUYER BUT NOTHING IS DEFINITE AND SO NO-ONE HAS ANY IDEA OF WHO WILL BE TAKING OVER.IF YOU PHONE MGT'S NUMBER A RECORDED MESSAGE HINTS AT AMSTRAD BUT I HAVE BEEN TOLD IT IS NOT THEM. WHOEVER IT IS, GOOD LUCK TO YOU.
4 SAM SOFTWARE
THE COMPANY EVERYONE WAS LEAD TO BELEIVE WERE GOING TO DO MANY A SAM CONVERSION INCLUDING ONE OF THEIR LATEST HITS,STRIDER HAVENOW BACKED OUT.YES,US GOLD WILL NOT BE RELEASING ANY SAM GAMES EVEN THOUGH THEY EVEN INCLUDED THE LETTER IN THE COUPÉ PACKAGE OFFERING STRIDER AT A REDUCED PRICE.THEY WOULD NOT GIVE ME ANY SPECIFIC REASON FOR THIS SUDDEN CHANGE OF MIND BUT THEY DID SAY IT HAD NOTHING TO DO WITH MGT GOING BUST. ANOTHER COMPANY I EXPECTED TO DO SAM GAMES IS THE NEW EMPIRE BUT THEY DON'T EVEN HAVE A COUPÉ SO THEY'VE OBVIUOSLY MADE UP THEIR MIND. MOST COMPANIES WHO ARE RELEASING SAM GAMES SAY THEY LIKE WORKING ON THE SAM AND SAY IT HAS A LOT OF POTENTIAL-I'M SURE WE ALL AGREE. ENIGMA SAY THEIR SALES WERE ONLY ABOUT 25% OF SPECTRUM SALES SO THEY MIGHT NOT BE KEEN TO RELEASE THE NEXT GAME HOWEVER LERM'S SOFTWARE IS SELLING VERY WELL ESPECIALLY WITH THE SAMTAPESO THEY WILL DEFINATLY CONTINUE TO SUPPORT THE SAM. SO ALL I CAN SAY IS WELL DONE ON THE SAM SUPPORTING COMPANIES AND THAT I HOPE THE OTHERS WILL SEE SENSE SOON.
5 ENIGMA VARIATIONS
WELL, ENIGMA ARE THE PUBLISHERSOF THE FIRST EVER SAM COUPE GAME (REVIEWED THIS ISSUE) AND THAT SHOWS THEY'RE OFF TO A GOOD START.BUT IS IT SELLING WELL? APPARENTLY IN IT'S FIRST THREE WEEKS IT SOLD JUST UNDER 500 WHICH IS PRETTY POOR REALLY SO BY NOW AFTER ALL THE MONTHLIES HAVE REVIEWED IT THEY SHOULD HAVEA SUDDEN BOOST IN SALES-SO C'MON YOU FRED JUNIORS , GASP AT THE REVIEW , GAPE AT THE SCREENSHOTS AND SEND OFF TO ENIGMA NOW FOR IT AND SAVE THE FUTURE OF THE SAM SOFTWARE. IF SALES DO PICK UP WHICH THEY SHOULD ENIGMA HAVE GOT ONE OR TWO PLANS FOR THE FUTURE ON THE SAM - THEIR NEXT TRICK UP THEIR SLEEVES IS TYPE OF FUTURISTIC FOOTBALL WHICH I SUSPECT WILL BE LIKE THE EXCELLANT,16-BIT GAME 'SPEEDBALL' BUT WE'LL JUST HAVE TO WAIT AND HOPE DEFENDERS SELLS WELL. ENIGMA ARE ALSO CONSIDERING RELEASING A FEW ADVENTURES THAT HAVE BEEN SENT IN TO THEM.UNFORTUNATLY I DON'T KNOW WHAT THEY'LLBE LIKE BUT WITH ANY LUCK THEY'LL BE CLOSE ON THE STANDARD OF THE 16-BIT'S SCAPEGHOST , FISH AND OF COURSE CORRUPTION. THANKS TO THE SOFTWARE MANAGER AND MARK GREENSHIELDS. THEIR ADDRESS IS:13 NORTH PARK RD, HARROGATE,HG1 5PD
6 LERM
LERM - THE COMPANY BEHIND MANY OF THE SPECTRUM WORLD'S BEST UTILITIES INCLUDING TRANSPACK2,GRAPHICS AND SOUND TABLET AND THEIR MOST FAMED,BRILLIANT Z80 TOOLKIT.IT IS ON THIS THAT THE SAMASSEMBLER IS MODELLED SO GIVING IT ALL THE FEATURES THAT ARE POSSIBLY NEEDED.LERM HAVE NOW PRODUCED THREE PROGRAMS FOR THE COUPÉ WHICH ARE : SAMTAPE - AN EXCELLANT PRODUCT WHICH TRANSFERS YOUR SPECTRUM GAMES TO SAM DISC.REVIEWED IN ISH.1 .BRILLIANT SAMASSEMBLER - BASED ON Z80 TOOLKIT,ONE OF THREE SAM ASSEMBLERS AROUND.HOPEFULLY REVIEWED THIS ISSUE. SAM ADDRESS MANAGER - A DATABASE SYSTEM FOR STORING PEOPLES NAMES, ADDRESSES AND PHONE NUMBERS. THAT IS QUITE A GOOD RANGE OF UTILITIES AND AS DESERVED ARE SELLING WELL ('15-20% HIGHER THAN SPECTRUM SALES') AND SO AT LEAST LERM WILL CONTINUE SUPPORTING THE SAM.UNFORTUNATLY THEY HAVE NO PLANS FOR THE NEAR FUTURE BUT IN SOME MONTHS THEY MIGHT RELEASE A DISC UTILITY - TO TIDY UP YOUR DIRECTORY ETC. THANK YOU TO WHOEVER IT WAS I SPOKE TO AT LERM.THEIR ADDRESS IS : [redacted]
7 BUGS, POKES & ALL
EVEN THOUGH I HAVE THE NEW ROM THERE ARE STILL SEVERAL BUGS INIT.THE MOST DEFINED ONE OCCURS WHEN YOU TYPE 'INPUT LINE A' BUT DON'T DO THIS WITH A PROGRAM IN MEMORY.THE OTHER BUGS MAINLY CONSIST OF CRASHING OCCASIONALLY AND THE DOS NOT BOOTING UP ALONG WITH ONE OR TWO OTHER PROBLEMS WITH THE DOS. TO ALTER ANY OF THE CURSORS LIKE THE ARROW USED IN THE LISTINGAND THE CURSOR WHICH INDICATES IF YOU ARE IN UPPER OR LOWER CASE SIMPLY USE THESE POKES:
POKE SVAR 0,X - REPLACES >
POKE SVAR 1,X - REPLACES €
POKE SVAR 2,X - REPLACES 
WHERE 'X' IS THE CHARACTER IN QUOTES EG. POKE SVAR 0,"F" IF YOU'VE JUST DESIGNED YOUR OWN FONT AND WANT TO USE IT INSTEAD OF THIS ONE THEN SIMPLY TYPE
LOAD"<FONT FILENAME>"CODE 16385:POKE SVAR 566,1:POKE SVAR 567,63
TO GO BACK TO THE COUPÉ FONT TYPE  POKE SVAR 566,144:POKE SVAR 567,80
8 CHEATS, HINTS AND TIPS
I'LL START WITH A TIP FOR DEFENDERS - ALWAYS JUMP JUST BEFORE YOU GET TO THE EDGE OF A SCREEN AND DON'T BOTHER COLLECTING THE GUNS - THEY DON'T HELP.
NOW FOR GREAT ESCAPE(REVIEWED IN FRED1):
USE THE TOOLS TO PICK LOCKS  THE SPADE DIGS THROUGH TUNNEL BLOCKS  WEAR THE UNIFORM AT NIGHT TO AVOID DETECTION  BRIBE A PRISONER WITH THE CHOCLATE TO DISTRACT A GUARD  THE RADIO IS USELESS  ESCAPE WITH THE COMPASS AND THE PAPERS
ALSO REVIEWED IN FRED1 WAS DIZZY 3 :
THE WATER PUTS OUT THE FIRE  ANAROG EATS THE BONE(GET THE BOULDER)  TIE ROPE AROUND CROCODILES NECK  DROP THE THREE BOULDERS IN THE WATER TO CROSS
9 THE HORIZON
ANCO DO PLAN ON RELEASING KICK OFF 2 FOR THE COUPÉ BUT IT WILLNOT BE FOR SOME MONTHS YET , THEY WON'T SAY MUCH BUT THEY'RE OBVIOUSLY WAITING UNTIL THE COUP' TAKES OFF.I WOULD EXPECT IT TOBE RELEASED AROUND CHRISTMAS IF AT ALL. I'VE HEARD FROM SEVERAL SOURCES THAT ALAN MILES AND BRUCE GORDON (PREVIOUSLY KNOWN AS MGT) ARE SETTING UP A USER GROUP FORTHE SAM IN WHICH THEY WILL BE SELLING THE NEW ROMS FOR `10 EACH AND THEY WILL ALSO BE OFFERING HELP AND ALL THE USUAL STUFF - HOPEFULLY MORE DETAILS NEXT MONTH. GREMLIN WILL NOT BE RELEASING ANY SAM SPECIFIC SOFTWARE BUT HAVE GOT SEVERAL GAMES READY FOR RELEASE WHICH THEY WANT TO BE SAM COMPATABLE.AMONGST THE TITLES ARE THREE 16-BIT COVERSIONS - SUPERCARS,SHADOW OF THE BEAST & SWITCHBLADE.THEY WILL ALSO BE RELEASING GREG NORMANS OPEN GOLF.GOOD LUCK TO GREMLIN AND I HOPE YOUR COUPÉ GAMES SELL WELL.
10 COMPETITION TIME
WELL FIRST IS A THIS MONTH ONLY COMPO.IT GIVES YOU THE CHANCE TO WIN A WHOLE `2.50 OFF YOUR COPY OF DEFENDERS OF THE EARTH!!!!SIMPLY TELL ME WHY YOU SHOULD WIN IT AND NO POVERTY ANSWERS PLEASE!!!THE BEST WILL HAVE A `2.50 VOUCHER FOR TAPE OR DISC DEFENDERS IN HIS/HER MAILBOX.DEADLINE - 30TH AUGUST. THE NEXT BIT IS CONTINUED - YOU CAN WIN ONE OF THREE T-SHIRTS FROM LEADING SOFTWARE COMPANIES OR COUPÉ COMPATABLE, SPECTRUM GAMES!! 1)WHO WILL MGT SELL THE COUPÉ TO?  2)WHO WROTE THE COUPÉ'S BASIC?  3)WHAT HAPPENS IF YOU TYPE IN 'INPUT LINE A'?  4)HOW LONG HAD MGT DESIGNED THE COUPÉ BEFORE IT'S RELEASE?  5)WHAT DO YOU THINK OF FRED? SEND YOUR ENTRIES IN WHETHER OR NOT YOU HAVE ALL THE RIGHT ANSWERS, WHO KNOWS , YOU COULD BE THE ONLY ENTRANT!!
11 DATON AND ENIGMA
THE MIND BEHIND MGT'S BASIC PROGRAMS IS DAVE TONKS - DATON SOFTWARE.AND NOW HE'S STRUCK A DEAL WITH ENIGMA VARIATIONS.DAVE HAD WRITTEN SEVERAL EXCELLANT PUZZLE TYPE GAMES WHICH USE UP 16 COLOURS SO THEY SHOULD BE PRETTY GOOD AND ALTHOUGH YOU WOULDN'T REALISE IT THEY ARE MOSTLY WRITTEN IN SAM BASIC.THE PACK CALLED 'MINDGAMES' IS GOING TO BE SHOWN OFF AT THE ALL FORMATS SHOW ANDWILL BE RELEASED SOON AFTER AT A PALTRY `11.99 DISC AND TAPE! SINCE I WROTE THE LAST ENIGMA ARTICLE I HAVE HAD MORE NEWS ON THEIR PLANS.ONE OF THE ADVENTURES WHICH I SPOKE ABOUT IS GOING TO BE RELEASED AND IT NEEDS A LISCENCE BECAUSE IT IS BASED ON BOOK!MAYBE WE'LL HAVE STEPHEN KING ON THE COMPUTER YET! ANOTHER ONE OF ENIGMA'S PLANS IS 'SPHERA' AN EXCELLANT, EXTREMELY ADDICTIVE SHOOT-EM-UP ALLOWING 20 SPRITES AND 100 BULLETS MOVING ABOUT THE SCREEN AT ONE TIME!! SPHERA IS DUE TO BE RELEASED IN OCTOBER. ENIGMA HAVE SAID THEY'D SEND A COPY OUT FOR REVIEW SO PERHAPS IT'LL BE READY FOR NEXT MONTH?
12 ZENITH GRAPHICS
YOU MUST ADMIT THE ADVERT'S PRETTY IMPRESSIVE - BUT WHO ARE ZENITH GRAPHICS ANYWAY? ZENITH GRAPHICS HAVE BEEN SET UP FOR AROUND TWO MONTHS AND BASICALLY THEY RELEASE EXCELLANT DISCS/TAPES PACKED FULL OF WONDERFUL GRAPHICS AS YOU WILL SEE IF YOU BUY EDITION ONE. ALTHOUGH THESE ARE BRILLIANT , THE GAMES CAN'T BE BRILLIANT DUE TO LIMITED SPACE BUT IN THE FUTURE ZENITH DO PLAN ON RELEASING A GRAPHICAL ADVENTURE AND ALSO A MASSIVE ARCADE TYPE GAME WHICH WILL USE UP ALL 780K OF THE DISC SO YOU CAN BE ASSURED IT'LL BE BIG AND BEAUTIFUL WHATEVER IT IS. ZENITH HAVE ALSO WRITTEN A SMALL TECHNICAL BOOKLET ABOUT SOME OF THE PROGRAMS ON EDITION ONE (SOUND GENERATOR, SAM - SPECTRUM, COLOURS & DISTORT)FOR ONLY `1.50! SOMETIME NEXT YEAR ZENITH WILL BE PUBLISHING THEIR OWN SAM TECHNICAL MANUAL WHICH SHOULD COVER ALL ASPECTS OF THE COUPE, SO THAT SHOULD BE GOOD - MAYBE IT'LL BE EASIER TO MAKE SENSE OF THAN THE MGT ONE! BUY EDITION1 FOR ONLY `7 FROM ZENITH GRAPHICS,42 ALDBOURNE WAY, KINGS NORTON, BIRMINGHAM,B38 9UP
13 HELP!!!
YES , IT'S THAT TIME OF THE MONTH WHEN I MAKE A DESPERATE PLEATO YOUR HEARTS AND BEG OF YOU TO SEND ME ANYTHING - LETTERS ARE URGENTLY NEEDED BUT IF YOU HAVE ANY HINTS,TIPS,GAMES,SERVICES ORJUST WANT TO SPEAK TO OTHER PEOPLE DO IT THROUGH FRED.AS SOON ASI GET SOME THERE WILL BE A CLASSIFIEDS SECTION (FREE , OF COURSE) SO IF YOU WANT TO BE INCLUDED WRITE NOW. REMEMBER, IF YOU GIVE ME ANY HELP YOU WILL NOT ONLY BE ENTERED INTO THE CURRENT COMPETITION BUT...YOU WILL HAVE THE HONOUR OF BEING MENTIONED IN FRED! - FAME BEYOND YOUR WILDEST DREAMS EH? I HOPE ALL YOU ARTISTS OUT THERE ARN'T FORGETING THE 'LORD FLASHART' COMPETITION.ALL YOU HAVE TO DO IF MAKE A PICCY ON FLASH! AND SEND IT TO ME AND THE BEST PICCY WIN! AND ALSO HAS THE HONOUR OF BEING INCLUDED IN THE NEXT ISSUE OF FRED. I SUPPOSE YOU'LL NEED AN ADDRESS TO SEND ALL YOUR HUNDREDS OF ENTRIES TO WON'T YOU? HOW ABOUT: COLIN MACDONALD. [redacted]  THANK YOU.
14 ON THE FLIP SIDE...
OK SO THERE IS NO 'FLIP SIDE' BUT IT SOUNDS GOOD SO NO ARGUEMENTS OK?.RIGHT,THIS MONTH I HAVE BUNGED ON A LITTLE CALCULATOR AS PROMISED.USING YOUR JOYSTICK,CONTROL THE HAND TO SELECT THE BUTTONS TO PRESS. WHEN YOU LOAD IT UP YOU WILL NOTICE THAT IT IS PRACTICALLY USELESS,FLICKERY,SLOW ETC.BUT THAT IS NOT THE POINT-IF YOU PRESSESCAPE AND LIST THE PROGRAM YOU WILL SEE HOW I HAVE USED THE COMMANDS 'GRAB' AND 'PUT' LIKE IN FRED1 I USED 'PALETTE'.I WROTE THIS TO SHOW HOW THESE WORKED BECAUSE I THOUGHT THE MANUALDIDN'T EXPLAIN IT VERY WELL. I HOPE YOU CAN BENEFIT FROM THIS IF YOU ARE NEW TO SAM BASIC AND IF YOU'RE NOT THEN IT'S SOMETHING TO LAUGH AT ISN'T IT? PLEASE NOTE THAT FRED FREEBIES ARE NOT COPYRIGHTED AND SO YOU CAN MESS THEM ABOUT,SEND THEM TO YOUR GRAN AND ANY OTHER VULGAR THINGS YOU LIKE TO DO WITH SOFTWARE... IF ANY OF YOU HAVE ANY DEMOS,ROUTINES OR EVEN GAMES THEN SEND THEM IN AND I'LL VERY GRATEFULLY PUT THEM IN THE NEXT ISSUE.
15 ON THE FLIP SIDE CTD.
ALSO ON THIS DISC IS ANOTHER LITTLE PROGRAM TO HELP YOU UNDERSTAND YOUR SAM BASIC.IT'S 'MEM'.WHAT IT DOES IS MAKES USE OF THE COMMAND MEM$ SO YOU CAN SEE HOW IT WORKS AND JUST HOW USEFUL IT IS. FIRST YOU MUST HAVE A PICTURE SAVED FROM FLASH! NOT IN SCREEN$ BUT IN THE CODE IT IS SAVED IN (114688,24627) THEN YOU LOAD IT UPFROM THE MENU, TYPE IN IT'S FILENAME WHEN PROMPTED AND THE PROGRAM WILL DO THE FOLLOWING. ALL THE CODE WHICH YOU HAVE JUST LOADED IN IS TRANSFERED INTO A STRING (A$) USING THE COMMAND MEM$ WHICH AS YOU CAN SEE ONLY TAKES A FRACTION OF A SECOND. THEN AFTER THE 'CODE EXCHANGED' LABEL IS PRINTED THE PROGRAM POKES THE STRING INTO THE SCREEN ADDRESS (245760) , AGAIN IN AN INSTANT. ALTHOUGH THIS IS NOT WIDELY USEFUL IT DOES , FAIRLY WELL , DEMONSTRATE HOW ANOTHER ONE OF THE COUPÉS COMMANDS WORK. NEXT MONTH THERE WILL BE A ROUTINE TO SHOW YOU HOW TO PRODUCE SCROLLING MESSAGES
16 MOI ET HYSTERIA SOFT.
NOT ONLY HAVE I SLAVED FOR HOURS TO MAKE THIS ISSUE I HAVE ALSO PROGRAMMED A LITTLE DATABASE FOR STORING DETAILS OF YOUR MAIL.'DATAPOST' ALLOWS YOU TO ENTER,ALTER,SAVE AND SEARCH RECORDS OF YOUR POST WITH THE GREATEST OF EASE -IT'S THE PROGRAMTHAT I USE SO IT HAS TO BE ABLE TO STORE A LOT OF DATA,BELEIVE ME!! EACH RECORD(OR DAY) IN A FILE (OR MONTH) DISPLAYS THE FIRST 30CHARACTERS ON THE DISPLAY SCREEN BUT CAN HOLD UP TO EIGHTY!!ALL TYPES OF SEARCHES CAN BE MADE - FILE OR DIRECTORY SEARCHES,SENT , RECEIVED OR BOTH SEARCHES AND ALL IN A MINIMUM OF SPEED. 'DATAPOST' IS PARTLY MENU DRIVEN WITH FULL INSTRUCTIONS. INTERESTED? YOU SHOULD BE ! YOU'D BE DAFT TO MISS OUT BECAUSE 'DATAPOST' IS GOING FOR THE RIDICULOUS PRICE OF `2.50!!! AND WHERE DO YOU GET IT?FROM ME ,COLIN MACDONALD AT 40 ROUNDYHILL , MONIFIETH , DUNDEE , DD5 4RZ. I HAVE ALSO JUST WRITTEN TEN REVIEWS AND AN ARTICLE OR TWO FORTHE SPECTRUM TAPE MAG 'FANATSY ZONE' - COMING SOON.
17 THE END(SNIFF SNIFF)
MY OH MY HOW SAD THIS IS BUT IT HAS TO BE DONE I SUPPOSE AND ALL I CAN DO IS LOOK FORWARD TO THE NEXT ISSUE - FRED3. LIKE FRED1 I CANNOT GIVE CREDIT TO ANYONE YET BECAUSE I DID IT ALL MYSELF BUT I WOULD DEFINATELY LIKE TO SAY A VERY BIG THANKS TO THE PEOPLE WHO HAVE BOUGHT FRED. I WOULD ALSO LIKE TO THANK ZENITH,ENIGMA,LERM,STEVE NUTTINGAND BRIAN AT SDC FOR PHONING. RIGHT THAT'S IT,SEE YOU ALL NEXT MONTH I HOPE. ENJOY YOURSELVES.