Submitted by
Dan Dooré
on Saturday, May 26, 2018 - 17:46.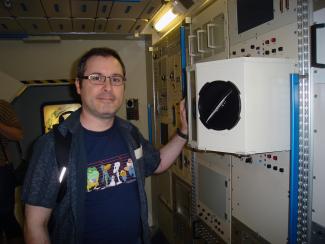 Biography
Graphic artist and budding game designer.
Creator of the mythical Sandman's Shadow, which may yet happen in some form or another. Making it a point'n'click adventure on the Sam would be awesome, but the project is on the back burner for the moment.
Attached to several aborted games, including Guardian 3 (a Stargate/Defender 2 style game), Deep Scan (a chess game) and Deadly Addiction (a Target: Renegade/Streets of Rage style game).
Very prone to coming up with half-baked game ideas due to being happily unencumbered with any understanding of programming, with several demos circulating in the public domain (and one or two more not currently out there) serving as ample proof.
Trivia
Worked on one published game - Reckless Rufus, a Spectrum conversion of the C64 game originally titled Awesome Dude, published by Alternative Software in 1992 - and always happy to play with pixels.
Attempting to learn Ren'Py, as visual novels are pretty cool.
Wrote a walkthrough to the Konami/Hideo Kojima game Policenauts, but hasn't yet updated it following the release of the English patch.
Collector of TransFormers toys.
Where are they now?
Usually works in Publishing (Archant Life, Rhinegold, The Bookseller, Centaur, amongst others), as Production Manager and print buyer for magazines, supplements, bespoke books, event guides, signage, etc.
Potentially looking for a new direction... or maybe just suffering from a mid-life crisis.