Submitted by
Dan Dooré
on Monday, May 21, 2018 - 21:59.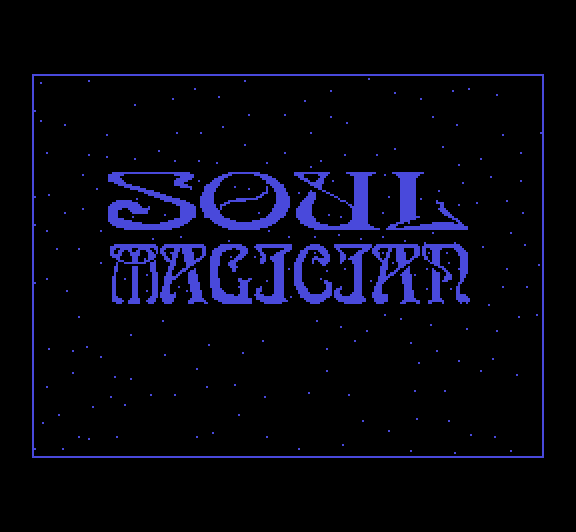 Description
Superior conversion of a PC puzzle game written in GFA-Basic by Henning P. Pabst with mouse option.
Featuring uncredited converted music and sampled speech by Christan M. and voice by A C Jones.
Instructions
Your main objective on each screen is to match atoms with the crystals on the screen, so that they disappear in a burst of energy.
There are several different type blocks to help you on the way, including teleporters, swappers, eyes, disintegrators and magnets.
You can go to any level by typing a password when you start the game and you'll get a password when you end a game with a high-score.
You get 1000 points for each crystal when you complete a screen and every retry costs 200 points.
Click the atoms so that they spin (selected) and then click the pointer away from it in the direction you wish the atom to move (goto).
Starting
From the menu use Cursor Keys and Enter to select.
To use the mouse (recommended) change 'JOY P1' to 'MOUSE'
In Game
| Action | Mouse | Joystick | Cursors |
| --- | --- | --- | --- |
| Move | Mouse | 6,7,8 & 9 | Cursors |
| Select/Goto | Left Button | Fire (0) | CTRL |
| Restart Screen | Right Button | Return | Return |
| Quit Game | Escape | Escape | Escape |
Trivia
Intro graphic is the wizard Zark from the intro sequence of WizBall, most likely from the Atari ST version.
Why this was never a commercial release is a mystery.
Tips
Passwords
01. XYCYSDFEWZ
02. GPGFSHLBVT
03. QCMSPAQXEV
04. XKZEDTUJDG
05. NYMPJKBWZY
06. SQVVHHYULZ
07. IWRMRFHMJY
08. ELZUDYMYWE
09. EVZEYXPZHD
10. FCDJORSMJU
11. GTOXXYHSTT
12. XRENKGVTVF
13. JRLMYVOQZN
14. FNCJCAXPQE
15. IVENNGGYYK
16. RUTXIVBSEV
17. HRRXSKIZNN
18. HSOZZWZRQQ
19. IVKDRHSBFB
20. BZUFDXJNAE
21. BJXBPTHIOE
22. DSTSEYDJGJ
23. KPTMBRPRRS
24. ZTXSAMRYXS
25. YQPJWNUZJR
26. FTRSTWSLGT
27. KRAISZJOMV
28. MBDJKYNDAP
29. RZMTGOMCKD
30. PKDMORUEPM
31. KOWSFRCGDY
32. RBVCYYZHFC
33. NKKGSMQRTB
34. FHZCIVTRWJ
35. CDDUWHXNUE
36. HWFSONMDXG
37. ZKGMRYKXAM
38. AQGYSNVBXM
39. NXPWALIRNJ
40. HLXYQHPXJT
41. WUCDSQGAQK
42. YBRDGKDVKU
43. PYAONWPBEO
44. BKPXTAGOWE
45. SSMXXQKSAF
46. ZHVXXHVHXP
47. NJJNGARRKI
48. SFIBIACARH
49. NNCILPBIZK
50. UWFAWAEBYQ
51. YMYQGDLBCE
52. HZVOXTFLUR
53. UKUSPCINQN
54. PKERUYYMPY
55. LZYGJTVHRF
56. FDHBOTKXMO
57. GKNTTENLSL
58. JYJVMGWUET
59. IFYAIGKQAB
60. KRUOUCUWBS
61. XILGZSGYLR
62. KKPCCZNYKE
63. XTFVGJYRDV
64. YVWMGSUPGG
65. MKOWOIARJJ
66. DUYZIBLCBD
67. NZFTUONKBV
68. WAYMZZMIAU
69. DLIDQMOHHB
70. ZZZUWGCBDH
71. ABBASDEFGH