Submitted by
Antony DTA
on Saturday, August 28, 2021 - 13:34.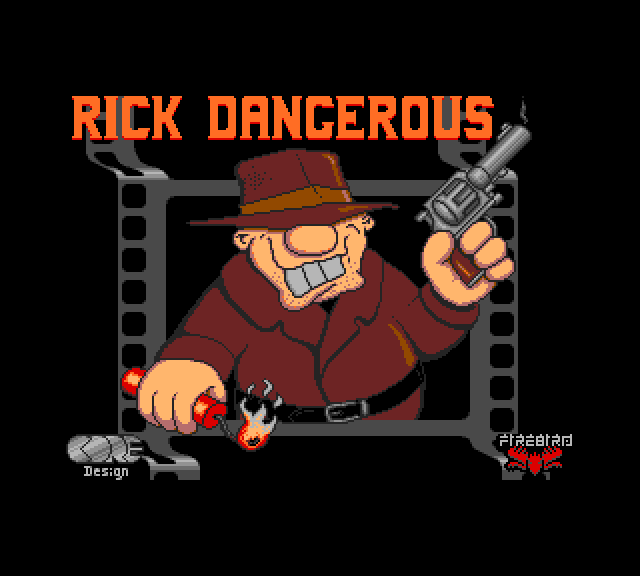 Description
Rick Dangerous game conversion from Amiga/Atari ST from 1989 from CORE design and published by Firebird.
SAM Coupé conversion by Anton Javorček requires 512KB of Memory Expansion.
"Rick Dangerous, super hero and part time stamp collector is in dire peril.  Armed with his trusty six shooter, a stick and some dynamite, Rick crash lands somewhere in South America (he forgot to refuel his aircraft).  Rick Dangerous is the new cult game, it's totally addictive, pure fun and Rick, well, Rick is Dangerous."
Features:
The new all-action cult fun game
Superb graphics
4 missions with 30 scrolling areas in each
SAM Conversion features:
Atari ST music
Original game samples
Hidden "SaveState/LoadState" (needs the One Meg of External Memory)
Instructions
Control keys:
Keyboard (Arrow keys and Cntrl)
Joystick 1 (6,7,8,9,0)
Up - Jump
Down - Crawl
Left - Move left
Right - Move right
Left/Right + Fire - Use stick
Up + Fire - Use gun
Down + Fire - Use dynamite
P - Pause game
Esc - End game
Space (in menu) - Change palette between colour and grayscale
Trivia
You can still send monetary donations to the author's account:
SK02 8120 0000 0086 2183 6931
Or use PayPal:
https://paypal.me/AntonJavorcek?locale.x=sk_SK
Some trivia from the original release from https://www.simonphipps.com/games/rickdangerous/:
The squashed look of the characters was inspired by the Spectrum game 'Joe Blade' and the wondrous art of Argentinian cartoonist Guillermo Mordillo.
The screen was 32 characters (256 pixels) wide on all formats, including the Amiga and ST versions, since we were so tight on time we could not afford to have different width maps for the different formats.
Similarly, all sprites were 24 pixels wide by 21 pixels high on all formats – the restriction of the hardware sprites on the Commodore 64 – another time-saving technique.
Rick's characteristic 'Waaaah!' sound effect was me – recorded on an old tape cassette machine – the result of myself and Terry spending a half-hour making ridiculous noises for the game and picking the funniest.
The cartoon strip that came boxed with the game was drawn by Ian Gibson – of 2000AD's Robo Hunter fame. We knew nothing of this until we received boxed copies of the game and it was a great surprise to think that one of my comic artist heroes had illustrated a game that I'd worked on. (The 'Fat Guy' who appeared later in Rick Dangerous 2 was entirely a creation of Mr Gibson's and was such a hit with us that we simply had to bring him in as Rick's nemesis when it came around to doing the sequel.)
There were 74 different enemy and trap types in the game, all handled by the same very simple and very small control routine.
Rick was designed in July 1988 and took four months to create, although it was not released until June of the following year. (Back then it was often the case that you would finish making a game only for it to be held for a period and not three seconds after you had made your final build.)
The game ran to 85 screens in size on the 8-bit formats, with 50 additional screens on the 16-bit formats.
One feature that was designed but never implemented was a sequence in which the enemies on a level could capture Rick. The plan was to show an animated sequence in which Rick was carried off tied to a stretcher. He would then be placed in a cell with four exits that the player could choose between. 2 exits would lead to instant deaths, 1 exit would return Rick to the start of the level he was on with the final exit that returning our hero to the last position he was at when captured. Fortunately for us all, this frustrating little feature never saw the light of day.