Submitted by
Dan Dooré
on Sunday, September 5, 2021 - 13:04.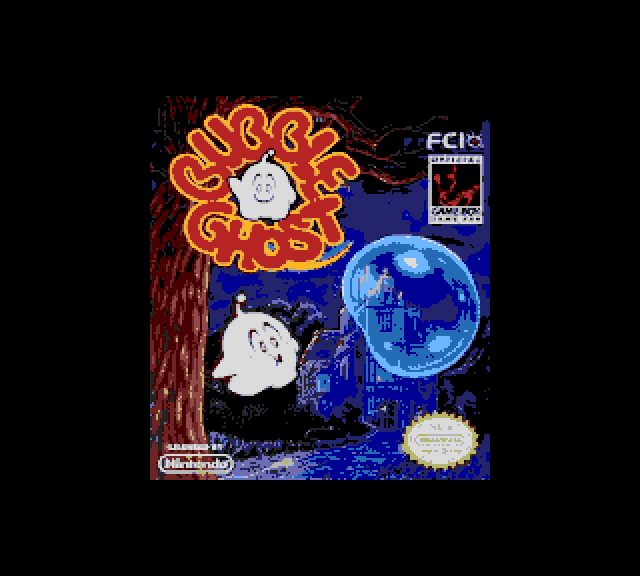 Description
Conversion of Bubble Ghost Nintendo Gameboy version.
Take a deep breath and enter a topsy-turvy world where one of your greatest enemies is... an electric fan? Control the cute Ghost who loves blowing a bubble through a wacky haunted house. His soft breath can move it, but a fragile bubble doesnt stand a ghost of a chance against a candle flame or the breeze from a fan. If the bubble bursts-pop goes the puzzle!
Maneuvering around the many hazards is only part of the fun, you must also find your way through the maze-like halls. Its an a-mazing puzzle that will blow your mind and leave you breathless!
Adapted from the international best-selling PC game
35 screens-each one trickier than the last
Bonus bar gives you the extra points for speed
Challenges your speed, reflexes, timing and your mind!
Sam Conversion extra features:
Extra challenge levels
Selectable palette
From Howard Price
Rob did all the coding from scratch and copied it by eye - good lad! And I copied the music and sound effects as best as the SAA would allow me.
A couple of people have mentioned it looks like a GameBoy emulator: it's not, it's just this particular game that's been recoded.
From Rob Evans:
The music for this was created by Howard Price, and he's done a remarkable job of recreating the original gameboy music and sound fx for the Sam. According to his blog he's going to write about the process of putting the tracks together, which should be very interesting. I can't thank him enough for his efforts on this, it's really made the whole thing worthwhile.
Overall I think it has turned out pretty well, but there's a few differences from the gameboy version that deserve an explanation.
The collision detection on the gameboy version is very forgiving, which for a small screen is probably a good idea. But on the Sam it made things a bit too easy so I've made it exactly half as lenient; the collision detection ignores the outermost pixel of the bubble whereas on the gameboy it was two pixels.
The bubble behaviour is also not perfectly copied, although it's pretty close, and the maximum distance you can move the bubble with one blow seems to be identical. I am very tempted to keep tinkering with it endlessly, but the way it's working here is very playable so I probably won't :)
There's one object missing on a couple of the levels, and while most of the animations are about right, I didn't kill myself trying to copy everything perfectly.
Finally, as the gameboy version is so easy to complete, I've also made a whole set of ludicrously difficult levels that should drive you mad. Don't say I didn't warn you! :)
I really hope people have as much fun playing it as I had making it!
It seems to be perfectly bug free now but if anyone finds something weird please do let me know via email, or here on the Sam Users Mailing List and I'll get it sorted asap.
Instructions
The controls are joystick or QAOP and space.
Press 'E' to select colour palette.
YouTube