Triltex - The Later Levels
Submitted by
Dan Dooré
on Thursday, May 24, 2018 - 11:47.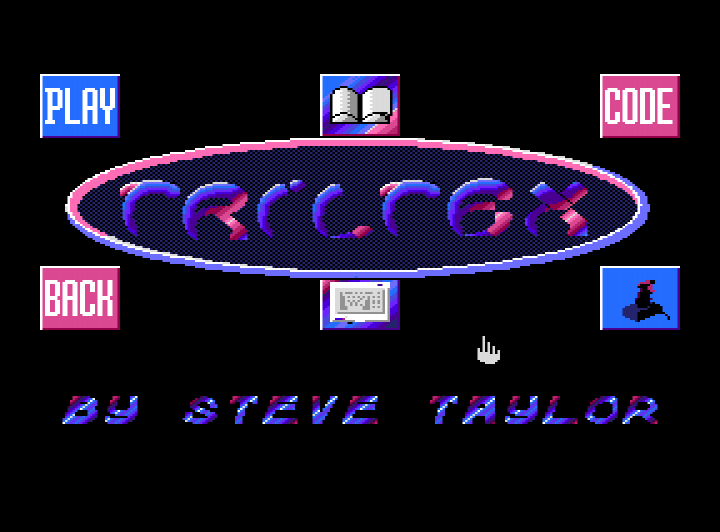 Description
An expansion pack to the original Triltex, which was available in the Impatience compilation. Here's another 25 levels to keep your addicted and frustrated all over again!
Instructions
Boot up your original Impatience disc and load in Triltex. Once loaded insert the Later Levels disc and go to the password system ("CODE") and enter the following code:
White Line
Black X
White Triangle
Black Star
White Star
Reviews
Your Sinclair review, (Recovered) courtesy of the YS Rock 'n' Roll Years YS77
Triltex - The Later Levels (SAM) FRED     £4.99     May 1992
So you've beaten Triltex, played around with the cheat mode, pressed F7-F8-F9 on the loader menu and remembered there's a second game in the pack. Where do you go from here? For most of us it will be straight into a special clinic for some vital nervous therapy. But for the brave, brave few who considered Level 17 of the game just a warm-up exercise, it's straight to the post box with your order for The Later Levels. For, after several months of ominous threats, FRED Publishing has unleashed an extra 25 levels that make the originals look like a stroll in the park.
Triltex, for the uninitiated, is the SAM version of the famous Mah-Jongg tile-matching game. Whizzing a pointer round the screen you have to, um, match tiles, making them disappear to reveal those underneath. With skill and vast quantities of luck, you'll match 'em all, thus earning the right to enter the next level. To add a little interest, there are tiles with special properties, such as bombs and flippers.
Easy-peasy, n'est ce pas? Well actually, to coin a phrase, non. Dear me, non. The Later Levels is, without doubt, only for people who could beat Level 10 and upwards of the original. If you are one of those people then you're a clever swine and you'll get a lot of mileage out of the follow-up.
The graphics are still the same - smooth, clear but completely undistinguished - and there's still that jolly tune bobbing along in the background. Apart from a brand-new FRED logo gracing the intro, the only other addition is a completely different cheat mode. (Heh heh heh.) In short, it's more-of-the-same. To be fair, this also includes the mind-crushing addiction factor. No matter how often things go wrong, you always find yourself trying again. And again. And then a couple more times after that. If you can stand the pace and the shattering despair of facing that final unmatched tile, seek out The Later Levels. You mad, mad fool.
| | |
| --- | --- |
| Life Expectancy | 84 |
| Instant Appeal | 40 |
| Graphics | 52 |
| Addictiveness | 88 |
| Overall | 84° |
Triltex fans will need no holding back, but be warned - this game is hard.