Submitted by
Dan Dooré
on Sunday, June 10, 2018 - 20:12.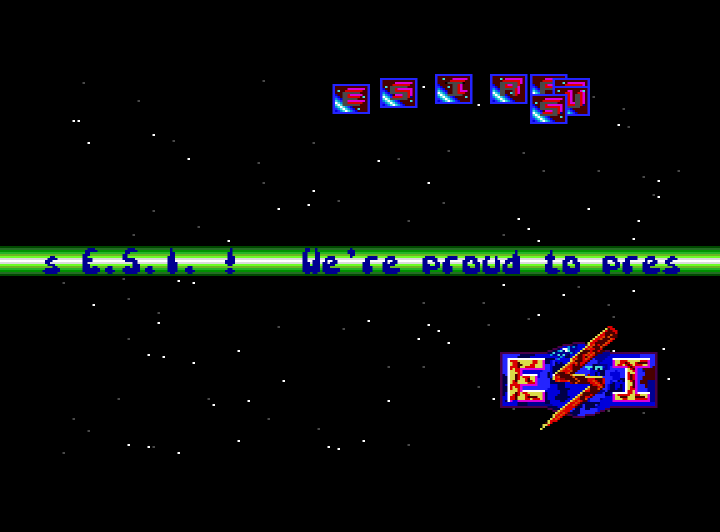 Description
Two part demo from ESI, famous for being the first Bob demo and having a large audience on the Sam Newsdisk 1
Reviews
Your Sinclair review, (Recovered) courtesy of the YS Rock 'n' Roll Years YS87
Surprise Demo (SAM) (PD) ESI     £Free     Mar 1993
This was the first SAM demo of any note, and was once given away with an issue of the SAMCo Newsdisk. (No wonder nobody's heard of it, boom boom.) Fortunately, it's PD so you can now get it from just about any SAM PD library. Anyway, longtime followers of the nauseatingly talented ESI will be pleased to see it features plenty of Speccy-ish effects such as bouncing and sine-wave scrollies.
It's a two-parter which opens with a madly-scrolling starfield. A massive bouncing scrolly and an two orbiting ESI logos. Speccy owners will no doubt sniff loudly and murmur. 'How quaint' even when told of the sparkling music (well, sparkling bar of music that keeps repeating, anyway). However, being the first SAM demo that didn't whang sprites around the screen using BASlC's MEM$, it knocked Coupe owners for six. But! There is, as they say, more. A quick press of the SPACE bar reveals the proper bit of the demo - coloured bob balls a go-go. This famous part is very addictive, containing ten or so patterns you can flip between using CNTRL. It scores over the Speccy version in Shock by (a) the use of colour and (b) the improved music. (Okay, so I said the soundtracks were identical in the review of Shock a while back but I was wrong.)
That's it, basically, apart from the typically, erm, 'European' scrolly which contains the 'classic' programming joke: how many programmers does it take to screw in a light bulb? Answer: none - it's a hardware project! (Well. Perhaps less a 'classic' programming joke than 'the only programming joke there is'.) The first part is nothing to get hoppingly excited over, but those spinning, swirling balls still pack a punch. Terribly hypnotic, and probably not at all healthy, Surprise is enormous fun all the same. Now if you'll excuse me, I have a sudden urge to take off my trousers and sing 'Bim Barn Baby' to Andy O.
Verdict: 70%