Submitted by
Dan Dooré
on Thursday, May 24, 2018 - 18:01.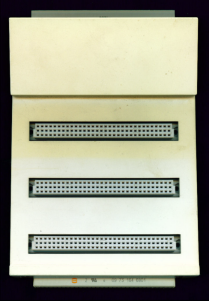 Download
SAM Coupé SamBus Manual.pdf
Description
The SamBus aka 'The Card Cage' was a multi-port expansion device to allow 4 expansion devices to attach to the Coupé.
The SamBus also featured a battery-backed real-time clock (OKI M6242B) which MasterDOS and B-DOS could utilise for timestamping files.
All devices connected will use up some of the available power, and some will be more power-hungry than others. All future peripherals produced will carry a "Loading Factor" number which will be located near the device's serial number and prefixed by the letters "LF". This will allow you to estimate how much power a device is likely to consume. If the "Loading Factor" total is above 200 units for all the devices connected, an external 5v power supply will need to be plugged in to the SAMBUS via the external power connector.
The following peripherals were designed before the SAMBUS was in production, and you should assume the following "Loading Factor" units for them.
Instructions
PDF Manual Scan at www.samcoupe-pro-dos.co.uk
real time clock ports

| port | description | name |
| --- | --- | --- |
| &00ef | 1 second register | S1 |
| &10ef | 10 second register | S10 |
| &20ef | 1 minute register | M1 |
| &30ef | 10 minute register | M10 |
| &40ef | 1 hour register | H1 |
| &50ef | 10 hour register | H10 |
| &60ef | 1 day register | D1 |
| &70ef | 10 day register | D10 |
| &80ef | 1 month register | MO1 |
| &90ef | 10 month register | MO10 |
| &a0ef | 1 year register | Y1 |
| &b0ef | 10 year register | Y10 |
| &c0ef | week day (0=Sunday) | W |
Trivia
Apparantly SamCo never sold the additional power unit, although simple to adapt an existing unit to serve in it's place.
After SamCo went under a number of similar but less functional units like the Two-up and Three-up appeared, also see the Quazar Euroconnector Expansion Cards.
Tips
If you have one of these still then the battery will have leaked by now but if you are lucky you will be able to snip it out, clean with white vinegar to neutrilise the alkali and then again with Isopropal alcohol and fit a new one.  Replacements available from most parts shops.