Submitted by
Stefan Drissen
on Thursday, May 17, 2018 - 22:44.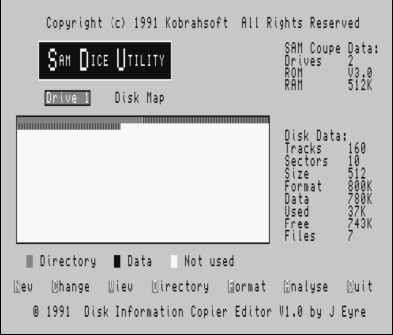 Description
DICE stands for Disk Information Copier Editor.
SAM DICE is a powerful yet easy to operate utility for use with the SAM Coupe disk system. It combines simple automatic operations for the novice with full analyser and editor facilities for the more experienced SAMDOS user.
Features:
Read Disk Sectors - Data displayed in Hex and ASCII with cursor readouts of byte (binary & decimal), word (decimal), line disassembly and BASIC token.
Modify Disk Sectors - Input in alphanumeric, decimal or hexadecimal
Supports most 3.5" Double Density Disk formats
Analyser to examine and edit non standard sectors
Access any part of the Disk - by Track and Sector or Cursor Keys
Back-up Disk Files - Copies all or selected files, unfragments files(unless copying to a fragmented target disk)
Full Directory Listing - including hidden and erased files
Automatically locates the start of a selected file's data
Automatically follows file data via fragmented sectors
Automatically assesses whether an erased file can be recovered
Single key press to recover (unerase) files
Recover lost data from part files or disks with defective directories
Erase single or multiple files by cursor selection
Rename files (checks for duplicate filenames)
Set/cancel file attributes
Move files within the Directory
Read file headers and displays file type and details
Graphic and numeric display of file location and disk space used
Graphic and numeric display of overall disk space used
Print out of HEX/ASCII sector data
Fast disk search for a string of up to 10 bytes in length.
Format whole Disk and single Tracks
Displays DOS error warnings with permanent reminder
Check Disk with option to lock out defective sectors
Decimal/Hexadecimal convertor (0-65535 0000-FFFF)
Confirmation checks before writing to Disk
Easy single key selections from menus
Reviews
| Publication | Score |
| --- | --- |
| Sinclair & SAM Computing #3 | 95% |
Trivia
From the 1992 KOBRAHSOFT Software Utilities Catalogue
NEW 1.1 Version - now compatible with Masterdos!
This is our latest utility for the Sam Coupe - a superb Disc information Copier and Editor disc utility with a similar (if not better) specification to our DICE utility for the +3 see Page 15 - which itself originally received superb reviews in the computer press. It features:-
READ disc sectors, data displayed in Hex and ASCII. Also MODIFY disc sectors - input numeric, Decimal or Hex.
SUPPORTS most 3.5" double density disc formats with an ANALYSER to examine and edit non-standard sectors.
BACKUP disc files - ALL or SELECTED files with only around five disc swaps for a FULL disc (single drive).
FULL directory listing including HIDDEN and ERASED files with one key press to RECOVER, if possible, erased files.
RECOVER lost data from part files or discs with damaged directories plus ERASE single or multiple files.
RENAME files; SET/CANCEL file attributes; MOVE files within the directory: READ file headers.
FORMAT whole disc or SINGLE tracks and CHECK disc with
option to lock out defective sectors.
FAST disc SEARCH for a string of up to 10 bytes length.
GRAPHIC and NUMERIC display of file location and disc space used and overall disc space used.
Now compatible with the new Masterdos system.
Sam DICE is VERY easy to use, with single key selections from several different Menus. If you own a Sam this is one utility you cannot do without! Suitable for ANY Sam.
Superb Value at:- £14.95 on 3.5" disc.