Submitted by
Dan Dooré
on Monday, October 4, 2021 - 12:33.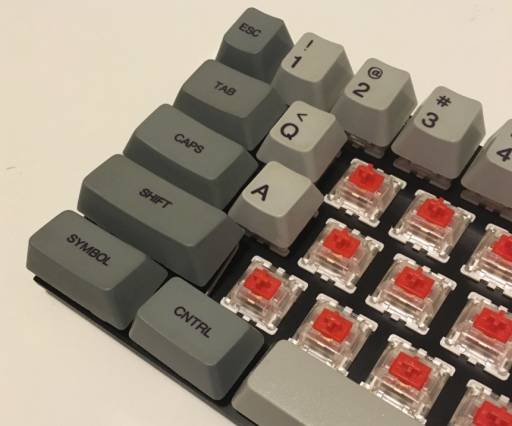 Description
Hello! I'm very happy to announce today that I am releasing Mechanical Keyboards for the SAM Coupé. If you've problems with your existing keyboard or membrane here is a reliable solution, building on the quality inherent with mechanical keyboards.
Two different versions, both available now: a standard edition and a limited edition. Here come the details...
Standard Edition Mechanical Keyboard
The Mechanical Keyboards replace the whole keyboard assembly that sits in the top lid of the SAM Coupe case. The key caps from your original keyboard can be easily moved over to the standard edition Mechanical Keyboard, with the stabilisers too for the Shift and Return keys.
The Mechanical Keyboard sits perfectly within the keyboard shelf on the lid of the SAM, secured in place via the existing four mounting holes. Connectors poke through the cutout used by the membrane tails, to which two ribbon cables then attach. At the ends of the ribbon cables are two thin PCB connectors that plug directly into the keyboard connectors on the SAM motherboard. No soldering required, the only tool needed is a posidrive screwdriver for opening the SAM Coupe case and to swap over the keyboard assemblies.
Throughout the designing and testing I've tried out many different types of mechanical switch and have chosen two types to keep in stock and offer. A linear style switch (60g pressure, a very comfortable typing switch that I'm now using myself) and a clicky style switch (55g pressure). The clicky style have a tactile/audible click when pressed and are a firm favourite of mechanical keyboard fans! You can choose the type of switch you'd like when ordering.
The standard edition Mechanical Keyboards are available now for £99.99 + shipping.
Limited Edition "Prototype Tribute" Mechanical Keyboard
Now this is something special! Inspired by the prototype SAM units, five of which were built in 1989 before the SAM went into full manufacture. Using soft moldings of the SAM case, early PCB revisions, they were fitted with hand build keyboards using PCB mounted switches and clear keycaps. These 'SAMP' (SAM Prototype) machines were the final tests of the system and given to some of the main developers and testers at the time. I've paid keen attention and kept as close as possible to the original units to faithfully recreate this tribute mechanical keyboard.
I'm producing a limited edition run of nine of these tribute Mechanical Keyboards, available now for £199.99 + shipping.
Ordering. Please drop me a direct message or send a message through my website at: www.samcoupe.com
YouTube
Limited Edition "Prototype Tribute" Mechanical Keyboard (Davids):