Submitted by
solaris104
on Sunday, December 20, 2020 - 10:59.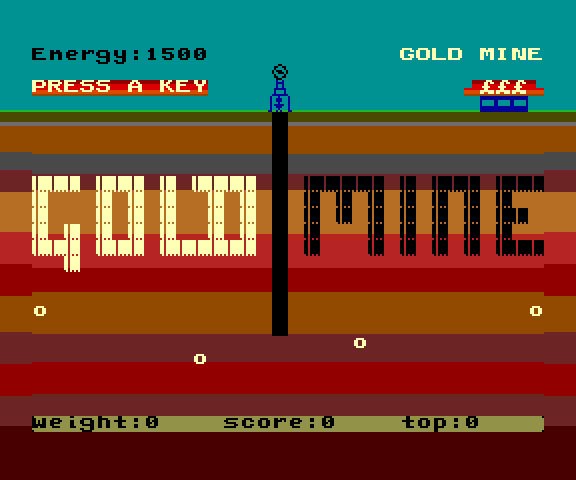 Description
The aim of the game is to mine out gold nuggets.
Instructions
This is the latest version of a game I wrote in the heyday of the Spectrum - the original 16K version reached the Top 20 chart in autumn 1983, and has been much developed since.
 
A 48K version, and early SAM version, appeared on the Sinclair User "Great Eight 5" covertape in issue 109 (March 1991). Unfortunately the SU duplicators failed to include the SAM auto-loader, so it just reported "OK" after loading!
 
SAM versions use lots of extra colours (thanks to PALETTE LINE), S-T-E-R-E-O sound effects from the SA-1099 sound chip, and bigger mines to explore. The character set was designed by Mark Summerfield, formerly of MGT, now a mature student at Swansea University.
 
The listing is extensively commented and includes several useful procedures - ENTER_FONT copies a font to DATA statements, and LOAD_FONT reads and initialises a character-set. VIEW and LOOK can be used to examine the program. WINDOW resets the expanded main screen, and SH stops the sound effects if you break in. RUN will re-start with no need to load files.
 
The 1993 SAM version 4.0 has an extra 'end game' once all the original survey area has been mined out - a new survey reveals extra deposits, but risks are greater and parts of the old mine may collapse without warning. Will you survive to collect your pension???
 
A good score is anything above 70. There are four playing levels and you can configure your own choice of keys, or use a joystick or the cursor arrows.
The program was written between 1983 and 1993 by Simon N Goodwin - the original Spectrum version was published by Dk'Tronics. The SAM version may be freely distributed as long as it is not cut down in any way and the copyright messages remain intact.
SAM Supplement readers are allowed to extract procedures for use in their own programs, providing the source is attributed if the program is distributed to other users.
PLAYING TIPS
 
Include bends in your tunnels to limit the effects of floods and rock-falls. Be careful not to flood or block the lift-shaft.
 
All that glitters is not gold! Approach deposits carefully to minimise damage. Sometimes a rock-fall may break previously inpenetrable rock, allowing a new route.
 
Use existing tunnels whenever possible. The miner tires much more quickly when digging new shafts, especially if lots of gold is being carried.
 
Don't overload the lift. The safe maximum is 15 nuggets plus one miner - if you try to carry more you may fall to your death.
 
Have fun!
 
Simon N Goodwin, 4th January 1993.
Trivia
The SU cover tape version is version 3.2 dated 20/07/1990