Submitted by
ascii
on Friday, May 11, 2018 - 03:28.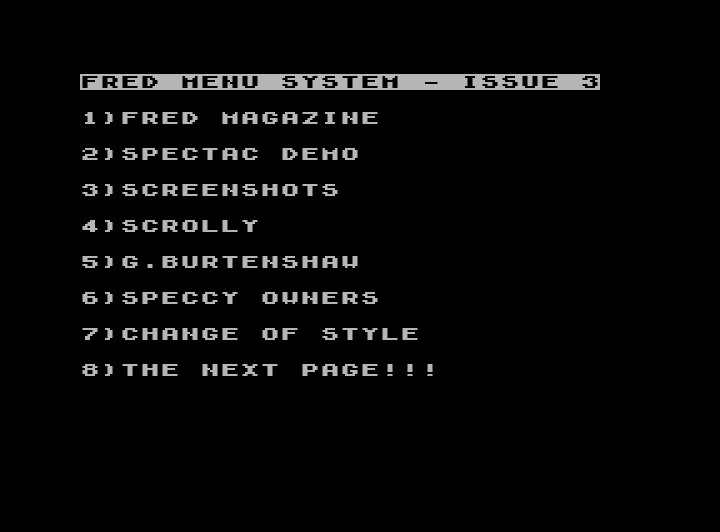 Download
Copyright Provenance
Description
Issue 3
August 1990
Magazine

NEXT MONTH - FRED4?
YES,I KNOW THIS IS NORMALLY IN WITH THE FREVIEWS BUT AS WILL  
BE EXPLAINED-THERE ISN'T ANY! SO I'D JUST LIKE TO TAKE THIS     
OPPERTUNITY TO WELCOME YOU ALL TO FRED3 AND TO TELL YOU         
(ALREADY?)WHAT'S GOING TO BE IN FRED4.
ON THE FREVIEWS SIDE,I SHOULD HAVE ...ZENITH'S EDITION 2!,MIND
GAMES 1,FAMOUS FIVE,SAM MULTI PACK 1,KOBRAHSOFTS TAPE TO TAPE   
UTILITY AND TAPE TO DISC UTILITY! AND STUFF FROM DAVE TONKS!AND 
THAT'S A MONTH IN ADVANCE SO WHO KNOWS WHAT SURPRISES MAY BE    
SPRUNG YET!!
BY THE WAY OF EXTRA STUFF ON THE DISC,THERE WILL BE A DEMO    
FROM ZENITH AND ANOTHER FROM THE LORDS ALONG WITH A PICTURE OR  
TWO FROM THEM.I HAVE RECENTLY GOT HOLD OF SOME GREAT PICTURES SO
YOU CAN BE SURE THEY'LL BE IN.AS WELL AS YET ANOTHER MANDLEBROT 
WITH ZOOM-IN FEATURE!
AS WELL AS ALL THIS,I'VE ARRANGED AN INTERVIEW WITH SPECTRUM- 
GRAPHIC WIZARD,JONATHAN CAULDWELL OF GRAFIX WIZARDS!!AND TO HELP
YOU KEEP TRACK OF YOUR PROGRAMS THERE'S A LITTLE PROGRAM OF MINE
THAT DOES THE TRICK QUITE NICELY!

I'M FREE!?!
AS YOU WILL SEE IF YOU SELECT '7' FROM THE MENU,FRED IS NOW   
FREE.THIS IS MAINLY BECAUSE OF THE LACK OF READERS SO IT WAS    
DECIDED THAT IF WE WENT FREE PEOPLE WOULD BE EAGER TO TRY IT OUT
HOWEVER THIS DOES MEAN AN END TO THE COMPETITIONS BUT AS      
PRIZES WERE OFFERED,THEY WILL BE AWARDED.THE DEFENDERS COMPO    
ALSO STILL STANDS AND CLOSES ON THE 25TH
NOW,EACH MONTH AT LEAST TEN,NORMALLY AROUND 15 COPIES ARE SENT
OUT TO SOFTWARE HOUSES SO THAT IS OBVIOUSLY A MASSIVE LOSS.BUT  
IF SOME OF THEM KINDLY SEND SOFTWARE FOR REVIEW,AT LEAST HALF   
THEIR VALUE IS PUT INTO A FRED KITTY WHICH PAYS FOR 'FREE'      
COPIES,ADS,ETC.BUT TO START WITH SEVERAL GAMES HAD TO BE BOUGHT 
FOR REVIEW SO A FAIR LOSS IS STILL AROUND.
SO WHAT I AM ASKING NOW IS FOR YOU TO TELL ANYONE YOU KNOW    
WITH A COUPE ABOUT THE GREAT,FREE MAG CALLED FRED.OK?
ALSO IF YOU HAVE ANY IDEAS FOR HELPING FRED GET OFF THE GROUND
,THEY WOULD BE WELL RECEIVED.
THANKS TO YOU ALL FOR YOUR PRESENT SUPPORT ANYWAY

HELP!!!
YES,IT'S MY PLEA FOR HELP AGAIN.
THIS COULD RESULT IN A GREAT MAG PACKED FULL OF STUFF AND IF  
EVERYONE DID JUST A FRACTION OF WHAT I'VE DONE IT WOULD ALSO BE 
MASSIVE!
SO COME ON,THIS IS YOUR MAG SO WHY NOT HELP TO MAKE IT        
BRILLIANT(ER!)
IF THIS DID EVER HAPPEN PLEASE REMEMBER THAT FRED WILL ALWAYS 
BE NON PROFIT MAKING AND AT THE MOMENT I'M RUNNING A LOSS BUT   
WITH MORE READERS I'D GET MORE SUPPORT SO BETTER EVERYTHING!!
THANK YOU AND I HOPE TO HEAR FROM YOU SOON.

ENIGMA
ENIGMA HAVE GOT TOGETHER WITH SAM COMPUTERS LTD AND FORMED    
TEAM SAM WHO WILL CONCENTRATE ON SUPPORTING THE COUPE.
ENIGMA HAVE JUST FORMED THEIR SAM SOFTWARE CLUB.THIS COSTS £10
A YEAR TO JOIN AND GIVES YOU APPROX 10% OF MOST SAM TITLES AND  
OFFERS A BI-MONTHLY NEWSLETTER KEEPING YOU UPDATED ON THEIR     
COUPE PLANS.
THE CLUB WILL NOT ONLY BE CONCENTRATING ON SOFTWARE BUT       
ALREADY OFFER DISCOUNTS ON DRIVES,UPGRADES AND INTERFACES!
ENIGMA HAVE LOADS OF COUPE PLANS SO HERE'S A FEW:
MORE DETAILS OF ENIGMA'S FUTURE PLANS ON THE NEXT PAGE

ENIGMA CTD
SAM MULT PACK I.THIS HAS TWO 'HIGH QUALITY ARCADE GAMES' ON IT
 THE FIRST BEING FUTUREBALL(REVEALED IN FRED2!) WHICH IS PLAYED 
IN 2090 AS YOU TRAINING TO BE IN A TEAM.BUT THIS VERSION OF     
FOOTBALL IS SLIGHTLY DIFFERENT TO THE GAME WE ALL KNOW AND LOVE 
AS YOU WILL COME UP AGAINST LASERS,KILLER ROBOTS AND DEADLY     
TRAPS.ONE TO LOOK FORWARD TO!
THE SECOND GAME FEATURES OUR OWN SAM ROBOT!IT IS CALLED SAM   
STRIKES OUT.YOU MUST CONTROL 'SAM' BY GUIDING HIM THROUGH THE   
COUPE MANUAL AND HELP HIM HOME.
SPHERA WILL BE OUT LATE OCTOBER AND IS GOING TO BE AS GOOD AS 
MANY AMIGA GAMES!SPHERA IS A FAST AND SLICK SCROLLING SHOOT-EM- 
UP.AND IT IS 'A FULL SCREEN VERTICALLY SCROLLING ARCADE BLAST   
WITH THREE LEVELS OF PARALLAX.'WELL THAT'S PRETTY IMPRESSIVE!
ENIGMA ALSO HAVE BIG PLANS FOR AN EDUCATIONAL RANGE BUT AS YET
HAVE NO SPECIFIC DETAILS BUT HAVE GOT AN IDEA OR TWO.MORE       
DETAILS AS I GET THEM.
MIND GAMES 2 IS ALSO ON THE CARDS .IF YOU'RE INTERESTED IN    
THIS CLUB JUST DROP ENIGMA OR MYSELF A LINE.                    
 ENIGMA VARIATIONS,[redacted]

DAVE TONKS OF DATON
I GOT A LETTER FROM DAVE TONKS WHO DOES MIND GAMES FOR ENIGMA 
AND WHOSE NAME APPEARS IN THE MGT DEMO PACK,HERE'S WHAT DAVE    
SAYS:
I HAVE JUST FINISHED 'FLIP IT' WHICH IS AN OTHELLO TYPE GAME. 
IT OF COURSE USES MODE 4 GRAPHICS AND THERE IS AN OPTION TO PLAY
AGAINST THE COMPUTER,WHICH GIVES A VERY GOOD GAME.THIS MAY GO ON
TO MY NEXT COMPILATION FOR ENIGMA(MIND GAMES 2)
OUTLET TOOK EIGHT OF MY GAMES,AND I THINK THAT THE DEMAND FOR 
THEM HAS BEEN GOOD.AT THE MOMENT THEY ARE RELEASING 3 OF THEM   
FOR £5.THE OTHERS I THINK ARE BEING USED IN THE MAGAZINE.ENIGMA 
SAW SOME OF MY STUFF THAT ALAN MILES HAD GOT AND ASKED HIM TO   
CONTACT ME.THE WHOLE PACKAGE WAS PUT TOGETHER IN A WEEK,TO BE   
READY FOR THE ALL FORMATS SHOW,ON 4/5 AUGUST.
WHEN PROGRAMMING, I SOMETIMES USE ARTIST ONE AND TWO ON THE   
SPECTRUM,TO DO SOME OF THE PLAYING SCREENS.THIS I FIND EASIER,  
BECAUSE I DON'T HAVE TO BOTHER WITH COLOUR.WHEN FINISHED,THEY   
ARE DOWN LOADED INTO FLASH! ON THE SAM AND PUT INTO MODE 4,FOR  
THE COLOUR,SHADING ETC,TO BE ADDED.

LATEST
ZENITH GRAPHICS HAVE THEIR EDITION TWO WELL UNDER WAY AND     
SHOULD HAVE IT RELEASED AT THE END OF SEPTEMBER ( JUST IN TIME  
FOR A FREVIEW!).ALL I KNOW ABOUT IT IS THAT IT HAS A GAME       
SPECIALLY FOR THE YOUNGER PLAYERS AND I'M POSITIVE IT WILL BE UP
TO THE VERY HIGH STANDARDS OF EDITION 1.FOR MORE DETAILS SEE    
INTERVIEW FROM THE SECOND MENU.
ZENITH ALSO SENT ME A GREAT DEMO SHOWING OFF THEIR NEW LOGO   
AND BEING GENERALLY PRETTY IMPRESSIVE BUT I DIDN'T THINK IT     
WOULD FIT ON THIS DISC AND IT WOULD BE BETTER IN FRED4 ANYWAY - 
NEARER THE RELEASE DATE.
GOLIATH GAMES TOLD ME THAT THEY'RE WORKING ON FUTURE SOFWARE  
FOR THE COUPE BUT THE ONLY DETAILS THEY COULD REVEAL IS THAT ONE
OF THEM WILL BE WADDINGTON'S SUBBUTEO.THIS WILL BE THEIR FIRST  
ARCADE GAME AND IS PREDICTED TO BE THE GAME OF 1991!I'VE BEEN   
PROMISED SCREENSHOTS WHEN THEY'RE AVAILABLE.
DESPITE THEIR ADVERTS,ANCO WILL NOT BE RELEASING THE COUPE    
KICK OFF UNTIL CHRISTMAS,IF AT ALL!

THE COMPUTER ENTERTAINMENT SHOW
BETWEEN THE 13TH AND 16TH OF SEPTEMBER IN EARLS COURT,LONDON  
THIS SHOW IS GOING TO BE HELD, AND LET ME TELL YOU , IT WILL BE 
BIG (VERY BIG!).ENIGMA ARE THERE WITH SAM COMPUTERS LTD SO YOU  
CAN MEET YOUR (COMPUTER'S) MAKER! ALONG WITH ALMOST EVERYONE    
WITH ANYTHING TO DO WITH COMPUTERS INCLUDING GREMLIN,US GOLD,   
HEWSON,ELECTRONIC ARTS,MICROPROSE AND HUNDREDS MORE(WELL,AT     
LEAST 25!).
NOT ONLY CAN YOU MEET ALL THESE PEOPLE BUT YOU WILL SEE ALL   
THEIR EXCLUSIVE DETAILS-MOST OF THEM ONLY RELEASED THAT DAY!!)  
AND OBVIOUSLY YOU CAN TRY OUT ALL SORTS OF NEW GAMES LIKE       
ENIGMA'S FAMOUS FIVE AND SPHERA.
THERE IS ALSO LIVE ACTS ALL THE WAY THROUGH,LIVE TV           
BROADCASTS! AND A HOST OF STARS WILL MAKE AN APPEARANCE         
(JONATHAN ROSS,FRANK 'HARRY' OFF BRUNO,SONYA,BRUNO BRO
OKES,THE      ENGLAND FOOTY TEAM  AND MANY MORE.
I DON'T KNOW ABOUT YOU BUT I'M DEFINETLY TRYING TO GET THERE -
IT'S JUST THAT 500 ODD MILES BETWEEN US DOESN'T HELP MUCH.

THE RUSSIAN HOBBIT?
NOT FROM JRR TOLKIEN BUT HOT FROM INTERCOMPLEX IN THE USSR.   
BRIEFLY MENTIONED BY STEVE NUTTING,THIS IS THE NEW SPECTRUM AND 
SO CAN BE CONSIDERED COMPETITION TO THE COUPE?
THE HOBBIT IS A FLAT,WHITE AND GREY AND SWISH LOOKING         
COMPUTER.IT CAN CLAIM 100% SPECTRUM COMPATABILITY BECAUSE MOST  
OF THE CHIPS INSIDE ARE THE OLD SINCLAIR ONES!IT ALSO COMES WITH
A TWIN 5.25 DRIVE AND A BUILT IN MONITOR.
ALTHOUGH THIS IS A SUPER-SPECTRUM IT ONLY HAS THE SPECTRUM    
Z80A PROCESSOR RUNNING AT ALMOST HALF OF THE COUPE'S Z80B.AND , 
IT ONLY HAS 64K RAM!!SHOCK HORROR.ALTHOUGH IT DOES ALSO HAVE    
JUST 16K ROM.(THE SAME AS THE 48K SPECCY!)
THE HOBBIT CAN HOLD THREE (YES 3) JOYSTICKS AS WELL AS THE    
COMPLIMENTARY MOUSE,PEN,TAPE SYSTEM AND PRINTER (PARALLEL AND   
SERIAL).IT ALSO HAS BETA (THE RUSSIAN VERSION OF CP/M) SO IT    
ALREADY HAS A FAIR SCOPE CONSIDERING IT ALSO SUPPORTS LOGO,     
PASCAL,C AND FORTH!
I DON'T KNOW ANY PRICES YET BUT IT IS SUPPOSEDLY SLIGHTLY     
CHEAPER THAN SPECTRUMS IN THE USSR!

ON THE HORIZON
OCEAN ARE GOING IN FOR THE FILMS IN A BIG WAY THESE DAYS,AS   
THEY HAVE JUST RELEASED NIGHTBREED ( BASED ON CLIVE BARKER'S    
CABAL) AND THEY WILL BE RELEASING TOTAL RECALL AND ROBOCOP 2    
(HOPEFULLY AROUND THE SAME TIME THE FILM'S RELEASED).           
UNFORTUNATLY THESE WILL NOT BE RELEASED FOR THE COUPE,BUT THEY  
WILL TRY TO MAKE THE SPECCY VERSION COUPE COMPATABLE.
GUESS WHAT? YES,THAT'S RIGHT,SOME LUCKY COMPANY HAS SNAPPED UP
THE RIGHTS TO THE HIT 'DICK TRACEY'.THE COMPANY IS TITUS WHO    
WILL RELEASE IT FOR THE SPECTRUM IN OCTOBER,AGAIN I PRESUME     
THEY'LL MAKE IT COUPE COMPATABLE.
AND JUST TO TOP OFF THE LOT,ELITE WILL BE RELEASING GREMLINS 2
AROUND THE END OF THIS MONTH.IT IS SAID IT WILL BE RELEASED  ON 
ALL FORMATS BUT...
A NEW TAPE-MAG IS ABOUT TO BE RELEASED CALLED GENESIS WHICH IS
 FOR SPECCY AND COUPE.THE AUTHORS,NEW ASPECTS,ARE ALSO DOING A  
COUPE SHOOT-EM-UP CALLED REBELLION AND A PIPEMANIA(FRED1) STYLE 
GAME - FRUSTRATION.
QUICKSILVA MIGHT RELEASE A COUPE VERSION OF THE NOT-SO-HOT    
MINED OUT.BUT WITH GREAT PICCYS AND SOUND ,WHO KNOWS?

THE HARD STUFF
I SUPPOSE YOU'LL ALL HAVE HEARD ABOUT THE NEW RANGE OF AMSTRAD
CPC'S (THE 464 PLUS & THE 6128 PLUS) WITH OVER 4000 COLOURS FOR 
ONLY £229 & £329.BUT NOW,AMSTRAD HAVE ENTERED THE CONSOLE BATTLE
WITH THEIR £99 GX4000.ALREADY LOTS OF GAMES ARE ON THE CARDS FOR
THE NEW 8-BIT MACHINE MAINLY FROM OCEAN AND US GOLD.
COMMODORE HAVE DECIDED TO FOLLOW THE CROWD AND HAVE RELEASED  
THEIR OWN CONSOLE - THE 'GS' (GAMES SYSTEM) IS ALMOST IDENTICAL 
TO THE OLDER CG4 INSIDE SO IT'S 100% COMPATABLE WITH ALL C64    
GAMES.THE £99 8-BIT MACHINE IS GOING TO BE LAUNCHED AT THE SAME 
TIME AS THE GX4000,AT THE ENTERTAINMENT SHOW.
THE AMIGA SEEMS TO BE THE MACHINE TO GET (APART FROM THE COUPE
,OF COURSE) THESE DAYS BECAUSE NOT ONLY DOES IT ALREADY HAVE    
IT'S OWN PC AND MAC EMULATORS,ATARI ST AND SPECTRUM EMULATORS   
ARE OUT NOW.ALTHOUGH NOT CLAIMING FULL COMPATABILITY -THAT MEANS
ABOUT FOUR GAMES WILL WORK!,THEY SHOULD SERVE THEIR PURPOSE.BUT 
WHEN YOU HAVE TO PAY £180 FOR THE ST EM. YOU'D BE BETTER OFF    
JUST GETTING THE ACTUAL ST!

COMPETITION?
YES,I'M AFRAID SO.NOT THE COMPO YOU'D LIKE TO BE IN BUT IT'S  
JUST FOR FRED.
I MENTIONED LAST MONTH THAT BRIAN MUMFORD AND DAVE TONKS WERE 
SETTING UP A SAM SUPPLEMENT TO THEIR SDC NEWSLETTER.WELL I GOT  
THE FIRST ISSUE THE OTHER DAY AND I WAS VERY IMPRESSED WITH IT.
OF COURSE,AS THE EDITOR IS A PROFESSIONAL PROGRAMMER THEY DO  
HAVE AN ADVANTAGE BUT THEIRS ONLY COMES OUT BI-MONTHLY.
SAM SUPPLEMENT IS FREE AND SO IS AVAILABLE BY SENDING £1.50 OR
A DISC AND SSAE TO THE ADDRESS BELOW.INSIDE THE MAG IS A SECTION
TAKEN STRAIGHT FROM A MODEM,A MAGAZINE BIT AND JUST FOR THIS    
MONTH,A REVIEW SECTION.THE BEST OF THE MAGAZINE IS THE PROGRAMS.
THERE ARE ABOUT 15 GREAT PROGRAMS SOME OF THEM USEFUL ( LIKE THE
WORD PROCESSOR ) AND SOME OF THEM ARE JUST PLAIN OLD BRILLIANT  
DEMOS
ALTHOUGH IT'S BI-MONTHLY ISSUE IS NOT IDEAL FOR NEWS ETC, IT'S
STILL A PROFESSIONALLY DONE 'ZINE WITH LOTS OF GREAT PROGRAMS.
GET SAM SUPPLEMENT FROM BRIAN MUMFORD,[redacted]
   AND SAY YOU SAW IT IN FRED!!

LETTERS
I'VE GOT TOGETHER WITH A MATE AND WE THOUGHT IT WOULD BE GOOD 
TO TAKE MY DRIVE OUT AND PUT IT IN HIS COUPE THUS GIVING TWO    
DRIVES.BUT WHENEVER WE TRIED TO USE THE SECOND DRIVE IT JUST    
CAME UP 'NO SUCH DRIVE'.HELP!     IAN MCINTOSH
ED AN EASY SOLUTION.ALL YOU HAVE TO DO IS
 TO SET UP THE SECONDDRIVE BY TYPING POKE DVAR 2,208.FOR MORE IN
FO. SEE THE DETAILS  ON DRIVE VARIABLES IN YOUR DISC MANUAL.
FRED IS GREAT...FRED IS SMASHING...I QUITE (JUST QUITE?-ED)   
ENJOYED IT.(GOOD START ANYWAY-ED)BLAH,BLAH,CAN YOU RECOMMEND A  
GOOD STOCK-KEEPING AND ACCOUNTING PROGRAM FOR THE COUPE/COUPE   
COMPATABLE?   ANDREW ROBBINS
ED GLAD SOMEONE LIKES FRED.THIS ISSUE SHOULD BE 
MORE POPULAR! DOES ANYONE KNOW OF PROGRAMS TO SUIT ANDREW?
I HAVE JUST RECEIVED FRED2 AND READ IT WITH GREAT INTEREST    
AND ENJOYMENT.    FRODE TENNEBO,NORWAY
ED SHORT AND VERY SWEET EH?
COME ON YOU LOT.SEND YER LETTERS IN!

ALL THE FREEBIES
BOY! HAVE WE GOT SOME GOODIES LINED UP FOR YOU!AS PROMISED    
THERE IS THE SCROLLY WHICH IS UNPROTECTED,SELF EXPLANITORY AND  
FULLY EXPLAINED.
THE NEXT LOT IS FROM G.BURTENSHAW OF THE LOAD/SAVE SWITCH.    
FIRSTLY IS A SUPERB LITTLE DEMO ADVERTISING HIS PRODUCT WHILE   
MAKING GREAT USE OF PUT,GRAB AND SOUND.AND HE'S DONE A ROSE     
PATTERN WHICH IS ,WELL,ENTRANCING!LOAD IT AND SEE!
THE NEXT ITEM IS REALLY ONLY FOR SPECCY OWNERS BUT ANYONE CAN 
HAVE A GANDER.THERE IS A PATTERN DISPLAYED ON SCREEN AND IF YOU 
WERE A SPECCY GAMES PLAYER YOU'LL RECOGNISE IT.SPACE REVEALS THE
ANSWER.
THE NEXT PROG REALLY ONLY HAS A COUPLE OF SCREEN$ BUT IT'S    
WORTH A LOOK - ALL MY OWN WORK!
WE HAD TO HAVE A MANDLEBROT DIDN'T WE? SO HERE IT IS.AS USUAL 
IT'S FAIRLY SLOW BUT QUITE EFFECTIVE.NOTE THAT EACH TINY SHAPE  
MAKES UP ONE OF THE LARGER SHAPES WHICH MAKE UP THE SAME SHAPE. 
*KEEP YOUR DISC IN THE DRIVE NOT WRITE PROTECTED FIRST TIME!*
NEXT MONTH WILL BE A UTILITY TO STORE DETAILS OF YOUR GAMES   
AND WHAT DISCS THEY'RE ON.DON'T MISS IT!

EVEN MORE FREEBIES!!
WOW! WORRA ISSUE! ANYWAY,ON PAGE TWO : FIRSTLY THERE IS A     
TETRIS GAME BY LORD INSANITY OF THE LORDS.FULL INSTRUCTIONS ARE 
GIVEN ON LOADING,AND THE FUNCTION KEYS ONLY WORK ON THE OLD ROM!
IF NOTHING APPEARS AFTER TEN SECONDS AFTER IT'S LOADED THEN PULL
THE PLUG(AFTER REMOVING THE DISC!) AND TRY AGAIN.BE WARNED,THIS 
IS INCREDIBLY GOOD.
THE FRACTAL SHOW IS EVERY COUPE OWNERS DREAM SO A MASSIVE     
THANK YOU MUST GO TO FRODE TENNEBO IN NORWAY.BASICALLY SIMPLY   
LOAD IT UP AND BE AMAZED!
THERE ARE ALSO THREE BRILLIANT PICTURES.'HEAD' AND SYDNEY WERE
DONE BY THE LORDS AND SUNSET BY FRODE AGAIN.THESE ARE SIMPLY    
SCREEN$ AND SO YOU CAN LOAD THEM INTO FLASH! AND DO WHATEVER    
YOU WANT WITH THEM.
NEXT MONTH WILL BE A SPECTACULAR DEMO FROM THE LORDS FEATURING
UNCLE SAM,GREAT MUSIC AND THREE SCROLLYS AT THE SAM TIME!!THERE 
WILL ALSO BE MORE STUNNING SCREENSHOTS(TWO LORDS,ONE FRODE) SO  
YOU'D BE DAFT TO MISS FRED4 WOULDN'T YOU?
I'D LIKE TO SAY ANOTHER THANKS TO FRODE FOR SENDING ALL THIS  
AND TO THE LORDS.REMEMBER ALL FRED PROGRAMS ARE PUBLIC DOMAIN.

HINTS'N'TIPS
I'VE JUST MADE A MAJOR DISCOVERY - LAST MONTH I WAS TRYING TO 
WORK OUT HOW TO DISABLE ESCAPE.WELL ON PAGE 72 OF THE ADVANCED  
TECHNICAL MANUAL I FOUND OUT HOW - IF THE CONTENT OF CELL 5B41H 
IS NON ZERO THEN ESCAPE IS DISABLED SO SIMPLY ADD THIS LINE TO  
YOUR PROGRAM - 1 POKE &5B41,1 AND HEY PRESTO , NO ESCAPE!
I HAVN'T FOUND OUT HOW TO DISABLE BREAK YET (ALTHOUGH I DO    
KNOW IT JUMPS TO &5AE0) BUT WITH ANY LUCK I'LL FIND OUT SOON.
NEED A TIMER? WELL THESE POKES ALLOW YOU TO MAKE ONE .TYPING  
DPOKE &5C78,0 RESETS THE TIMER TO ZERO AND BY USING THE COMMANDS
FOLLOWING YOU CAN GET THE TIME IN SECONDS SINCE THE ADDRESS WAS 
LAST AT ZERO :PRINT DPEEK &5C78/50 :ALTHOUGH BY USING THE THIRD 
ADDRESS LONGER TIMES CAN BE USED BUT JUST USING THIS YOU CAN    
TIME OVER 21 MINUTES!!
TO IMPRESS EVERYONE WHO READS YOUR PROGRAM JUST USE THIS      
COMMAND SIMPLY TO CLEAR THE SCREEN! :CALL &14E
IF YOU AREN'T INTO MACHINE CODE THEN YOU WON'T KNOW WHAT THE  
'&' IS FOR.ALL THIS DOES IS TELLS THE COUPE THAT THE FOLLOWING  
NUMBER IS IN HEX! SO &5B41 IS SIMPLY 23361.WHAT COULD BE EASIER?

THE END (NOT AGAIN!)
HO HUM,YES IT'S A SAD TIME    WHEN I HAVE TO WRITE THIS BIT   

REMEMBER TO ORDER FRED4 RIGHT AWAY SO YOU DON'T MISS A THING!
AND NOW AS USUAL I HAVE TO    THANK ALL THE KIND SOULS WHO    
HELPED ME MAKE THIS ISSUE :
THE LORDS
AND A SPECIAL THANKS TO YOU ,   THE READERS.

Reviews
Fred 3 was featured in Crash which catapulted it into the limelight.